Volkswagen is paying homage to its venerable and legendary, Citi Golf model with the introduction of the limited edition Citi Vivo. Citi Vivo is bringing back the ubiquitous three colours of Red, Yellow and Blue which were used to launch the original Citi Golf in 1984.
The production of the iconic Citi Golf at the Volkswagen manufacturing factory in Uitenhage ended in 2009 after 25 years of giving mobility freedom to many South African customers. Over that time, the Uitenhage plant produced over 377 000 units many of which are still used on our roads for the daily commute. The Citi Golf gained some of its popularity from the quirky and humorous television and print adverts that told a South Africa story. These adverts were complemented by the engineering ingenuity that gave Citi Golf longevity in the local market and cult status.
In 2010, Volkswagen launched Polo Vivo to replace Citi Golf as the market leader in the compact passenger car segment. In the past six years, Polo Vivo has been the best-selling passenger model in South Africa and has to date sold 229 300. In 2016 alone, 28 830 Polo Vivos (hatch and body variants) were delivered to customers.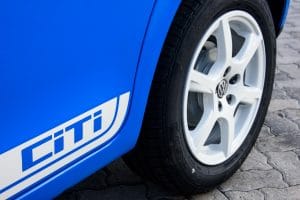 "There is no better way to celebrate the success of the Polo Vivo as the best-selling passenger car in South Africa than to pay homage to its iconic predecessor, Citi Golf. The three colours of Red, Yellow and Blue are synonymous with the classic Citi Golf and it was fitting for us to use them as the only colours for Citi Vivo. Citi Vivo is a special edition with about 2 000 units planned," said Stefan Mecha, Director: Sales and Marketing at Volkswagen Group South Africa.
Mecha added: "Polo Vivo is a proudly South African car with German engineering ingenuity. About 70% of its parts are sourced locally which has helped local suppliers to create jobs. Polo Vivo has the best resale value in its class."
Citi Vivo is based on the 1.4i Conceptline derivative which has a power output of 55kW. In addition to the standard features of Conceptline, Citi Vivo gets 15-inch alloy wheels painted in white (similar to the original Citi Golf), side mirrors painted in white, door and tailgate handles in white and CITI decals.
Optional features offered on Citi Vivo include cruise control, ultrasonic alarm system, front electric windows and front fog lights.
Citi Vivo is available now and retails for R177 300.