A favourite joke amongst South African bakkie fans, particularly Hilux and Ranger owners is that only milk, juice, Coke and Amaroks come in 2 liter variants. Well, while other manufacturers have started downscaling their engines, VW has again decided to go in another direction again with the introduction of the latest iteration of Volkswagen's double cab pick-up. Introduced worldwide in June 2016, this new model marks a step change in the model's history thanks to a refreshed external look, and the much-anticipated new 3.0-litre V6 165kW TDI engine. Additional new features include an all-new interior and the latest in in-car infotainment systems as well as additional safety and technology elements.
The 3.0-litre V6 TDI engine is the only six-cylinder diesel engine in the segment. The top-of-the-range engine delivers 165kW of power that is available at 550 Nm of torque channelled through its standard eight-speed automatic gearbox. The V6 engine pushes the Amarok to a top speed of 193km/h and sprints from 0 to 100km/h in 8.0 seconds. It has a claimed average fuel consumption of 9 litres per 100 kilometres, with the new Amarok having a fuel tank capacity of 80 litres.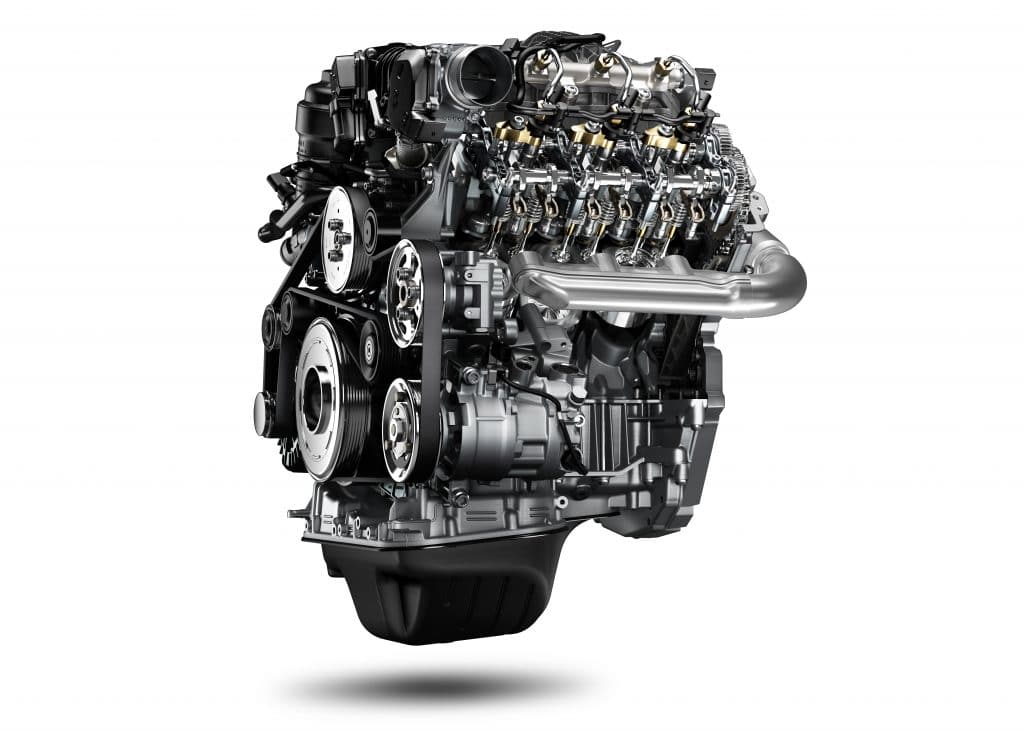 From the outside the new Amarok distinguishes itself from the previous model through a redesigned front bumper and radiator grille incorporating front fog lights, new alloy wheels and a third brake light with LED technology. Aligned with the latest Volkswagen DNA seen in the new Caddy, Transporter and forthcoming Crafter, horizontal lines dominate the front of the new model, with much cleaner-looking, angled folds and edges.
Inside the cab the changes are more prominent with an all-new dashboard design which incorporates Volkswagen's modular infotainment system with touchscreen radio, App-Connect, Bluetooth and USB interface (iPod/IPhone compatible).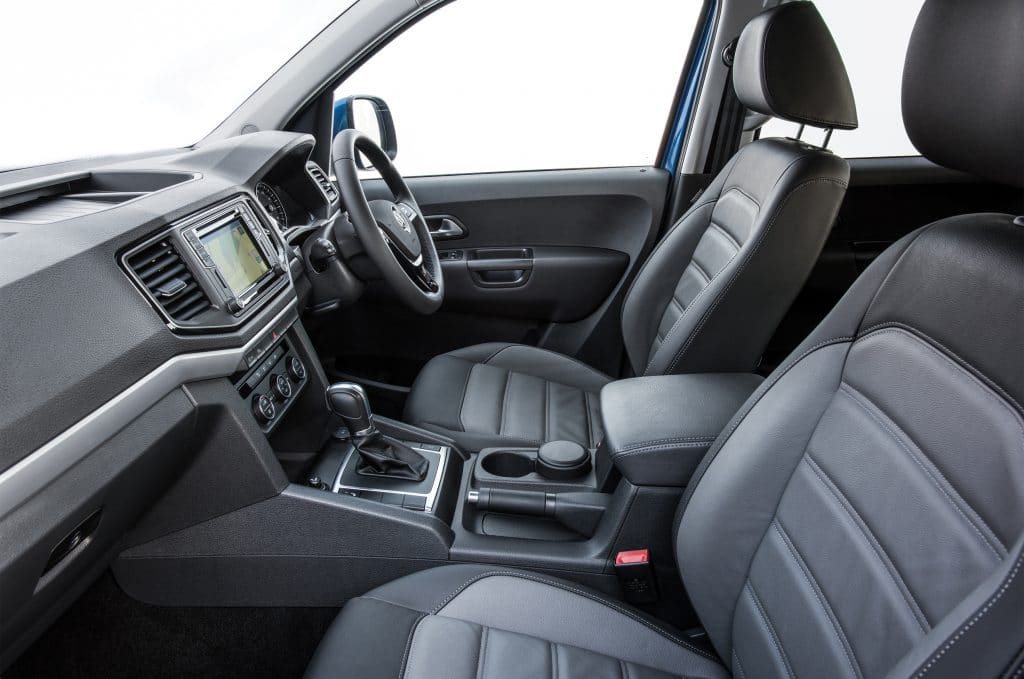 A comprehensive list of safety equipment comes as standard on every new Amarok, including four airbags, Electronic Stabilisation Programme and Volkswagen's award-winning Automatic Post-Collision Braking System which can reduce the chance or severity of a secondary accident in the event of a collision.
Automatic Post-Collision Braking system
A new standard feature in the Amarok is the Post-Collision Braking System combined with Electronic Stability Control, which also comes as standard. Nearly a quarter of all accidents involving injuries are collisions with more than one obstacle. Volkswagen's multi-award-winning Post-Collision Braking System can help to avoid such follow-on collisions or to reduce their severity. Within the limitations of the system, Post-Collision Braking automatically applies the brakes after any collision, even before the driver is able to react. The severity of any subsequent accident can thus be reduced and, ideally, avoided. The driver is able to take back control of the vehicle at any time.
Electronic Trailer Stabilisation
Electronic Trailer Stabilisation is another sub-function of ESC. The system recognises any vehicle instability caused by a trailer being towed at excessive speed. As a result, the brakes are applied to individual wheels and the engine's power output is reduced in order to stabilise the vehicle and trailer again. This allows up to 3,300 kg to be towed with maximum safety with a braked and 750 kg with an unbraked trailer with a tow bar load of up to 130 kg.
Hill Descent Assist
When driving on rough terrain, the engine management system with Hill Descent Assist ensures that the Amarok drives downhill in a controlled, safe manner by reducing engine speed and, if necessary, applying the brakes. Hill Descent Assist enables the Amarok to cope with extreme gradients safely and with ease. Taking the burden off the driver, it automatically keeps the vehicle's speed at a constant walking pace. What's more, new optional underbody protection ensures that if the front of the vehicle touches the ground, it simply slides over the obstacle.
Off road ABS
The off-road function can also be used to activate the off-road ABS: the braking distance is significantly shortened by the longer braking intervals than in normal mode on unpaved roads, as the ground material forms additional wedges in front of the wheels, and the Hill Hold Assist, which is also fitted, holds the vehicle when the foot brake is released to provide comfortable starting-off without rolling back.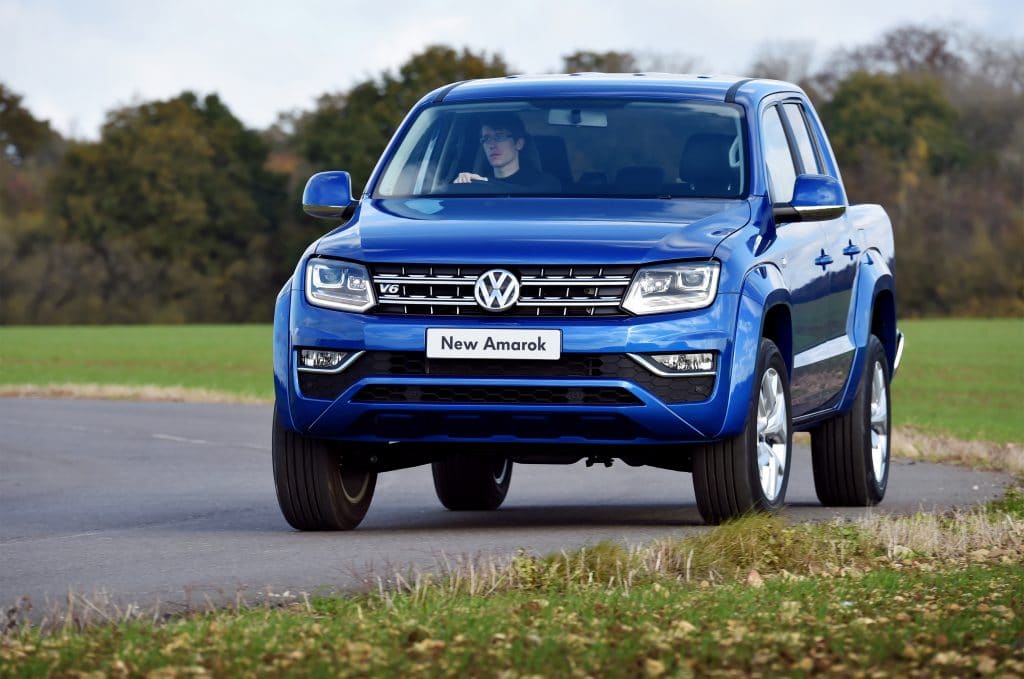 VALUE AND EQUIPMENT
The new Amarok is available in four equipment trim levels namely Comfortline, Highline, Highline Plus and Extreme.
Comfortline
The standard features offered with the entry-level Amarok include 'Kemisu' fabric seats, Posadas 17″ alloy wheels including striking wheel arch extensions, six airbags, electric windows, central locking, height-adjustable seats, rear window heating, 'Composition Media' radio, body-coloured door handles and side-mirror housings, a front spoiler and a single chrome bar on the radiator grille and fog lights, leather steering wheel and Climatic manual air conditioning system. There are additional storage compartments under the front seats to provide storage space for accessories. Ride comfort is enhanced, especially on long trips, by the cruise control system and the padded storage compartment cover, which doubles as a central armrest.
Optional features offered in Comfortline include multi-function steering wheel, electrically foldable, adjustable and heated side mirrors and Park Distance Control (front and rear).
Highline
Highline is the next equipment trim level in the new Amarok. Highline is aimed at customers looking for a vehicle in the broad SUV segment that combines maximum durability and robustness with the virtues of a traditional 4×4.
To achieve this, the Highline combines high-quality interior and exterior details with striking high-class features such as 'Manaus' 18-inch alloy wheels, partially chrome-plated wing mirror housings, chrome trim around the fog lights and the partially chrome-plated rear bumper. Smoked rear lights and LED number plate lighting continue this theme. The Highline also comes standard with four 12 V power sockets, one of which is located on the central console in the rear passenger compartment.
Inside, chrome trim forms the cowling of the gear lever in the central console, the edging of the air vents and parts of the multifunction steering wheel. Fully automatic Climatronic air conditioning is standard.
Highline derivatives can be customised with these optional features 'Vienna' leather seats, Park Distance Control (Front and Rear) with rear view camera, Light and Sight package with auto light and rain sensor, Bi-Xenon Headlights with LED daytime running lights as well as 17 or 19″ alloy wheels.
Highline Plus
Highline Plus equipment trim level adds 'Vienna' leather seat cover, Bi-Xenon Headlights with LED daytime running lights, Light and Sight package with auto light and rain sensor, rear view camera and 'Discover Media' satellite navigation system to the standard features of the Highline equipment trim level.
Highline Plus offers an option of 19″ alloy wheels for customers that want to individualise their cars.
Extreme
The top derivative in the range, Extreme is offered standard with a host of special features including 'Talca' 20″ alloy wheel and arch extensions, 'Discover Media' satellite navigation system, Bi-Xenon Headlights with LED daytime running lights, and chrome sill bars with integrated LED lighting to illuminate the exit area. The Extreme also comes standard with Parking Distance Control (Front and Rear) with rear-view camera, featuring front and rear parking sensors and a reversing camera, 'ergoComfort' driver and passenger seats with 14-way adjustment as well as 'Nappa leather seat trim covers. Extreme is available in exclusive Ravenna Blue metallic paint finish. Extreme can be customised with Sports Bar in body colour as well as 19″ alloy wheels.
Retail Pricelist (Vat and emissions tax Included)
Amarok 2.0 TDI 103kW 4×2 Manual Comfortline                 R487 700
Amarok 2.0 TDI 103kW 4MOTION Manual Comfortline       R544 900
Amarok 2.0 BiTDI 132kW 4×2 Manual Highline                   R521 900
Amarok 2.0 BiTDI 132kW 4MOTION Manual Highline         R573 000
Amarok 2.0 BiTDI 132kW 4×2 Auto Highline                        R539 400
Amarok 2.0 BiTDI 132kW 4×2 Auto Highline Plus                R591 900
Amarok 2.0 BiTDI 132kW 4MOTION Auto Highline             R590 600
Amarok 2.0 BiTDI 132kW 4MOTION Auto Highline Plus     R643 100
Amarok 2.0 BiTDI 132kW 4MOTION Auto Extreme             R673 600
Amarok 3.0 TDI V6 165kW 4MOTION Auto Highline            R665 700
Amarok 3.0 TDI V6 165kW 4MOTION Auto Highline Plus    R716 600
Amarok 3.0 TDI V6 165kW 4MOTION Auto Extreme           R748 600
Service and Warranty
The Amarok model range comes standard with three year or 100 000 km manufacturer warranty, five year or 90 000 km Automotion Service Plan and six year anti-corrosion warranty. The service interval is at 15 000 km.
In other motoring related news, Renault recently showed off the new CLIO GT-Line.