The new Volvo V90 Cross Country is now available in South Africa.
As with the XC90 and S90, the new Volvo V90 Cross Country models are all powered by Volvo's modular 2.0-litre Drive-E diesel and petrol engines. Four power plants are available: the D4 and D5 diesels, and the T5 and T6 petrols. All engines are mated to the latest all-wheel drive system and the familiar 8-speed Geartronic automatic gearbox.
The diesel engines offer strong outputs and excellent efficiency. The twin-turbo D4 AWD models make use of 140 kW at 4 250 rpm and 400 Nm between 1 750 and 2 500 rpm to deliver a smooth diesel driving experience with exceptional fuel efficiency and low emissions. Average combined fuel consumption is as low as 5.2-litres per 100 km and carbon emissions are 138 g/km.
The D5 AWD models elevate diesel performance with PowerPulse technology, offering 173 kW at 4 000 rpm and 480 Nm between 1 750 and 2 250 rpm. PowerPulse, which uses a tank of compressed air to spool up the larger of the D5 engine's two turbocharges at low rpm, combats turbo lag and realises a sense of this engine being normally aspirated. Average combined fuel economy is 5.3-litres per 100 km and carbon emissions are just 139 g/km.
On the petrol front, the T5 AWD models benefit from 187 kW at 5 500 rpm and 350 Nm between 1 500 and 4 800 rpm. Average combined fuel economy is 7.4-litres per 100 km and carbon emissions are 169 g/km.
The twin-charged engine on duty in the T6 AWD derivatives combines turbo- and supercharging for exceptional output and enhanced efficiency. A total of 235 kW at 5 700 rpm and 400 Nm between 2 200 and 5 400 rpm are on tap, resulting in brisk performance (0-100 km/h in 6.3 seconds) but also impressive fuel economy – 7.7-litres per 100 km on the combined average, with corresponding carbon emissions of 176 g/km.
Drive Modes
Four main Drive Modes are available in the new V90 Cross Country – Comfort, Eco, Dynamic and Off-road. Selectable via the diamond-cut Drive Mode selector on the centre console, the driver can adjust the engine and gearbox characteristics, as well as the car's responsiveness, as they wish. Off-road mode includes the activation of hill descent control and different throttle and gearbox mapping, for extra control. When fitted with optional air suspension the Drive Mode selector also adjusts the ride characteristics of the car.
A fifth Drive Mode is also available for V90 Cross Country drivers to customise a host of driving elements to their exact taste. 'Individual' mode allows the driver to select preferred settings for, amongst others, throttle and gearbox responsiveness, engine mapping, ride characteristics and the level of steering feedback.
SENSUS CONNECT: INTUITIVE HMI
Like the S90, the new V90 Cross Country features a minimalistic dashboard, where the now familiar 9″ Sensus Connect touch screen interface takes pride of place. Responsible for all in-car functions from entertainment and telephony to settings, climate control and navigation, Sensus Connect has become the new norm for intuitive human-machine interfaces (HMI). Designed around the same principles as today's leading smart devices, the tablet-style interface with its portrait orientation is easy to use, responsive (even while wearing gloves) and intuitive, with tap, pinch and swipe gesture controls and customisable shortcuts, giving the driver quick and easy access to their preferred vehicle functions. Various themes are available for the Sensus Connect interface and the instrument cluster, allowing drivers the choice of classic, minimalistic, metallic and sporty overtones.
The 'home' screen houses four main tiles, with the first three dedicated to navigation, entertainment and telephony. The fourth is a wildcard, dedicated to other functions which the driver may access at any given moment. What sets Sensus Connect apart from other touch-based HMI systems is that these expandable main tiles are always visible and accessible, collapsing around that which the driver wants to focus on – which means there is no need to navigate back and forth between menus or screens to access previously-used functions while driving.
Two supplementary screens offer shortcuts to apps and other vehicle information systems, and a full spread of important vehicle functions like the parking sensors, traction control, camera activation and supplementary safety systems like Lane Keeping Aid. These shortcuts can easily be rearranged so that the driver has immediate access to their preferred functions without needing to find a specific shortcut while on the move.
Climate controls for the standard dual-zone automatic climate control system are accessible at any time, remaining visible at the bottom edge of the screen and expanding quickly and effectively when tapped. Changing climate settings or temperature via the touch screen can be just as quick and easy as traditional buttons – testament to the successful execution of Sensus Connect. When fitted with optional 4-zone automatic climate control, the V90 Cross Country features a secondary climate control unit for the rear seats with touch-based temperature and fan speed controls for rear occupants.
Naturally, a full settings menu which allows the driver to adjust endless aspects of the car is also on hand, alongside a fully-digital owner's manual with smart search functionality.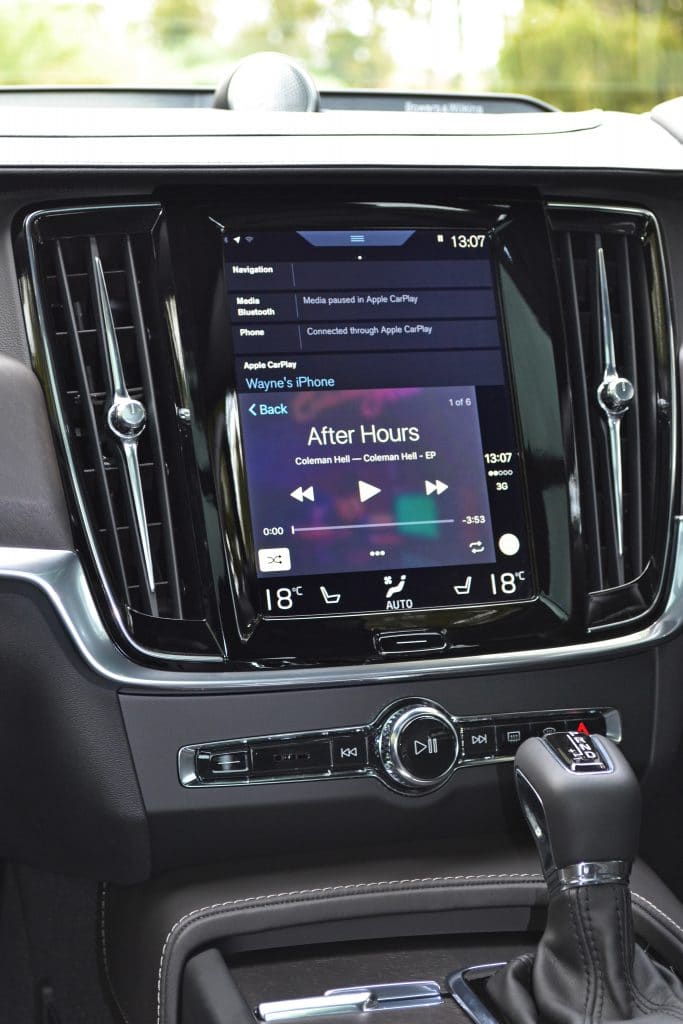 PILOT ASSIST: DRIVE ME
As with its siblings in the 90 cluster, the V90 Cross Country is also available as standard with Pilot Assist for semi-autonomous driving up to 130 km/h, on all models. Working hand-in-hand, Adaptive Cruise Control and Pilot Assist enhance the V90 Cross Country's driveability and allow drivers to hand over control to the car in varying degrees of engagement.
Available with a toggle option to conventional cruise control, should the driver prefer not to enjoy the benefits of an adaptive system, Adaptive Cruise Control (ACC) uses radar and a camera to manage the V90 Cross Country's speed in relation to the car ahead, when applicable and up to 200 km/h. The system reacts readily to changing conditions, and is capable of bringing the V90 Cross Country to a complete stop.
As an extension of ACC, new-generation Pilot Assist, which has been available in South Africa in the XC90 since late 2016 already, takes things a step further. Activated manually, the driver can also allow the V90 Cross Country to control steering input at speeds up to 130 km/h, provided there are clear lane markings on both sides of the car. This 'driver in the loop' system is provided as an outright assistance feature and requires the driver to keep at least one hand on the wheel and maintain focus on the road at all times – but with its gentle steering inputs allows the driver to relax behind the wheel to a large extent. It is important to note that semi-autonomous systems are legally restricted in how much acceleration, braking and steering force they may apply, and that the driver is always legally responsible for controlling the vehicle. The driver can at any time override Pilot Assist by applying the brakes, applying steering force, switching back to ACC or deactivating the system completely via the activation button. Pilot Assist comes in particularly handy on the daily commute and especially when stuck in a traffic jam.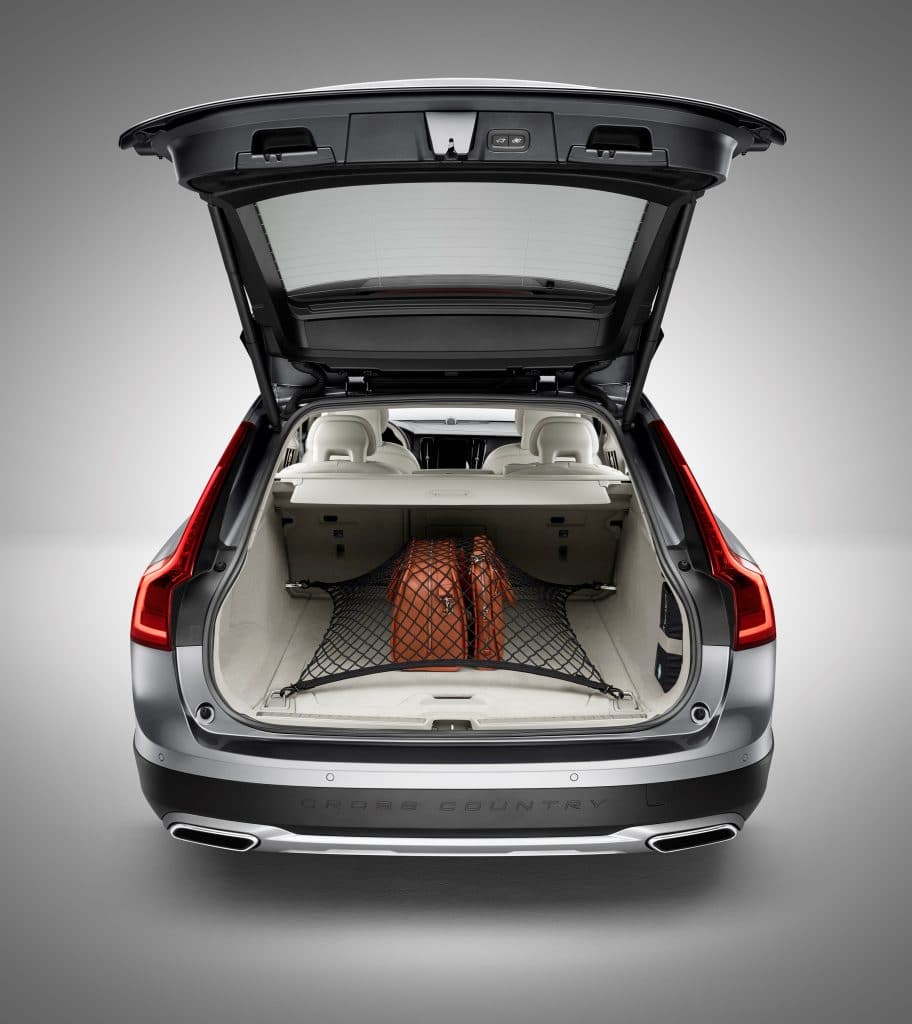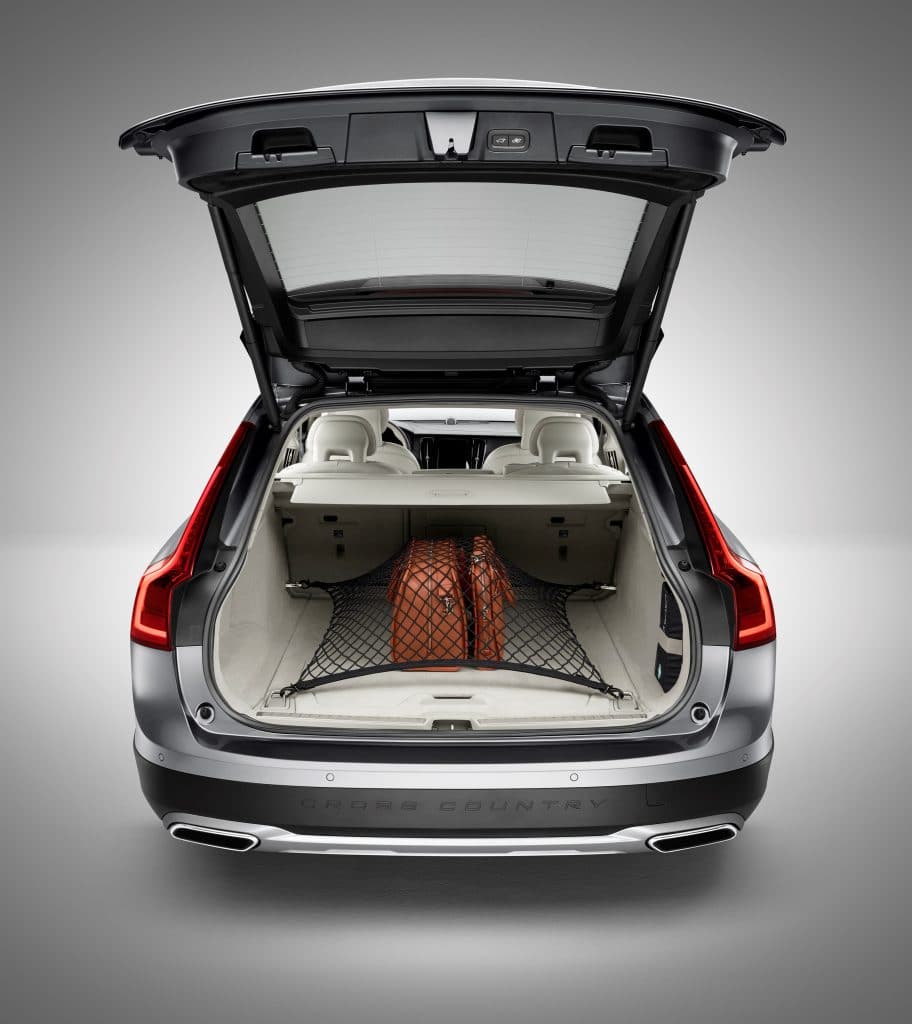 SAFETY: ONE OF THE THREE SAFEST CARS EVER TESTED
As can be expected, the new V90 Cross Country picks up on the high precedent set by the XC90 and S90, and as such features all of Volvo's latest safety systems as standard. This naturally includes ABS, EBD, EBA, stability and traction control, hill start assistance and six airbags, and Volvo's Side Impact Protection System (SIPS) and Whiplash Protection System (WHIPS). Volvo's patented safety cage is also employed in the V90 Cross Country's body construction, with high-tensile Boron steel (35%) and a mix of other metals ensuring that the passenger compartment remains intact and that other parts of the car can absorb energy effectively, in the event of a collision.
A number of supplementary "IntelliSafe" safety systems are also on hand as standard to assist in preventing accidents, or at least minimising the potential for damage and injury should a crash be unavoidable.
City Safety is an autonomous emergency braking system designed to avoid or mitigate impacts with a leading vehicle. City Safety first issues a loud warning sound and prepares the brakes for maximum stopping power, and then can apply up to 100% braking force if the driver does not react in time. Seat belts are also tightened.
City Safety also includes, as standard:
Pedestrian Detection: can detect and avoid collisions with pedestrians. Should an impact be unavoidable, the system will have at least reduced the V90 Cross Country's speed and so reduce the potential injury as a result, at speeds up to 70 km/h. Complete avoidance is possible at speeds up to 45 km/h.
Cyclist Detection: able to detect cyclists; warns the driver and the vehicle brakes autonomously if the driver does not react. The car's speed can be reduced by up to 50 km/h in such scenarios.
Large Animal Detection: utilises radar to detect large animals like moose and horses. The driver will be warned and prompted to brake, at which point the car can apply additional brake pressure to support avoidance if needed. If the driver does not react, the system applies the brakes to mitigate the possible effects of an impending collision. The car's speed can be reduced autonomously by up to 15 km/h.
Autobrake at Intersections is designed to stop the car autonomously if the driver turns into the path of an oncoming vehicle – a world-first which debuted in the XC90.
Run-off Road Mitigation and Protection with Road Edge Detection is able to detect the edge of the road, between 65 and 140 km/h. Should the car approach the edge, steering force is applied to nudge the car back into its lane. If this input is insufficient to avoid run-off, the V90 Cross Country is then able to brake in order to reduce speed as much as possible before run-off, and then protect against the effects of a run-off road scenario and brace for impact. Launched in the XC90, Run-off Road Protection tightens the front seat belts, and the energy-absorbing front seats are able to minimise potential spinal injuries if the vehicle becomes airborne.
Rear Collision Warning is able to detect an impending collision from the rear and will flash the tail lights to alert the following vehicle to the potential impact. It also applies the V90 Cross Country's brakes to reduce the chances of a knock-on frontal impact if the V90 Cross Country is stationary.
Distance Alert advises the driver when they are following the car ahead too closely. It links back to City Safety, ensuring a safe minimum following distance is observed so that, if necessary, the relative collision avoidance systems are most-effective.
Driver Alert Control uses sensors to monitor the driving behaviour of the driver. If the system detects possible fatigue or lack of concentration, the car will suggest that the driver takes a break. Linked to the navigation system, nearby rest stops, refreshment facilities and hotels may also be suggested.
 Lane Keeping Aid and Lane Departure Warning work together or on their own to assist the driver to stay safely in a lane. The driver is able to activate or deactivate one or both of the systems, depending on their preferences behind the wheel. Lane Departure Warning offers audible or vibration feedback through the steering wheel to alert the driver that they are wandering out of their lane. Lane Keeping Aid, when activated, takes things a step further by applying steering torque to gently guide the V90 Cross Country back into its lane.
Road Sign Information uses the navigation system and real-time camera detection to inform the driver of applicable road signs – like speed limits and no-overtaking zones. An audible or visual warning system is also available to alert the driver when they exceed the speed limit by a margin of their choice.
Two optional supplementary safety systems are also available:
 Blind Spot Information System (BLIS) utilises radar sensors to monitor for vehicles in the V90 Cross Country's blind spots. BLIS can also detect fast-approaching vehicles from up to 70 metres behind the V90 Cross Country.
Cross Traffic Alert (CTA) is linked to BLIS, utilising the same sensors to warn the driver of approaching vehicles or pedestrians from up to 30 metres on either side of the V90 Cross Country. Active at low speeds and most useful when reversing out of a parking space where obstacles make it difficult to see oncoming vehicles or pedestrians, a warning sound and symbolic representation on the Sensus Connect screen alert the driver.
Taking on a safety role as well as being a styling highlight are the full-LED automatic headlights with Active Bending and Active High Beam technology – standard on all models. The lights not only offer energy-efficient and long-lasting lighting technology, but have also been designed to provide maximum effective illumination at all times. The Active Bending technology allows the headlights to swivel in accordance with steering wheel input, and the front LED fog lights with cornering activation are used to extend this effect when turning around corners at low speeds or when reversing. Active High Beam means that the Volvo V90 Cross Country can provide full high beam illumination at all times without blinding other road users. Utilising the V90 Cross Country's IntelliSafe camera, the system is able to detect leading or approaching vehicles and actively block out sections of light while maintaining full brightness on the surroundings.
VALUE: TRIM LEVELS AND EQUIPMENT
Each of the four models in the V90 Cross Country range encapsulate two trim grades, each of which offers different levels of lifestyle appeal, luxury and value for money. Momentum models maintain a high level of standard equipment and rugged outlook, while Inscription models include a more luxurious but nonetheless robust persona as standard.
All models feature a tough-looking exterior with unpainted lower bumpers, wheel arch extensions and side sills, and a studded grille. A total of 13 exterior colours and 12 interior schemes are available for the new V90 Cross Country.
Standard equipment
Momentum models set a high standard for the V90 Cross Country range. Standard exterior equipment includes glossy black window detailing, electric folding side mirrors, matt chrome roof rails, automatic full-LED headlights with Active Bending and Active High Beam, front LED fog lights, rain-sensing wipers, rear parking sensors, chrome-tipped rhomboid exhaust outlets and 18″ alloy wheels. On the inside, standard kit includes full leather upholstery with the innovative pearl seam, comfort seat padding, a powered driver's seat with electric adjustment (including lumbar) and memory, Black Walnut décor inlays, a 12.3″ digital instrument cluster, the 9″ Sensus Connect interface, satellite navigation, a 10-speaker high-performance audio system, 2-zone automatic climate control, split-folding rear seats with a ski hatch, mid-level interior illumination, a leather steering wheel with full multifunction support, a leather gear lever, the diamond-cut Drive Mode selector, fully-automatic and laminated windows all-round, metal door sill mouldings, and a 12-volt power socket in the boot.
Over and above Momentum specification, Inscription models include 19″ alloy wheels, a leather-clad key, Nappa soft leather upholstery, a powered passenger seat with memory, power-adjustable side support and extendable cushions for both front seats, high-level interior illumination with adjustable ambient colour settings, and illuminated door sill mouldings as standard.
Available as standard on the other 90 cluster cars but particularly applicable to the active lifestyle promoted by the V90 Cross Country, all models also come standard with a waterproof key tag, which can be used in place of the original key. This compact, sealed and lightweight dongle can be strapped around a wrist or ankle, worn around the neck on a lanyard, tethered to a belt or zipped inside a pocket without worrying about dust or water damaging components – and it provides full access and starting functionality to the car. It also allows for the main key to be safely locked inside the vehicle when unexpected use of the key tag is required – for example when visiting the beach.
Optional equipment
Designed to enhance standard specification but maintain the value proposition, a host of optional equipment is available either as standalone extras or in carefully constructed and cost-effective packages (Techno Pack, Premium Pack and Adventure Pack), from the factory. Highlights include keyless entry and starting, a graphical head-up display, BLIS and CTA, a reversing camera, Park Assist Pilot including front parking sensors for semi-autonomous parallel and perpendicular parking with a Park Out function, the remarkable Visual Park Assist 360-degree HD camera system, tinted glass, rear side window sun blinds, a leather dashboard and door panels, 4-zone automatic climate control with touch controls for the rear passengers, CleanZone automatic air quality system, auto-dimming side mirrors, heated front and/or rear seats, massaging front seats, ventilated front seats with perforated Nappa leather, a heated steering wheel, power-folding rear seats, an automatic load cover, electric folding rear headrests, a 230V power outlet (2-pin), gear shift paddles, a compass, a CD player, Smartphone Integration (Apple CarPlay and Android Auto), an electric tailgate with hands-free opening and closing, integrated child booster seats in the rear, an electric sunroof, air suspension (rear axle only, linked to active front dampers), and the exceptional 19-speaker Bowers & Wilkins audio system.
The latter has been custom-designed for Volvo and features remarkable clarity, bass (thanks to a subwoofer which is integrated into the chassis) and sound reproduction – having been modelled in environments including the Gothenburg Concert Hall in Sweden and London's Abbey Road Studios. The result of the collaboration between Bowers & Wilkins and Volvo Cars uses a combination of high-performance, low-distortion speaker designs, including extended range aluminium tweeters and Kevlar midrange units, reflecting components found in Bowers & Wilkins' award-winning premium loudspeakers. It also features a centre speaker with Bowers & Wilkins tweeter-on-top technology for the first time in a crossover, providing a more open, spacious sound experience.
The unique Adventure Pack has been created especially for South African buyers and offers a host of lifestyle-oriented extras, bristling with value. Included in the Adventure Pack are, amongst others, the panoramic roof, 360° surround view camera, auto-dimming mirrors all-round, integrated compass, powered folding rear seats, air suspension and the 230V power outlet – all geared towards improving those out-of-town weekend adventures and typical annual holiday drives.
A host of smart accessories are also available for the V90 Cross Country, including bike racks, scuff plates, boot mats, mud flaps, dog crates and harnesses, tow bars, roof boxes and even a roof box lift for easy storage and fitment of a roof box in a home garage.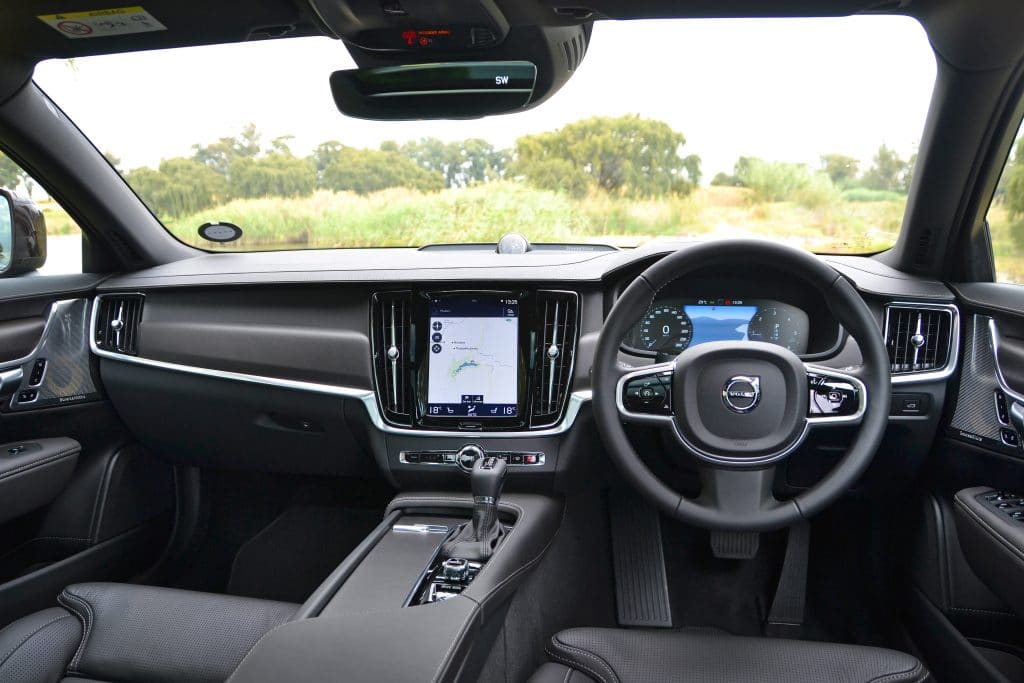 RANGE OVERVIEW AND PRICING
The new Volvo V90 Cross Country range begins at R770 900 for the T5 Geartronic AWD Momentum, and ends with the T6 Geartronic AWD Inscription at R921 300.
Volvo V90 Cross Country D4 Geartronic AWD Momentum R794 800
Volvo V90 Cross Country D4 Geartronic AWD Inscription R825 200
Volvo V90 Cross Country D5 Geartronic AWD Momentum R839 500
Volvo V90 Cross Country D5 Geartronic AWD Inscription R869 900
Volvo V90 Cross Country T5 Geartronic AWD Momentum R770 900
Volvo V90 Cross Country T5 Geartronic AWD Inscription R801 300
Volvo V90 Cross Country T6 Geartronic AWD Momentum R890 900
Volvo V90 Cross Country T6 Geartronic AWD Inscription R921 300
All models come standard with a five year or 100 000 km full vehicle warranty, full maintenance plan and roadside assistance, as well as laminated glass and Tracker Connect as standard.
In other motoring related news, VW recently introduced the new Amarok which boasts a class-leading new diesel powerplant.