On a cool April morning in Eugene, Oregon, as they approached a fork in the race course beyond a narrow footbridge past Franklin Avenue and over the Willamette River — one path for the Eugene Half-Marathon and the other for its 26.2-mile route — a Nike pacer turned to University of Oregon sophomore Justin Gallegos and said, only half-kidding, "There's still time to run the whole thing."
Gallegos, who has Cerebral Palsy, has made good on challenges his entire life. When he began running as a high school freshman in Santa Clarita, California, he repeatedly stumbled in an effort to control his body coordination, a painstaking task dictated by his congenital disorder. Six years later, now a member of the track club at the University of Oregon, he can clock a just-above-7-minute mile. And every time he's broken a perceived limitation, Gallegos has chosen, time and time again, to set new personal records over new distances.
In the winter of 2017 and after successfully completing a number of 8K races, Gallegos set his sights on a new milestone: run a half-marathon in his college town. If he finished the race, he would be one of a few able-bodied runners in the world with Cerebral Palsy to complete a half-marathon unassisted.
"I've always wanted to work myself up to a full marathon and beyond," says Gallegos. "Back in November, I decided that this year was going to be when I took that first step. I felt like I was ready, and that I had enough training under my belt."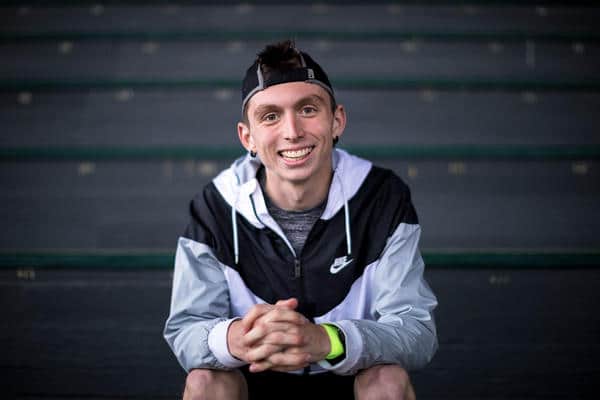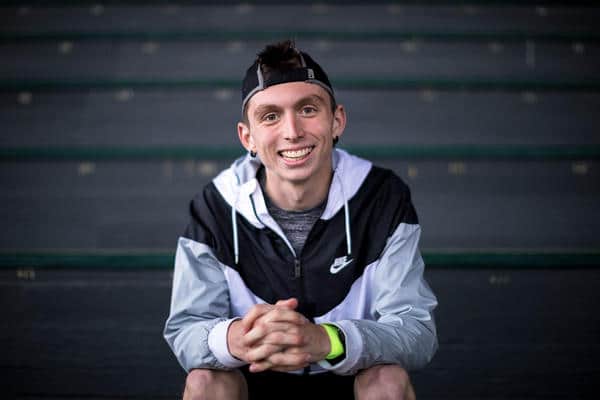 At first, Gallegos aimed to simply finish the race. But then, he saw the race as an opportunity to prove a bigger point he believed in: Limitations are perceived only by the mind, not the body. So, he tacked on another goal: finish the race in under two hours. The timing of all of this fell, fittingly, on the one-year anniversary of Nike's Breaking2, where three elite marathoners chased down the elusive sub-two-hour marathon.
Gallegos called a friend in Nike Running and told him about his goal. Not only did the team see an opportunity to help Gallegos by providing him with the latest in Nike's supportive footwear, but also by equipping him with Nike's knowledge of performance. That's when Gallegos was introduced to Brett Kirby, a senior human performance researcher in the Nike Sport Research Lab and the plan to assist Justin in his own Breaking2 was set in motion.
A team of Nike innovators, including Geng Luo, a senior biomechanics researcher, brought in Gallegos to study his unique gait. They closely observed the landing kinetics of his stride to learn which areas of his shoe to reinforce, and, most importantly, to hear Gallegos' feedback on the footwear components that were most important to him. Luo says that primary concerns were ease of entry (making it easier to put on and secure his shoe), forefoot durability (running gait of athletes with Cerebral Palsy can induce high shear in that area), cushioning (when Gallegos' foot strikes the ground, his ground-contact force concentrates on a small area, causing high pressure) and a stable platform to assist his balance.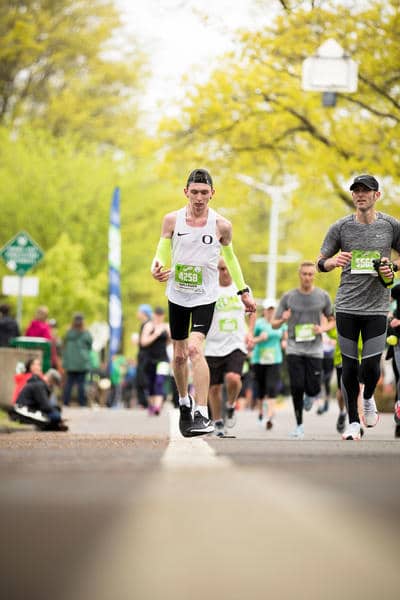 For race day, Gallegos landed on a Nike FlyEase version of the forthcoming Nike Air Zoom Pegasus 35 (Gallegos said it provided his favorite fit and feel). The Nike FlyEase system features a lightweight zipper-and-strap technology, letting the runner open and close the shoe in one fluid motion. The mechanism allowed him to get the shoe on and off without assistance, and it eliminated the potential problem of struggling to tie undone laces during a race.
The Nike FlyEase technology is not only designed for distance runners like himself, but for athletes of all ages and abilities who want shoes that are secure, easy to put on and easy to take off.
"I want people to know that this technology exists, and regardless of what your sport is, the Nike FlyEase technology can help you; it can change your quality of life in incredible ways," says Gallegos.
Luo is quick to point out, though, that the most crucial component for Gallegos is his willpower.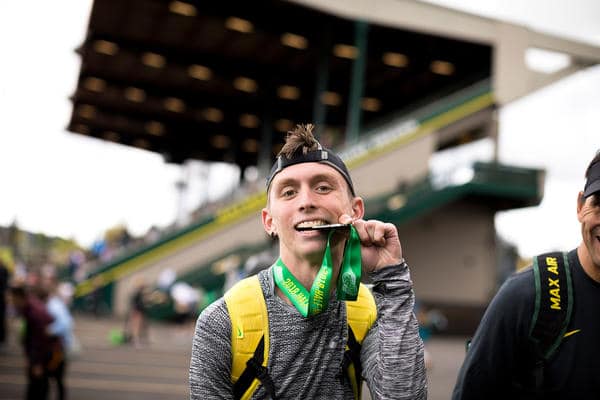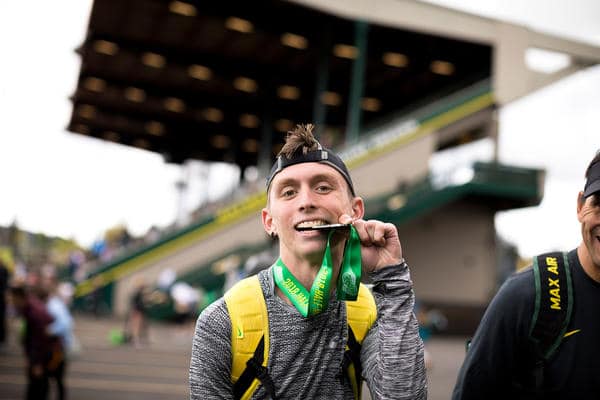 "It reminds me when we were working on the Zoom Vaporfly 4% for Eliud and other athletes," says Luo. "For Justin, the focus was to provide him with the right information and footwear to help remove barriers for him to push his limits. Together with the Nike Running team, we obsessed over the small details but Justin did all the hard work. What we believe to be impossible is possible for him."
As Gallegos and his three-person pace team doubled around the footbridge for mile 13 and rounded into the entrance of Hayward Field, the arched gateway opened to a panoramic view of the Eugene faithful in the grandstands, who erupted into cheers as Gallegos made his final kick. He sprinted for the finish line, his body spent, with a final lunge. The clock flashed his time: two hours and three minutes. It wasn't the mark he was hoping for, but in his eyes, the race was the beginning of a new starting line; he says he hopes to run another half-marathon by the end of 2018, where he'll look once more to break the two-hour mark. Eventually, he'll set out for that full marathon.
The pacer crossed the finish line and softly rested her hand on Gallegos' shoulder as he was embraced by his mother and father. "I asked him, 'When do you want to run the next one?' she laughs. 'Next week, we'll be here.'"