The compact sedan remains a staple in the global automotive arena. The word "sedan" in the historical sense referred to an enclosed chair for conveying one person, carried between horizontal poles by two porters. In more modern times, sedan has come to refer to a 'three-box' passenger vehicle with a 'boot'.
The Toyota Corolla is synonymous with the term compact sedan – launched in 1966; the Corolla nameplate has been affixed to 11 generations of Toyota vehicles. Many milestones have been achieved across a span of 52 years, including the world's best-selling vehicle nameplate and exceeding 45 million units sold globally in 2017 – making the esteemed Corolla one of the world's best-selling vehicles in history.
In celebration of Corolla's rich history (both globally and in South Africa), Toyota South Africa has added some flair to the already stylish Corolla in the form of a special edition model – dubbed Prestige+ (Prestige Plus).
Two Tonality 
Visually the Prestige+ ups the ante with the adoption of a bi-tone colour scheme; with the roof finished in elegant gloss black aka Attitude Black. The gloss black treatment is further applied to both upper and lower radiator grilles. The black lower grille extends across the apron of the vehicle, incorporating standard fog lamps and terminating in vertical 'blades' at the bumper's edge which also feature gloss black finishing.
The power adjustable side mirrors inherit the same treatment, and complement the rest of the ebony-themed styling package. An elegant Prestige+ insignia is affixed to the rear boot lid – signifying the model's credentials.
Buyers can choose from three exterior colour combinations; Glacier White, Satin Silver and Graphite Grey – all paired with the Attitude Black roof.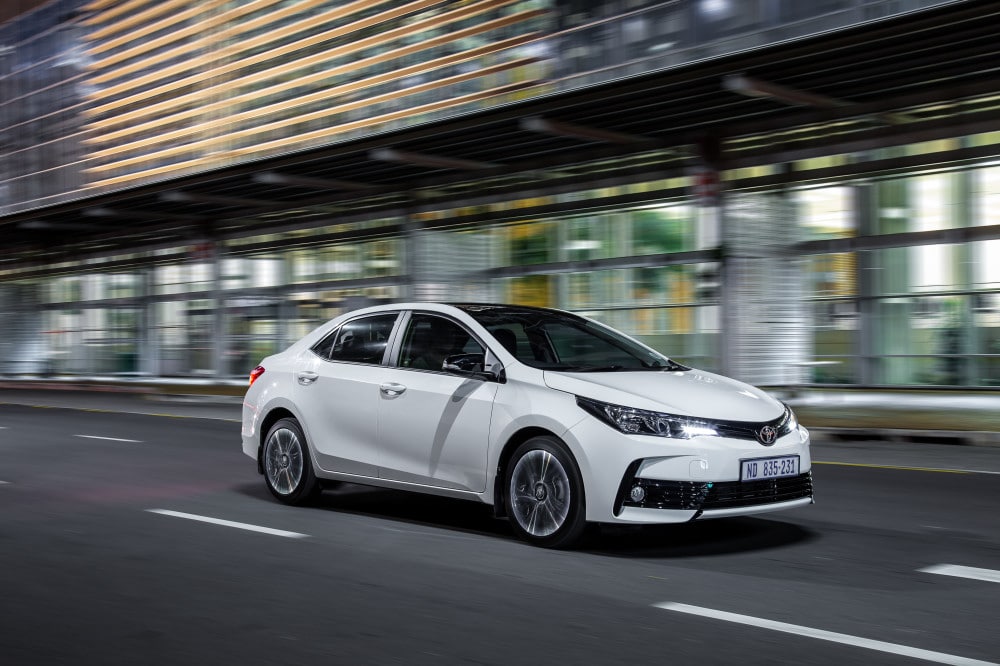 Cabin Treatment 
The interior space is also elevated with the change to a leather – and fabric combination for the seats and Prestige+ branded floor mats. A Piano Black effect has been applied to the door trim accents (silver in the normal Corolla models) to complete the package and visually tie in with the exterior elements.
Driving Dynamics  
Underpinning the Prestige+ model is the familiar 1.6-litre four cylinder power plant utilised in the Corolla range. The engine produces 90 kW and 154 Nm, and buyers can opt to either couple it to a 6-speed manual or 'Multidrive' Continuously Variable Transmission.
A key feature of the Prestige+ model is the addition of ultra-stylish 17″ alloy wheels. The wheel and tyre package not only creates a strong visual statement, but also adds to the driving experience. Shod with 215-45-R17 tyres, the wheels incorporate a bi-tone, bi-textured design with directional spokes creating a sense of forward motion.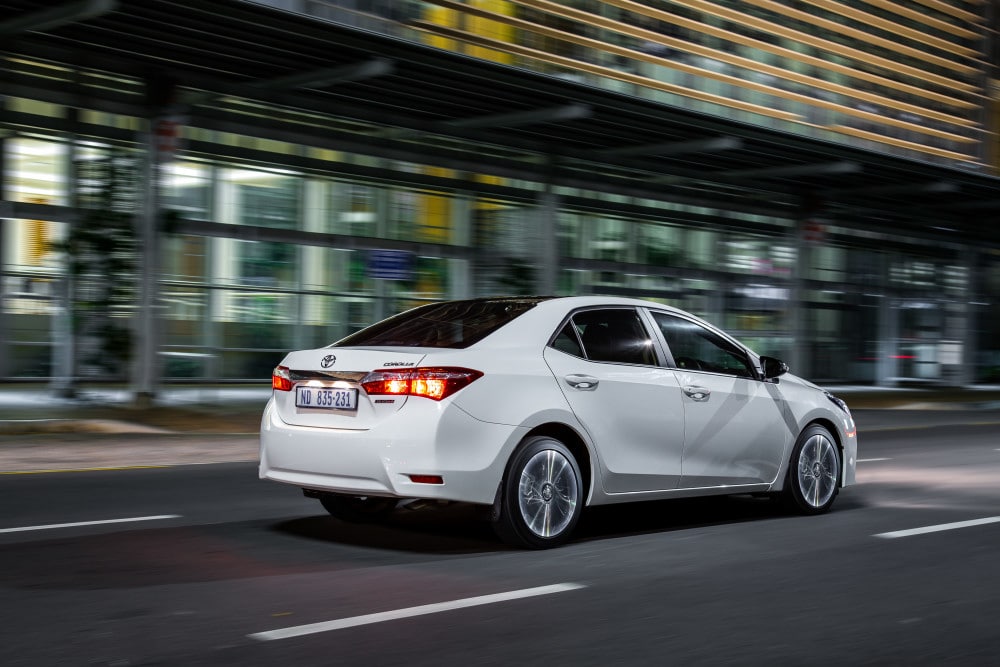 Peace of Mind
The Corolla Prestige+ is supported by a three year or 100 000 km warranty and five year or 90 000 km service plan.
Prestige+ Model Line-up
Corolla Prestige+ 1.6 6MT       – R 318 500
Corolla Prestige+ 1.6 CVT       – R 333 000
Normal Corolla Model Line-up
Corolla 1.3 Esteem                  – R 270 500
Corolla 1.3 Prestige                 – R 291 200
Corolla 1.4D Esteem                – R 304 400
Corolla 1.4D Prestige               – R 318 100
Corolla 1.6 Esteem                  – R 290 200
Corolla 1.6 Prestige                 – R 310 600
Corolla 1.6 Prestige CVT         – R 325 100
Corolla 1.8 Prestige                 – R 324 800
Corolla 1.8 Exclusive               – R 348 400
1.8 Exclusive CVT                   – R 361 700