The small SUV segment represents the fastest growing 'group' on the South African passenger vehicle landscape. A unique characteristic of this segment is the variety and diversity of models. This led to the birth of the 'cross-over' – a modern fusion of hatchback and SUV, fusing the best attributes of each, to create a vehicle which perfectly fits the modern urban lifestyle.
Designed to stand out both within the Toyota line-up and in its segment, the all-new C-HR – or Coupe High-Rider – represents Akio Toyoda's determination to allow greater stylistic freedom and promote engineering creativity in order to achieve eye-catching designs and enhanced driving pleasure.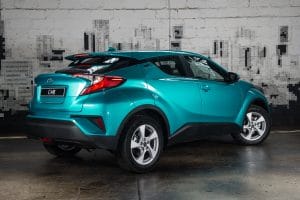 The all-new Toyota C-HR introduces distinctive styling that brings newfound dynamism and sensuality to the crossover market, combining a coupe-like upper body with the powerful underpinnings of an SUV.
Another new departure for Toyota is the interior styling, which represents a new 'Sensual Tech' design concept combining high-tech functionality with a sensual and fashionable style. It embodies a driver-focused area within an airy, expansive cabin space.
Under the bonnet
The Toyota C-HR is the first model locally utilise Toyota's advanced new 1.2 litre turbo engine. The 1.2T engine uses advanced technologies that allow the engine to change from the Otto-cycle to the Atkinson cycle under low loads, it has vertical vortex high tumble air flow intake ports, an exhaust manifold integrated in the cylinder-head and advanced heat management.
To this, the 1.2T adds a direct injection system, as well as a water-cooled turbo and heat-exchanger. Furthermore, the VVT-i (Variable Valve Timing – intelligent) has been upgraded to a VVT-iW (Variable Valve Timing – intelligent Wide) system, which allows even more flexibility in the valve-timing.
The combination of these technologies results in outstanding performance and efficiency. For a displacement of 1,197cm3, the engine delivers 85kW and a constant torque curve of 185 Nm between 1,500 and 4,000 rpm. It will push the Toyota C-HR from 0 to 100 km/h in 10.9 seconds and the top speed is set at 190 km/h. All of this is achieved despite a strong focus on fuel consumption and CO2 – the manual car achieves 6.3 l/100 km on the combined cycle, and delivers just 141g/km of CO2. CVT models deliver 6.4 l/100 km and produce 144 g/km.
Choose the C-HR for you
There are three derivatives to choose from, which vary specification grade and transmission choice. Plus grade models add additional specification features to the base package.
Toyota C-HR 1.2T 6MT – R 318 500
Toyota C-HR 1.2T 6MT Plus – R 345 000
Toyota C-HR 1.2T CVT Plus – R 356 000
All C-HR models come standard with a comprehensive five year or 90 000 km service plan, with service intervals set at 15 000 km. A three year or 100 000 km warranty is provided.
In other motoring related news, Hyundai Automotive SA recently entered the busy sub-compact SUV market segment with the new Creta