Technology is a pervasive element that is present in virtually every kind of employment. Getting your kids ready for an educational environment in which technological tools can provide them with a leg up, as well as for their future workplace necessitates that you introduce them to tools as quickly as possible. But a lot of parents grapple with which device to introduce them to and how to make said device secure and child-friendly.
TCL (Alcatel's parent company) has introduced a smartwatch in the South African market in the form of the MoveTime MT30 Family Watch. The company hopes that it will end those kinds of headaches for parents, by providing children with a cool tech gadget while providing parents with a way to track the whereabouts of their children and stay in touch with them throughout the day.
The playful, child-friendly aesthetic and bright colour schemes leave you in no doubt to whom this smartwatch is aimed at. Our review unit came with a pink silicon rubber strap (interchangeable for other straps that you can purchase), whilst the display was protected by its baby blue plastic housing. Speaking of the dispay, you use a 1.3″ colour IPS Display (240 x 240) touchscreen to navigate the smartwatch's simplified and easy to use operating system. This is not Android Wear, but a proprietary OS designed by TCL and it is compatible with Android smartphones as well as iPhones. The display was a little small for my liking (and man hands) but is perfectly fine for kids.
When setting up the device you have to insert a SIM (nanoSIM) to use it, as it is a standalone smartwatch rather than one you link to your smartphone and use as a secondary device. You only use your smartphone app to setup the device and change its settings etc. The MoveTime is both water and dust proof (IP67 rated) so rain or juice spills won't phase it.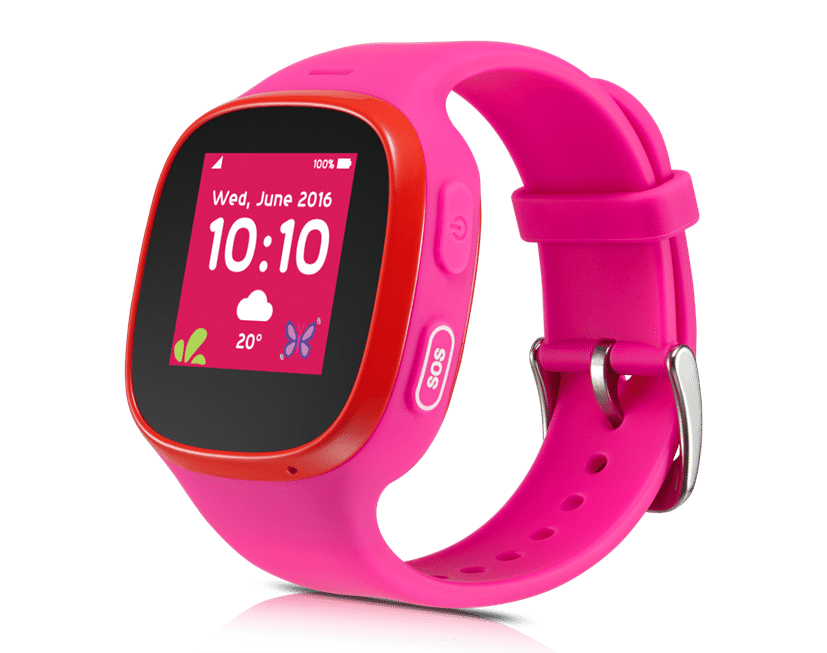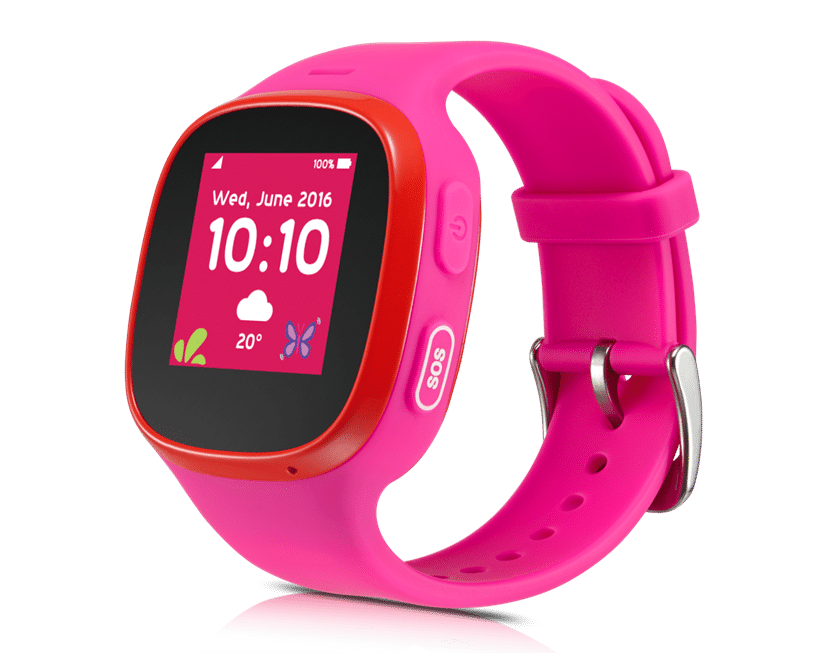 Peace of mind for parents, fun for kids
 Parents can use the mobile app to view the whereabouts of the child's device throughout the day and to contact the child. The geo-tracking feature enables parents to see the child's exact coordinates as well as to define safe zones so that they can be alerted if the child strays out of his or her routine. Furthermore, the SOS button on the watch enables the device to call for help in an emergency, so parents can locate their child with ease.
The kids can use the MT30 to make and receive calls (to pre-approved numbers you set via the app), groupchat (again, only to pre-approved contacts) using the dedicated chat app on the device to send voicenotes or emojis. There are also some embedded games to entertain them including an app through which they can change their voice to sound like an animal and send a voicenote using said animal sound. You can unfortunately not download other apps or games from a TCL app store for instance, which is kind of a bummer.
Other functionalities includes a to to-do lists and reminder functions to help teach children time management, while providing parents and kids with the ability to flag important dates and keep track of important events and appointments.
The combination of the Qualcomm 8909W chipset and 512 MB RAM keeps things tickly smoothly. And the 450 mAh battery keeps the device going for well over two days which is impressive since it is always online and always connected.
Ultimately, the device delivers great peace of mind for parents while being a neat introduction to the world of smartphones and tech in general for your kids. You can get it from selected Vodacom outlets on a UChoose Flexi 110 contract for R149 per month over 24 months, or get it on prepaid for R2699 which is a little pricey but worth it in our opinion.