The Subaru Legacy is a car brimming with intelligent performance. Impeccably engineered, the Legacy stands out from its key rivals with more cabin space than most in the sedan segment, luxurious dynamic driving prowess and signature Subaru safety credentials. The combination of a powerful six-cylinder Boxer engine and an intelligent Symmetrical All-Wheel Drive system, a luxuriously appointed cabin as well as a comfortable and refined driving experience, make the Legacy a strong offering in a segment that is highly contested but with cars built unlike the Subaru Legacy.
Ashley Lazarus, Marketing Manager for Subaru SA explains the Subaru Legacy positioning and his hopes for the market reaction. "We have always said that no car drives like a Subaru since no car is built like a Subaru.  The Legacy perfectly embodies this philosophy with a perfect mix of comfort and refinement, our distinct driving dynamics from our Symmetrical All-Wheel drive system and the uniqueness within the executive sedan segment that only a Subaru can offer. With the inclusion of EyeSight Driver Assistance and an all-round improvement on what is already a fantastic package, it's a car appealing to those who want a car as unique and distinct to complement their own maverick outlook on life."
A Blend of Elegance and Sportiness
The exterior has been given a full refresh, starting with a sportier and more aggressive front view. Subaru designers have heightened the headlight edges for a sharper stare, replete with the signature 'Konoji-design' C-shaped daytime LED running lights. The lower grille opening is now lower and wider, above which the traditional Subaru hexagonal features less chrome detailing than before with two black fins that sit below one chrome line on which the Subaru six-star badge sits. The fog lamp surrounds and cladding have been tweaked for a more elegant look and all these designs considered, the new Legacy looks more planted and more elegant at the same time.
A newly designed bumper has been fitted to the rear with a two-tone layout, the lower end of which features a diffuser-like design incorporating more integrated exhaust outlets. Standout features along the flanks of the Legacy are the new turbine-designed 18-inch, lightweight alloy wheels as well as new side mirrors that now feature integrated LED turn signal indicators and side view camera (left side) for added drive convenience and safety.
Subaru has also added two new exterior colours to the Legacy range: Magnetite Gray Metallic and Crimson Red Pearl.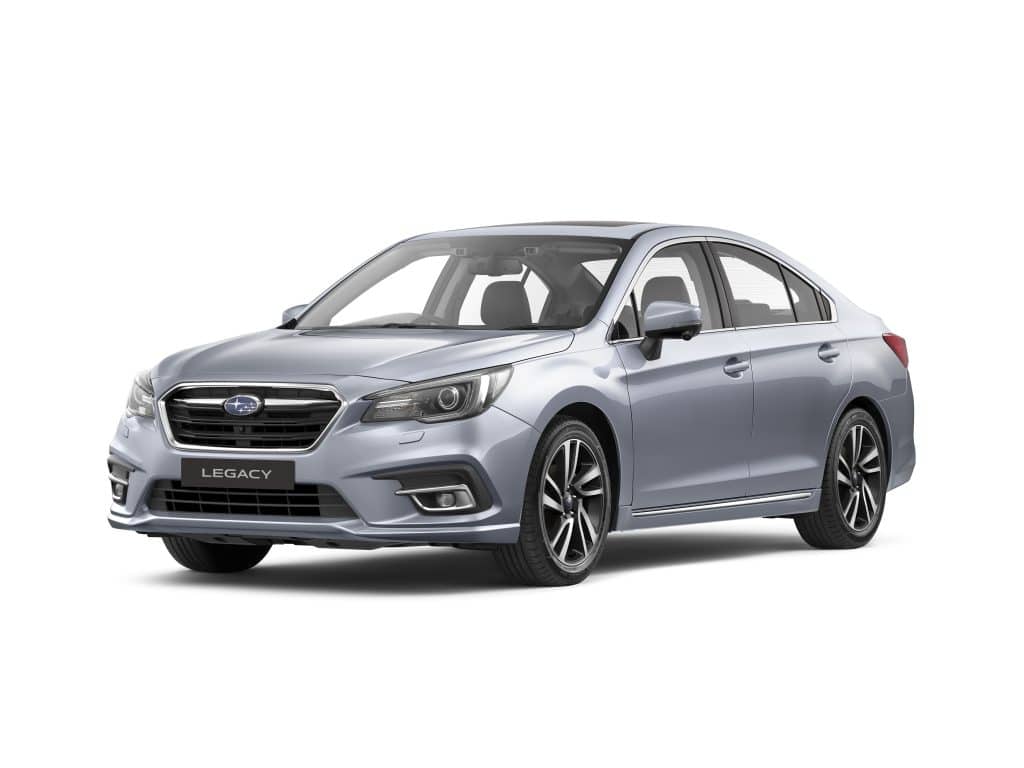 Up on Comfort and Technology
The Subaru Legacy has historically always commanded the road with a strong presence yet a consummately comfortable drive, expected from any executive class sedan. This year, the new Legacy exudes even more comfort and refinement, firstly thanks to the use of more premium interior cabin materials in the door and dashboard panelling, now sporting new high-gloss black trim contrasted by silver surrounds on some control panels. From the driver's seat, a new multi-function leather steering wheel has been adopted behind which is a newly updated on-board computer display with revised graphics and dial surrounds. The focus of the centre stack is the all-new Infotainment system, the most significant technological upgrade on the Subaru Legacy's entertainment and connectivity agenda. The 7-inch screen is larger than before and now features the new Subaru touchscreen system similar to those used on other all-new Subaru vehicles. It's a faster, more intuitive system with an enhanced display and more functionality. In addition to new apps and TomTom-based SATNAV as standard, the system is Apple CarPlay and Android Auto enabled.  For better connectivity and safer driving, there is the added feature of voice-control now with two microphones as opposed to one before. The technology is thanks to Nuance (maker of Dragon Dictation apps for computers and other devices) and the result is more accurate voice interaction with Apple's Siri or OK Google voice commands as well as other voice command functionality for interaction with the climate control and audio settings.
For improved ergonomics, the dual-zone climate control temperature indicators have now been moved to within the control dials, on either side of which the settings are housed in a revised layout with newer graphics and a larger digital clock. Whilst these new changes are quite conspicuous there are some that won't be so obvious to the eye but will surely be experienced by the driver and passengers nonetheless. Improvements to the air conditioning system mean the cabin is cooled or heated faster than before and the air is spread around the cabin more evenly.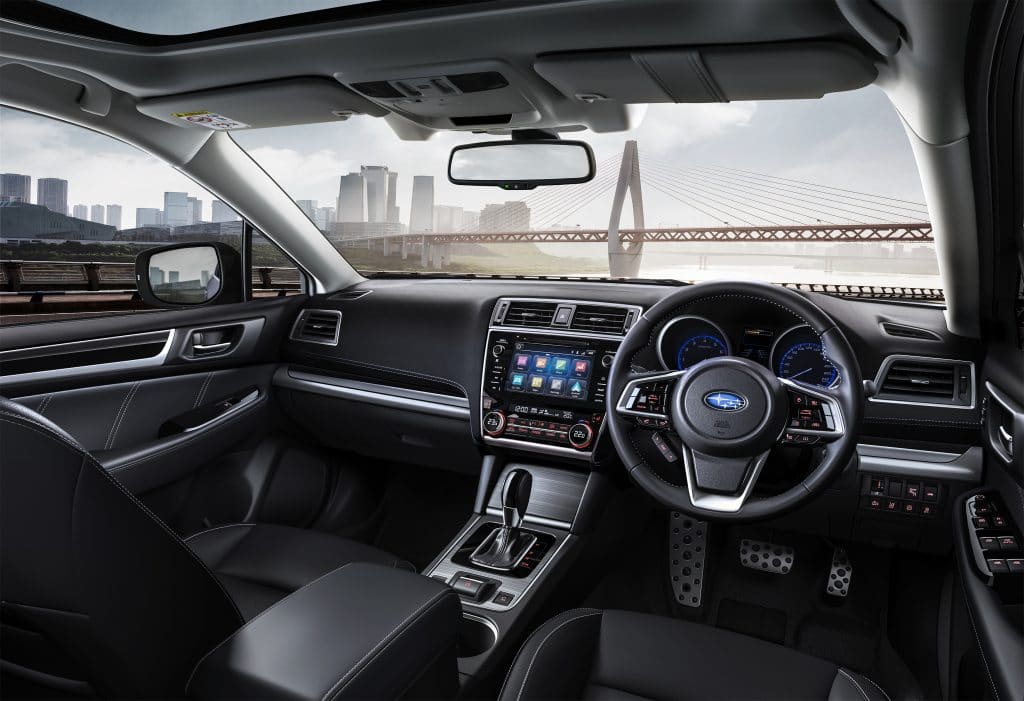 Driver-Focused Performance
In addition to a full house of luxury equipment and features, Subaru engineers have gone further in improving the overall driver feel of the new Subaru Legacy. The electric steering has been improved to be more direct and for better communication to the driver. The dampers have been retuned for better absorption of bumps in the road as well as more stability in corners. The brake pedal feel has been improved too and these changes all contribute to more driver-focussed and more compliant drive, whether driving enthusiastically or just elegantly cruising.
In South Africa, one model derivative of the Legacy is available: The flagship, Subaru Legacy 3.6R-S ES. It is powered by a DOHC, six-cylinder 3.6 litre Boxer engine that produces a feisty 191 kW at 6,000 rpm and 350 Nm at 4,400 rpm. The EZ36 engine is coupled to a smoother and more fluid Lineartronic CVT gearbox. Throttle response has also been improved and this, together with the Symmetrical All-Wheel Drive system as well as Active Torque Vectoring technology make the Legacy a powerful performance sedan with sporty agility and handling to match.
EyeSight Driver Assistance added for Unmatched Safety
Class-leading safety is one of the key selling points of Subaru vehicles, and in the executive guise of the 2018 Subaru Legacy, the level of safety has been vastly improved with the introduction of EyeSight Driver Assist technology being offered on the Legacy in South Africa for the first time.
EyeSight is Subaru's award-winning system that makes use of stereo cameras that scan the road ahead and then act in a number of ways to mitigate or reduce the damage of collisions. EyeSight features include Adaptive Cruise Control, Pre-Collision Braking, Pre-Collision Throttle Management, and Vehicle Lane Departure and Sway Warning. Other new safety technologies on the Subaru Legacy include:
Steering Responsive Headlights (SRH).
The Blind Spot Detection and Rear Cross Traffic Alert indicator lamps are larger and have now been moved more prominently to the side of the newly designed side mirrors.
For further convenience and safety, Legacy now sports a Front View Camera and Side View Camera in addition to the Rear-View Camera for better vision directly in front and to the left side of the car.
All these new safety features are in addition to the already impressive list of safety features packed into all Subaru vehicles: Vehicle Dynamics Control; 7 Airbags; ISOFIX child-seat anchors; the use of high-tensile steel in strategic areas around the body structure and more.
This updated MY2018 generation of the Subaru Legacy, is a more focused, sharper and more accomplished vehicle. It's the alternative executive sedan, uniquely built in the Subaru way. With reams of space, a build quality second to none, dynamic ability and powerful performance, reliability and five-star safety, the new Legacy deserves high praise.
PRICING
The new Subaru Legacy 3.6R-S ES retails for R619 000 and the car is sold with a three year or 75,000 km Full Maintenance Plan as well as a five year or 150 000 km Subaru Warranty. It is now available for order at any of our dealerships nationwide. The Maintenance plans are extendable up to five years or 150,000kms at time of purchase.
In other motoring related news, Isuzu Motors South Africa recently announced that it will be entering the SUV segment with the introduction of the popular Isuzu mu-X into the South African and Sub-Saharan Africa market in the second half of the year.