The New Renault Captur range now boasts refreshed styling, enhanced quality and a more diverse
model line-up, presenting a more formidable alternative within South Africa's very popular and highly
competitive Compact Crossover segment.
Since its introduction in 2015, the Captur has a proven track record in the market through the 6500
plus unit sales achieved to date, with the Automatic model proving to be an extremely popular
derivative.
More assertive exterior design cues
The New Renault Captur marks the evolution of this dynamic vehicle, with a prominent redesigned
upper grille with finely-chromed edging, full LED Pure Vision Lights and C-shaped daytime running
lights highlighting its assertive looks.
The finely-honed design and strong personality of the New Captur are even further defined by
additional funky colours, the striking new 17″ Black & Chrome Alloy wheels and the impactful twotone
bodywork (standard on the Dynamique models), accentuating the alluring curves of the Captur.
The SUV attributes of the Renault Captur are evident by its raised ground clearance (170mm) and
elevated seating position, enhanced by the dominant new skid plates built into the front and rear
bumpers, with an optional fixed glass roof allowing for urban scapes to be appreciated from all
angles.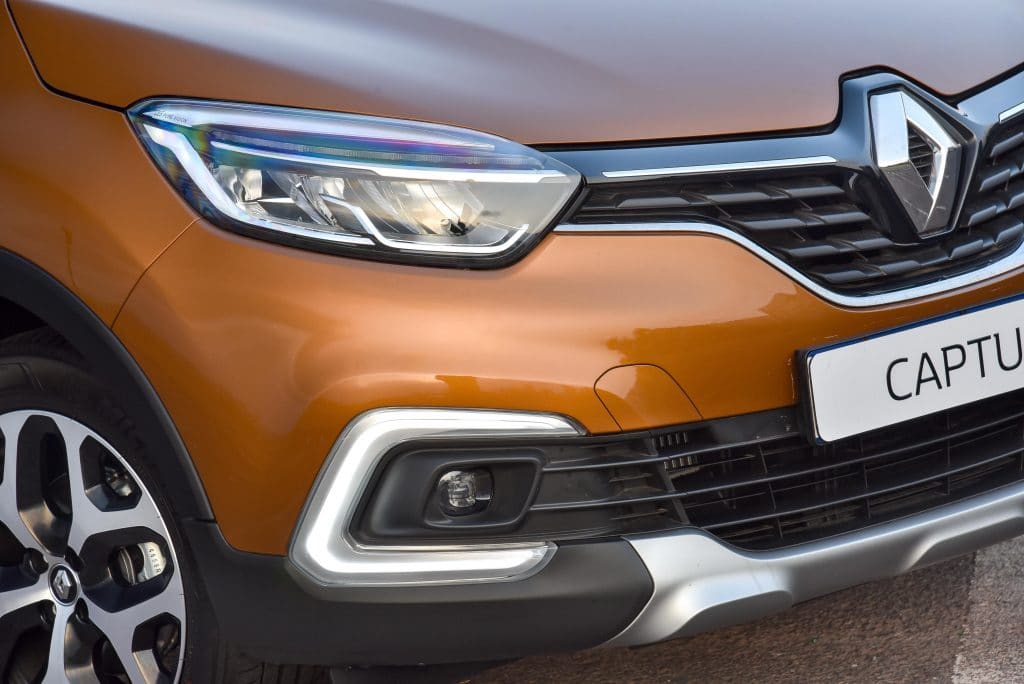 Warm and sensual design, inside and out
The aesthetically-pleasing exterior enhancements of the New Captur are further complemented by
the more inviting interior, adding more appeal to its MPV-like versatility and roominess.
The new leather steering wheel and optional heated leather seats (available on Dynamique Models)
add to the qualitative feel, while the more supportive seats ensure maximum driving comfort.
Additional improvements include discreet satin chrome trim, a new continuous-shaped soft-touch
dashboard and interior panels which envelop the occupants, a newly-designed gear lever, new
multipurpose central storage options plus an innovative new front row seat central armrest with a
useful storage facility (on Dynamique Models), elevating the overall driving comfort and convenience
factor.
The smart interior offers everything one needs at ones fingertips in order to enjoy the journey as
much as the destination. The New Captur comes fully equipped with the Renault MediaNav
touchscreen integrated tablet (on Dynamique Models), F1-inspired turbo-engines, Hill-Start Assist and
even keyless entry for added convenience. Other smart features such as rear park sensors, front &
rear electric windows, auto headlamps with auto windscreen wipers, bluetooth connectivity, easily
accessible fingertip controls behind the steering wheel, cruise control & speed limiter, and cornering
headlamps make everyday life that much easier.
The versatile R&Go application has now also been introduced into the New Captur Blaze
derivative. This easy-to-use and customizable interface offers access to advanced technology even
from the entry level of the New Captur range.
Developed to enhance the driving experience, R&Go is a smartphone/tablet multifunction
application that adds innovative functionality to the vehicle.
Connected to the vehicle through the radio using Bluetooth, this application enables remote control
of the user's car radio, with the smartphone screen presenting an extended dashboard to display
additional features. A dedicated cradle which houses the smartphone/ tablet ensures safer and more
comfortable use.
The R&Go application allows access to four different universes: Multimedia, phone, vehicle and
navigation, testimony to greater accessibility to advanced technology.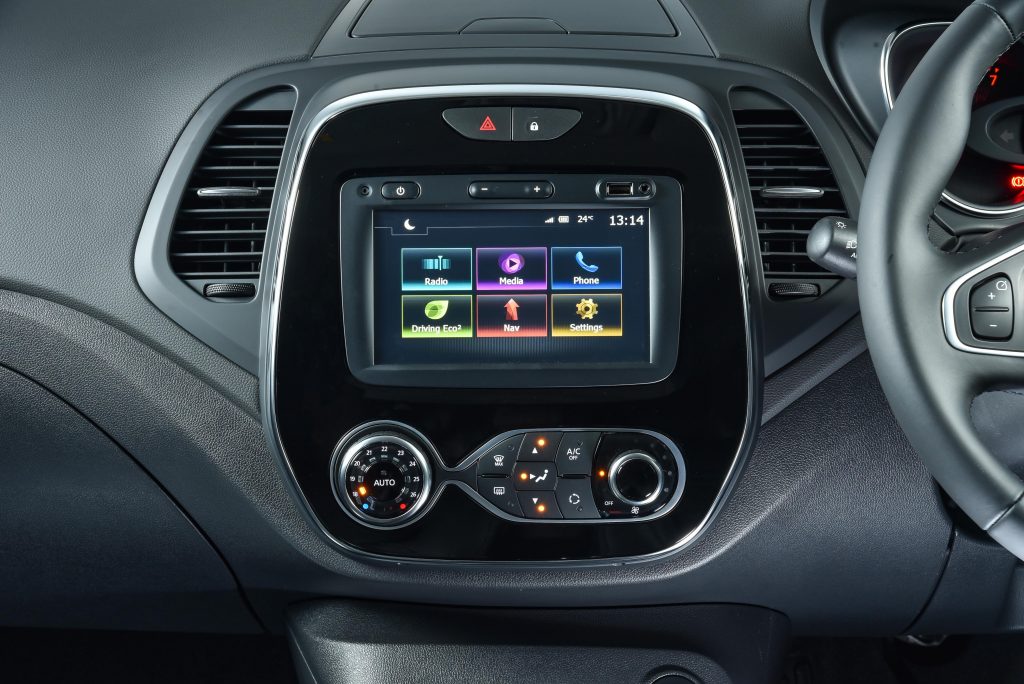 Capacity for adventure
The New Captur is equipped for adventure with its reversible, two-position boot floor, generous boot
space & under-floor storage, unique removable Zip Collection seat covers and flexible modularity.
The Captur offers more than ample interior space. The rear passengers enjoy knee room of up to
21.6 cm. The passenger compartment features a modular, 1/3-2/3 split-fold sliding rear bench seat
with three places, allowing one to adjust the space depending on needs. The versatility of the vehicle
is also evident with the boot, which comes with a multi-position floor that can be removed and
reversed.
Easy-access handles effortlessly slide the rear bench seat forward (by up to 16cm) and it can also
be folded flat. The maximum capacity of the boot as seen when opening the hatch door totals 377
litres split by an innovative two-position boot floor with its cleverly hidden yet easy-to-access storage
area. With the rear bench seat pushed to its forward most position, the overall capacity increases to
455 litres. With the rear seats folded down, the total maximum boot space measures a substantial
1235 litres.
In the two Dynamique models, the boot floor is reversible: smooth on one side with an anti-slide
surface on the other.
With its SUV-styling and persona, MPV-like practicality and the dynamism offered by a hatch, the
New Renault Captur is sure to have even greater appeal for SA motorists.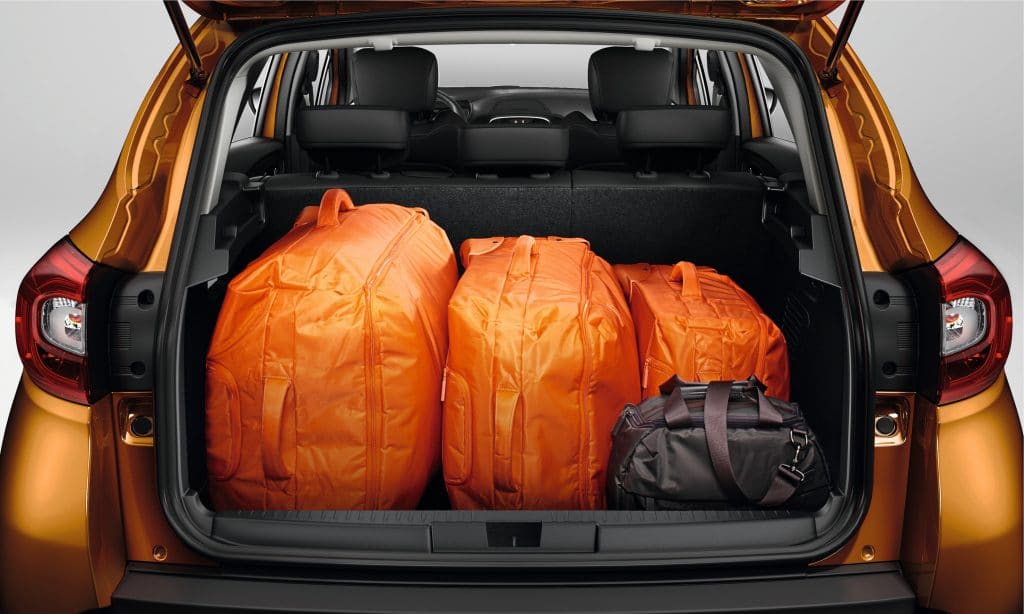 Maximum output, minimal fuel consumption
The Renault Captur offers three turbo engine variants developed directly from Formula 1
technological expertise, combining driving pleasure with fuel economy – i.e. the 66 kW Turbo
engine, 1.2 litre 88 kW Manual & EDC Turbo power plants, & 1.5 dCi Diesel engine, yielding
class-leading fuel consumption from only 3.6 litres per 100 km.
The 66 kW Turbo engine is an 898 cm3, three-cylinder turbo engine that delivers 66 kW and
maximum torque of 135 Nm enabling one to cruise through the city with ease, with consumption from
only 5.4 litres per 100 km and CO2 emissions at 125g/km of CO2.
The 66 kW 1.5 dCi, 1461 cm3, four-cylinder, common rail diesel engine is the perfect mix of
performance and efficiency.
With outputs of 66 kW and 220 Nm, it delivers great low down torque and has been developed by
Renault to deliver outstanding economy. Figures from only 3.6 litres per 100 km and Co2 emissions of 95g/km
speak for themselves.
The 1.2L, four-cylinder 88 kW Turbo engine is now available in manual or automatic. Whether you
combine it with the six-speed manual gearbox for great responsiveness, or with the 6-speed
automatic EDC gearbox for greater comfort, this engine is responsive and agile combining power
and controlled fuel consumption (from only 5.4L/100 km and 125g/km of Co2).
The EDC gearbox offers you dynamic performance and fluidity at fuel economy levels that are close
to those you enjoy with a manual.
With its strong design, intuitive features and multi-functionality, the New Renault Captur is geared for
adventures like never before.
Safety a Number 1 priority
Safety remains at the forefront of the Renault brand, with the Captur range offering unrivalled safety,
having achieved a top 5-Star Euro NCAP rating in 2013.
The Anti-Lock Braking System (ABS) coupled with Emergency Brake Assist (EBA) kicks in and
automatically applies maximum brake pressure when an emergency braking situation is detected by
excessive brake force, and is able to shorten braking distance by up to nine metres.
The Electronic Stability Program (ESP) ensures vehicle stability and assists the driver to avoid
possible loss of control resulting from excessive speed or slippery road conditions. It detects and
reduces loss of traction, reduces engine power and brakes on independent wheels in the event of
loss of control.
Hill Start Assist (HSA) is automatically activated (upon complete stop) as soon as an incline of at
least 10% is detected. The system is engaged by stepping firmly on the brake and prevents any
backward movement long enough for pull off without requiring the use of the handbrake. When
stepping off the brake, the car will hold for approximately three seconds to allow pull off with no rollback.
Standard passive safety features include high-efficiency front airbags, head/chest side bags, seat
belts with pretensioners and force limiters (front seats), anti-whiplash head rests and force limiter
function (rear side seats). Three ISOFIX 3-point child seat anchor seat attachments are fitted to the
front passenger and rear side seats.
Peace of mind comes standard
As is the case across Renault's entire product range, the New Captur comes standard with a five year or 150 000 km mechanical warranty; plus a three year or 45 000 km service plan and a six year
anti-corrosion warranty, with service intervals at 15 000 km or 1 year.
RECOMMENDED RETAIL PRICING
– New Renault Captur 66 kW Blaze                      R229 900
– New Renault Captur 66 kW Dynamique             R269 900
– New Renault Captur 1.5 dCi Dynamique            R294 900
– New Renault Captur 88 kW Dynamique             R294 900
– New Renault Captur 88 kW EDC Dynamique    R309 900
In other motoring related news, BWW Group South Africa recently announced that it is now the proud owner of Esther's specially commissioned BMW panels painted in Ndebele art which have been installed into a new BMW 750Li Individual. The vehicle will form part of BMW Group South Africa's Heritage Collection and will be utilised as a display vehicle at various Arts & Cultural events with the blessing of Esther Mahlangu in order to preserve her cultural heritage for the people of South Africa.