HUAWEI aims to entice health and fitness users, smartwatch fans, and lovers of tech who also are really into the look of classic wristwatches with its WATCH GT 4 which comes in different size options and styles to appeal to the majority of smartwatch buyers. We got to review the biggest and most people would say (judging by the amount of enquiries and admiring glances we received over the course of the last few weeks) stylish of the lot in the form of the 46mm version. It is not a size for dainty wrists measuring in at 46 × 46 × 10.9 mm making it suitable for wrist sizes raning from 140 to 210 mm.
It also has a nice heft to it – indicating quality and a great build tipping the smartwatch/fitness sensor scales at approximately 48 g (Green Composite Strap excluded). The centrepiece of the design is the 1.43 inche AMOLED color screen that makes content look very colourful, vivid and detailed thanks to its 466 × 466 pixels, PPI 326 resolution.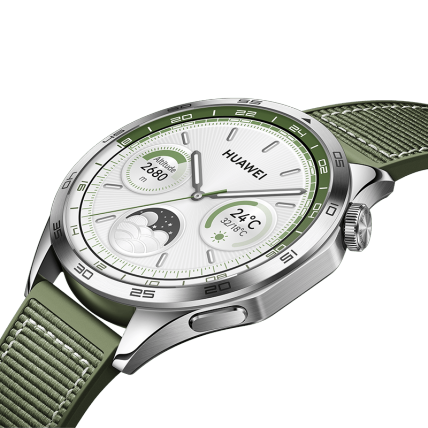 You use the touchscreen, Home Button (Rotating Crown), as well as the Side Button to navigate the easy to use mobile operating system, which works well with your smartphone whether it is a HUAWEI smartphone, any other Andriod device (running Android 8.0 or later) or an iPhone (powered by iOS 13.0 or later). You will get exceptional battery life out of this smartwatch of up to two weeks, trumping virtually every other device from Apple and Samsung, with only some Garmin smartwatches able to strech your usage longer. Wireless charging also sees that when the battery eventually runs out, you are able to quickly charge the smartwatch back to 100%.
Another notable feature is 5 ATM water-resistance, meaning it has a water resistance rating of 50 meters under ISO standard 22810:2010. This means that they may be used for shallow-water activities like swimming in a pool or ocean, but not for deep diving activities such as scuba diving, waterskiing, or other activities involving high-velocity water or submersion below shallow depth. Users who want to do these activities can check out Apple's Watch Ultra 2.
Rest assured however, that the WATCH GT 4 ticks all of your fitness, sleep- and health tracking needs, including even Pulse Wave Arrhythmia Analysis, allowing users to stay on top of their heart health, with timely alerts on potential A-⁠fib and premature beat risks, powered by the PPG sensor. Customisability is also another feature highlight. For instance, there are more than 25,000+ exquisite watch faces to browse, including Blooming watch face, which flowers as your daily activity data grows, and Always On Display watch faces, whatever mood your in – there's a watchface for that.
Ultimately, HUAWEI's WATCH GT 4 presents a fully features package in a eye-catching, stylish design that goes for a recommended retail price of R6999. This makes it around R3000 more affordable than the Apple Watch Series 9 GPS model in 45mm size and noticeably less expensive (R9499) than the Samsung Galaxy Watch 6 Classic in 47mm LTE guise (8600 for the non-LTE model). Definately worth considering if you put features, value, battery life, and style over brand loyalty and walled OS gardens.