Today, at CES 2018, Lenovo outlined its 2018 vision for technology innovations – this new portfolio of intelligent devices will make reality better, from the pocket to the PC to the home.
Virtual reality (VR) gets even better with a new take on VR consumption and creation. The Lenovo Mirage Solo with Daydream headset offers one of the simplest ways of exploring VR experiences to date. The headset brings immersive VR within the reach of mainstream consumers in a standalone, fully self-sufficient simple-to-use design. Use the Lenovo Mirage Camera with Daydream to capture life's memorable moments and then relive them in 3D on the headset. Professionals too can transform their work through Augmented Reality (AR) with Lenovo C220 smart glasses. This monocular, light weight, hands free AR hardware and software experience leverages your smartphone's capabilities to augment service tasks, training and more.
At home, get a more personalized, convenient and shared technology experience with the Lenovo Smart Display that has the Google Assistant built-in. We've also added more brainpower to our laptops: the always on, always connected Miix 630 2-in-1 detachable gives you the mobility of a smartphone with LTE and up to 20 hours of battery local video playback with the full performance and the productivity you'd expect of a Windows 10 S PC. ThinkPad ups its game with a revamped X1 line and customer-centric innovations on the X, T and L Series. We're also bringing users an easier way to migrate files and settings from one PC to another, identify secure Wi-Fi networks and get PC diagnostics and support through one app with Lenovo Vantage,on our Windows 10 PCs.
Whether it's virtual, augmented or smarter features. Reality has never been so exhilarating.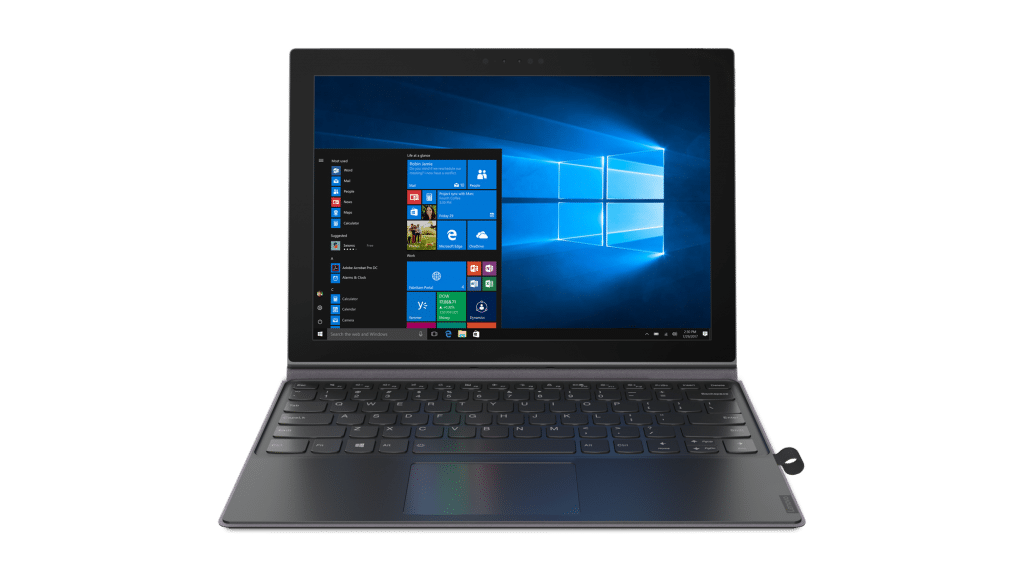 Collaboration at its Best: New Moto Mods and a Developer Challenge with Indiegogo
Adding to the Moto Mods ecosystem, Motorola welcomed two new mods made by developers. The Vital Moto Mod features advanced sensor technology which allows you to easily measure your own five vital signs from one Moto Mod sized integrated device. Use your moto z to measure five vital health signs — heart rate, respiratory rate, Pulse Ox, core body temperature, and for the first time, accurate systolic and diastolic blood pressure from your finger.
A grand prize winner of the 2017 Transform the Smartphone Challenge with Indiegogo, the Livermorium Slider Keyboard Moto Mod gives you a full QWERTY slider keyboard and lets you tilt your moto z screen up to 60 degrees for the times when a touch screen can't handle your typing needs. For developers inspired by the Moto Mods platform, Motorola and Indiegogo also re-launched the Transform the Smartphone Challenge, offering an opportunity to bring great ideas from concept to market.
Better Together: Lenovo Mirage Solo with Daydream Headset + Lenovo Mirage Camera
VR is done differently with the Mirage Solo standalone VR headset and Mirage VR180 camera from Lenovo, allowing VR-curious crowds to consume and create content in an incredibly seamless way.
Break free from wires, PCs or phones with the comfort and simplicity of the world's first standalone Daydream headset. And be one of the first to immersive yourself with WorldSense motion-tracking technology on Google Daydream's virtual reality platform. Using WorldSense, you can lean, dodge or duck through space naturally as you move through a large library of magical, reality-defying content. Based on the Qualcomm Snapdragon 835 VR platform, the Lenovo Mirage Solo delivers high-quality, immersive experiences. And you can make games even more lifelike with the wireless Daydream controller – baseball bat, steering wheel or whatever fits your chosen app.
Now you can create your own VR content and then experience once-in-a-lifetime moments, on demand, with the Lenovo Mirage Camera with Daydream. This pocket-sized point-and-shoot camera simplifies the technology needed to capture 3D photos and videos with its dual 13 MP fisheye camera and its 180 x 180° field of view. We're making the tools to make your own VR content accessible and fun. The Lenovo Mirage Camera photos and videos can be uploaded to your personal Google Photos and YouTube account for viewing and sharing – watch on a standard browser on your Mirage Solo with Daydream headset or on most popular VR headsets you may already own. It comes equipped with the Qualcomm Connected Camera Platform which features high-quality dual cameras, built-in WiFi and X9 LTE cellular modem in the LTE version.
New Glass C220 Solution Pairs Artificial Intelligence Learning & Augmented Reality
The Lenovo New Glass C220 system consists of a Glass Unit and Pocket Unit and works by recognizing and identifying real-life objects using AI technologies. The lightweight 60-gram Glass Unit runs on Android. You experience AR through one eye, while keeping the other on the real world. Download the LNV app (AH Cloud) to your smartphone and then plug the Pocket Unit into the phone. The New Glass C220 applies to a variety of work and learning scenarios, from letting you gather information in your field of view, to giving step-by-step directions and instructions for repair, identifying disabled equipment and trouble-shooting issues with a remote colleague all while keeping your hands free. The New Glass C220 is an AR wearable terminal device which features anti-noise interaction, mobile computing capacity, customized mods and more.
Lenovo NBD AH Cloud 2.0 is an enterprise SaaS platform based on AR, AI and big data technology. It can enhance the awareness and working ability of the field staff. AH Cloud does conforms to the concept of the Augmented Human, making it ideal for remote industrial maintenance, intelligent command and dispatch,3D diagnosis, intelligent tourism and other fields. The video communication system is based on Kepler technology including on-to-many two-way video; the workflow management system is based on titan technology, user can build and edit project without programing ability; and the intelligent detection system, based on martin technology, can do real-time object detection for multiple type of objects simultaneously after being trained using images.
Start and End Your Day Smarter with Lenovo Smart Display
Lenovo Smart Display with the Google Assistant built-in makes using technology at home more convenient, intuitive and shared. Make it the command hub for your connected smart home devices, from lighting to heating and more – controlled with your voice or touch. And use Google Assistant to show you directions on Google Maps,  watch YouTube videos, video call your friends with Google Duo, listen to music and more. The Lenovo Smart Display comes in 8″ or 10″ screen models and is powered by the Qualcomm Home Hub Platform.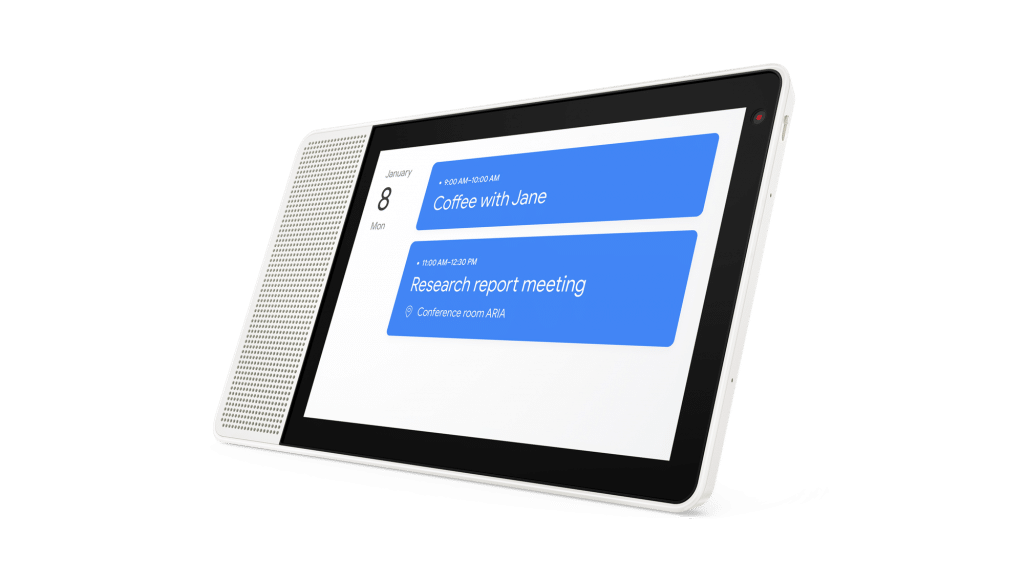 Always On, Always Connected PC
We're taking PC mobility up a notch with the Miix 630. This 2-in-1 detachable defies expectations of what a laptop can truly do. It gives you the flexibility and productivity of a Windows 10 S laptop with the always on, always connected mobility of a smartphone. Rely now on fast 4G LTE instead of Wi-Fi with up to 20 hours of local video playback. Built on Qualcomm Snapdragon 835 mobile Mobile PC platform, the Miix 630 is a 15.6 mm thin and 1.33kg light mobile companion. Equipped through Windows 10 S with Cortana you can use your voice to access your personal digital assistant and use Windows Hello biometric facial recognition for more secure and convenient log-in.
Progressively Responsive & Smarter ThinkPad Line
The ThinkPad brand continues to redefine the gold standard in laptops for business professionals. We're adding innovations in displays, privacy and connectivity across the X1 line to respond to the changing work environment. We're giving the X1 Tablet a new 13″ design with 3K display and optional global LTE-A connectivity. On the X1 Carbon and X1 Yoga we're enabling Amazon Alexa and adding a premium display with support for Dolby Vision HDR for unbelievable viewing and ThinkShutter Camera Privacy – no more sticky note covers needed. We've also added touchscreen models to the X1 Carbon – giving users even more to love about the world's lightest 14″ business laptop – plus up to 15 hours of battery life.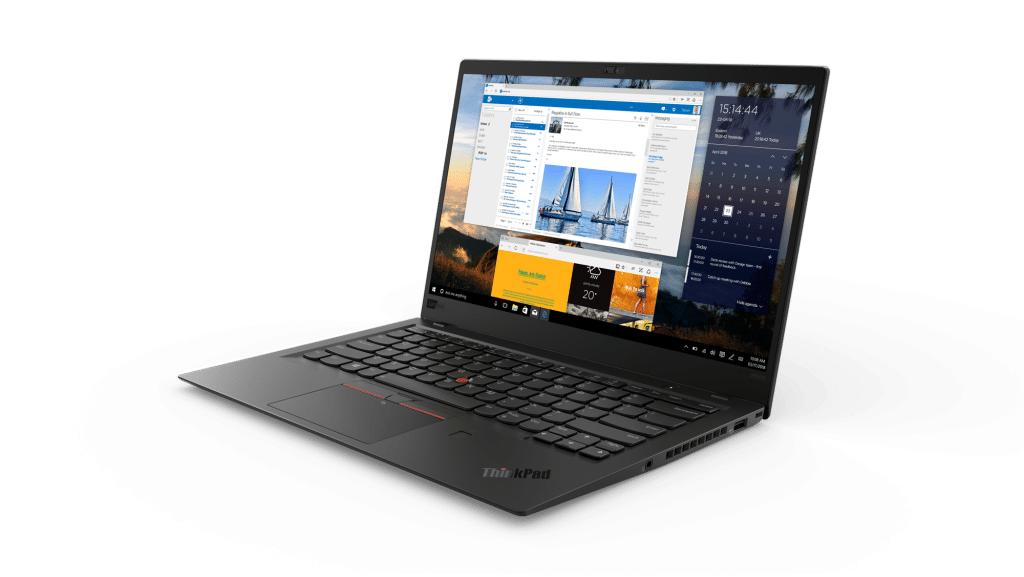 Across the brand, the X280, X380 Yoga, T480, T480s, T580, L380, L380 Yoga, L480, L580 are getting upgraded. Notably, the X280, the road warrior's machine, slims down to just 2.56 lbs while the T480 rewrites the corporate standard with new side docking, infrared camera, global LTE-A and an incredible 27 hours of battery life. The T480s combines performance and best-in-class weight, while the T580 give you faster memory, dual storage and new docking for uncompromised power.
When not on the go and looking for more screen real estate, the new Lenovo Thunderbolt 3 Graphics Dock lets you connect up to three 4K displays to select Lenovo PCs – simultaneously get panoramic viewing, a performance boost from discrete graphics and charge your PC. Upgrade your PC experience by connecting the IdeaPad 720S with a Lenovo Explorer immersive headset for Windows Mixed Reality through the graphics dock – letting you play VR games, travel the world through holo-tours and more.
Pricing and Availability
See http://news.lenovo.com/CES2018 for information about pricing and availability for products.