On October 7, 2017, Alex Iwobi's 73rd-minute strike made Nigeria Africa's first qualifier for this summer's major international tournament.
The 21-year-old forward, who was born in Lagos and has spent much of his life in England, is just one of the Super Eagles' young stars (the majority of the roster is under 25). He and the team head to the tournament with a supreme confidence that is pure contemporary Nigeria: Audacious. Fast. Fun. Stylish.
Those terms also describe elements of Nigerian culture, which reverberates within diaspora communities in England, the United States and around the world. The combined energy has prompted a new designation for Nigeria itself: Naija.
"I grew up in England, but Nigeria is my homeland. When I scored that goal, the players were dancing, the fans were playing trumpets and bringing drums…there was just so much passion and energy," says Iwobi. "It is always an honor to wear the white and green. To compete this summer is not just our dream, it is also the dream of our fans. Together, we all represent Naija."
The word Naija has many uses. As a descriptor, it defines a certain future-focused optimism — one that has catalyzed a new generation of Nigerians to celebrate the nation's vibrant culture. Use of the word requires attitude, even panache. It isn't simply a stand-in for Nigeria; instead, Naija reflects a youthful exuberance, pride and fresh perspective on patriotism. To some, Naija translates directly to "the new Nigeria." With boundless potential and an undoubtedly infectious palpable charisma, the squad begs fandom from anyone — interest in football notwithstanding.
Nike's energetic collection for the Nigeria Football Federation is imbued with the Naija spirit.  There are the requisite odes to the Super Eagles' on-pitch success (the home kit carries a familiar badge recolored to honor the '96 gold medal-winning "Dream Team") and tradition (as always, there's a full green kit, though it's now the away stripe rather than the home). But at heart, the looks are driven by a desire to channel a healthy reserve of exuberance.
"With Nigeria, we wanted to tap into the attitude of the nation," notes Dan Farron, Nike Football Design Director. "We built this kit and collection based on the players' full identities." Along with other members of the Nike Football design group, Farron dug into learning more about Nigeria's players, "We started to see trends in attitude and energy connecting the athletes to music, fashion and more. They are part of a resoundingly cool culture."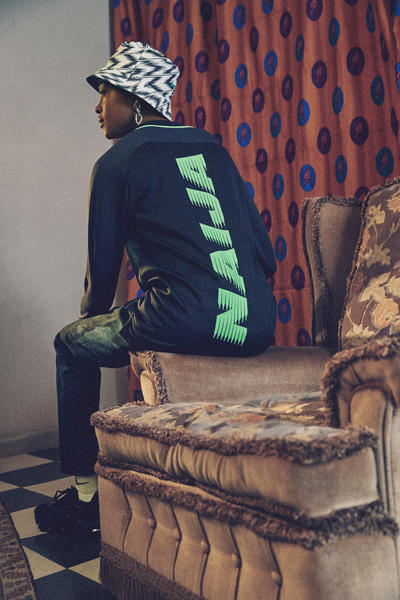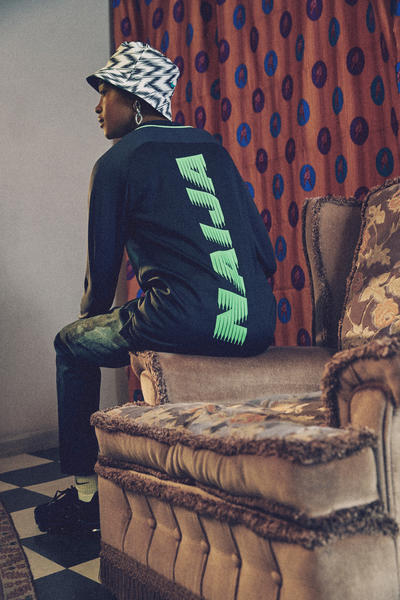 That culture includes one of the world's largest film industries and a burgeoning Afrobeat music scene (which has birthed a number of global stars). Naija fashion radiates, and its food is celebrated from Brooklyn, New York, to Peckham, London. In the United States and England, along with other locales with large Nigerian populations, the exuberance of Naija culture is resounding — spurred by family, friends and football. And with boundless potential and an undoubtedly infectious palpable charisma, the squad begs fandom from anyone.
"A constant in Nigeria is an endearing love of football," says Amaju Pinnick, president of the Nigeria Football Federation. "When football is on, everything stops. The new Nike kit designs honor our federation's rich traditions. Moreover, they celebrate everything we relish about our culture."
The home kit pays subtle homage to Nigeria's '94 shirt (worn by Nigeria's first team to qualify) with its eagle wing-inspired black-and-white sleeve and green torso. Today, those elements are supercharged through an abstracted feather pattern and hyper colors that extend a power capable of turning heads on and off pitch.
Fittingly, the pattern extends to Nigeria's anthem jacket along with pre-match and training apparel. The latter features taping along the shoulders emblazoned with Super Eagles (the endearing nickname for the senior team resonates for all generations), while the jacket sleeve reads "Naija."
As a natural contrast to the home kit, the away kit introduces a cool, refined vision of a classic Nigeria full-green strip. "Overall, the two uniforms form the perfect yin/yang of kits. We counterbalanced the energy of the home with a super-dark deep green away look," explains Farron. "Then we recolored the crest to be a single color but lifted it in a really bright green. This gives us a really clean aesthetic."
Naija zeal extends further in the off-pitch portion of the collection. Most notably, there's the travel suit — a tonal green floral affair with significant swagger. Accessories, including bucket hats, add personality, and each piece is designed to be mixed and matched to preference.
"When I first saw the new kit I was like, 'Wow, this is sick! I need one now!" says Iwobi. He'll soon wear it while representing the Super Eagles, and, just as he's known to do with his club kit, aims to wear it off pitch out and about. Until then, he's kept it secret. "Of, course, I've been wearing it at home already," he says.
The 2018 Nigeria Football Federation collection features Fast Fit Vaporknit kits to facilitate speed through performance and aesthetic.
For the collection reveal video, click here.