Just two months after its world premiere at the 2017 Geneva International Motor Show, the all-new Subaru XV is available in South Africa. Now in its second generation, the all new XV is the second vehicle to be built on the new Subaru Global Platform for enhanced safety, comfort, space and driving performance.
The all-new XV is the definitive choice of crossover in the market with SUV capability within a contemporary and compact body design underpinned by Subaru's Symmetrical All-Wheel Drive system and a new 2.0-litre direct injection Boxer engine. It's a fun and rugged yet sporty design, offering versatility in both urban areas and the countryside. Previously only a feature of larger Subaru vehicles, the new XV now comes standard with X-Mode, a system that enhances the crossover's off-road ability at the touch of a button. The new Subaru XV also offers a suite of world-class safety and hazard avoidance features, including the EyeSight Driver Assistance system on the 2.0i-S ES model.
Exterior Styling
As the first SUV-Crossover iteration of Subaru's new DYNAMIC x SOLID design philosophy, the new XV strikes a bold impression. Overall length and width has been increased over the first-generation car by 15 mm and 20 mm respectively. The result is a lower and wider car with a sporty stance. The Subaru hexagonal grille and the hawk-eye headlights continue the design tradition that is carried across all new models. From the side, the shoulder and belt lines carry through to the rear to create a contemporary and more modern feel. In contrast to this and an XV signature is the inclusion of the black-tone design elements in the form of cladding and bumper components that don't just give the XV a more rugged appearance, but also protect the bodywork from scuffs and scrapes especially when going off-road. Pronounced wheel arches under which a new signature wheel design sits, leave no doubt as to the XV's cheeky character and its unique all-terrain ability. An important selling point of the XV is its wheel designs and the new car features either 17″ or 18″ unique alloy combinations. To complete the adventurous façade, all XV's in South Africa come with a shark fin antenna, roof spoiler and roof rails for further practicality. There's an improved harmony in the design that has the added benefit of improved aerodynamics overall.
As with the first generation XV, the new vehicle is offered with a palette of colour options including two unique-to-XV colours namely "Cool Grey Khaki" and "Sunshine Orange." In all body colours, the striking contrast against the matte black cladding adds to the crossover's active and fun character.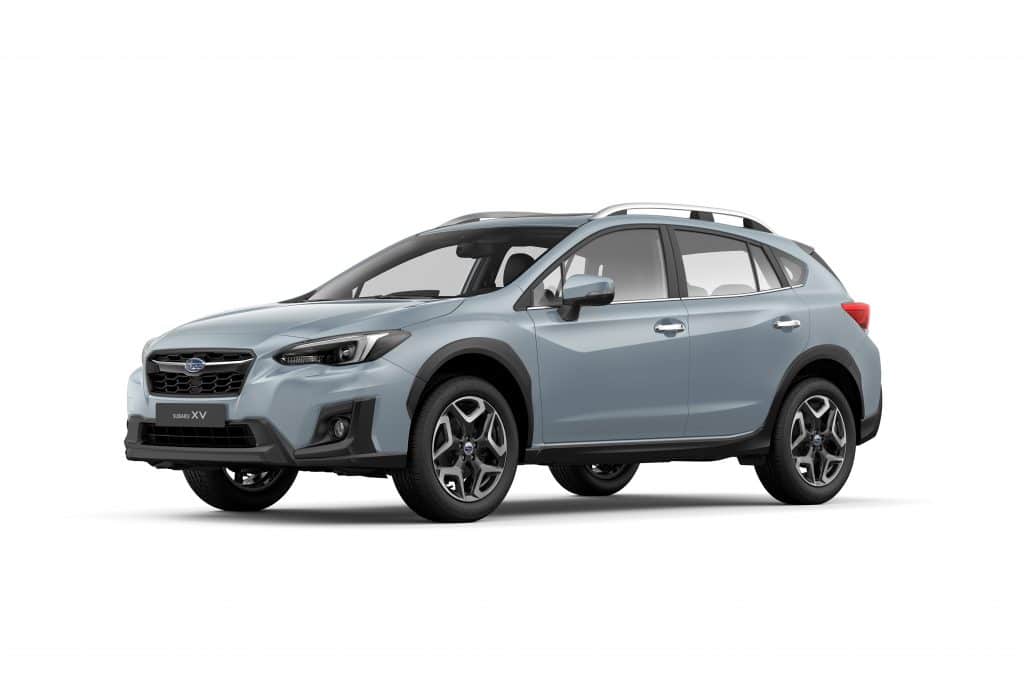 Interior
Much like the Impreza, the new interior design of the XV is a leap forward in design, ergonomics and functionality. Continuing the Dynamic X Solid design language, the interior layout flows from the central stack to focus on the driver and passengers. Panels are finished in mixes of black and silver throughout the cabin including the switchgear, steering design and door inserts. It's a fresh approach to design for Subaru and specific to the XV, the adventurous spirit is communicated through the use of orange stitching throughout the cabin from the seats to the steering wheel, gear lever and centre stack. A styling cue taken from the outgoing model, this really differentiates the cabin from any other car in the Subaru family.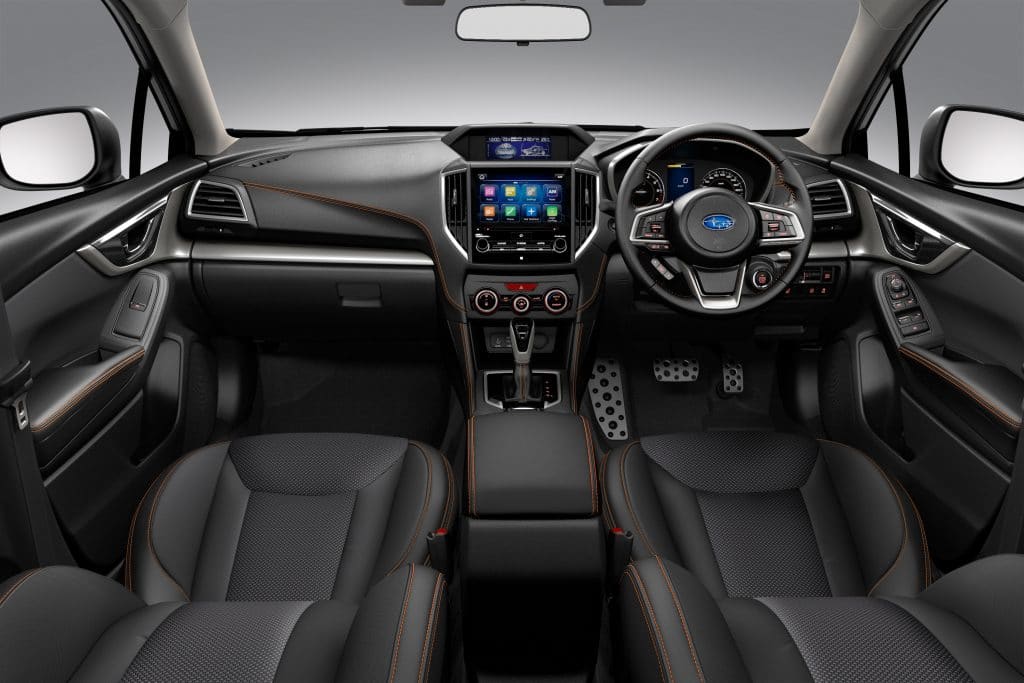 When you enter the cabin, the eye is immediately drawn to the new 8″ Infotainment StarLink LCD screen (available on the ES model) which allows access to a host of connectivity and media options and applications. SatNav is one of these applications, loaded with TomTom navigation software and functionality too. It's a large, clear screen that is touch, swipe, pinch and pull-controlled, making it easy-to-use and very intuitive, much like most Smartphones. Apple CarPlay and Android Auto are standard while Google Now or Siri Eyes Free allows the driver to direct functions using their voice. The tilt/telescopically-adjustable leather wheel itself features the audio, cruise control and mobile phone controls.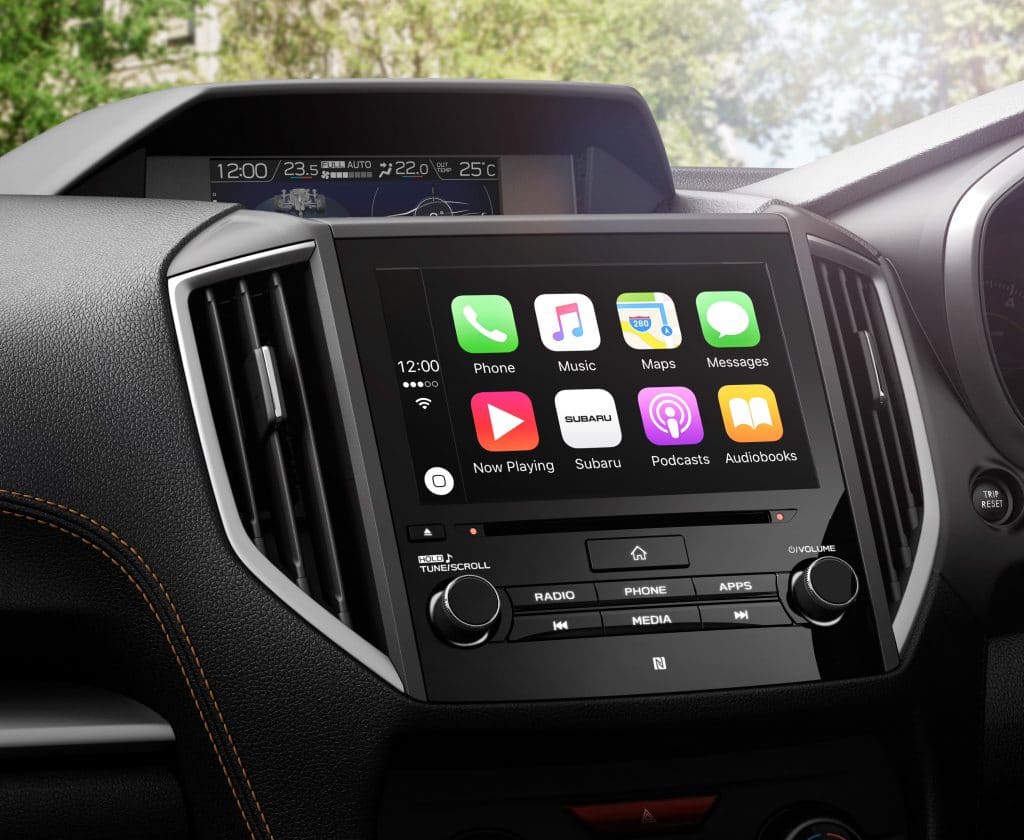 There are a number of one touch functions throughout the cabin, notably the electric windows which feature one touch open and close on all windows as well as the keyless entry push-button start system that allows you to keep the keys on your person whilst still being able to operate the functions required. Also available on the ES model is a slide/tilt-adjustable sunroof.
Through improvements in noise reduction, seat design and airflow, the new XV is an all-round more refined ride with comfort levels significantly enhanced. The seats are an all-new design with improved seat ventilation and back support. The air-conditioning system too has improved airflow around the cabin for a more consistent cabin temperature and a more effective defroster.
Subaru Global Platform & Powertrain and Driving Dynamics
The XV is the second vehicle to be built on the new Subaru Global Platform which enhances all-round safety, interior space, packaging and of course, driving dynamics. The platform has been designed to work in tandem with a new direct injection 2.0-litre Boxer power plant. Now 12 kg lighter than the previous engine the performance is increased in both power as well as efficiency and how that power is fed through the gearbox. Now with 115 kW at 6000 RPM and 196 Nm of torque at 4200 RPM, the new XV feels immensely more powerful. All SA-spec vehicles will be offered with a full auto-step shift control Lineartronic CVT gearbox that allows for a 7-speed manual mode of driving accessed from the shift paddles behind the steering wheel. A further 7.8 kg has been shaved off the gearbox weight and ratio coverage has been stepped up for better acceleration and fuel economy.
The chassis has improved torsional rigidity by up to 70%, while the electric power steering system is also lighter, more compact and produces an improved steering ratio of 13:1 The suspension system has been re-engineered and now the cars centre of gravity is lower too. Suspension mounts are more rigid, improving absorption and ultimately providing a smooth and comfortable drive. Body roll of the vehicle has been reduced by 50% compared to present models and new to XV, an Electronic parking brake has been added for more convenience.
Overall, the Subaru XV's driving characteristics have been enhanced for a sportier and surefooted feel. Steering and pedal feedback, vehicle response to direction changes and driver inputs as well as straight-line stability have all been refined and improved.
X-Mode makes its XV Debut
In addition to Subaru's unique Symmetrical All-Wheel Drive system, new XV is now equipped with X-MODE technology. Previously only offered on the larger SUV's (Subaru Outback and Subaru Forester), this is the first time that X-MODE has been introduced into the small crossover. X-Mode has been designed to increase drivability on varying terrain by optimising integrated control of the engine, All-Wheel Drive and braking systems to provide additional control when tyres slip and lose traction on slippery road surfaces. As part of X-Mode, the XV is equipped with a Hill Descent Control feature specifically for use when descending steep and possibly slippery hills. With X-Mode and still with a class-leading 220 mm of Ground Clearance, the new XV's off-road credentials have gone from good to great.

Unparalleled Safety
As before, the new XV offers impeccable safety credentials that are standard fare apart from the EyeSight Driver Assist System which is only available on the Premium Spec 2.0i-S ES model.
Another key benefit of the new Subaru Global Platform is the safety technology that has been employed with it. In terms of active safety, the platform has lowered the centre of gravity of the vehicle, improved torsional rigidity and of course our improved Symmetrical All-Wheel Drive system for improved hazard avoidance and control under significant weight shifts where emergency manoeuvres are required. In terms of passive safety, impact energy absorption has also been improved by 40% over the previous model through the use of high-tensile steel and an improved structure.
Based on the Subaru Global Platform, the vehicle's structure has improved crash resistance, increased cabin strength, load distribution and enhanced continual rigidity, all of which serve to better protect occupants during a collision. The standard features of Vehicle Dynamics Control and Symmetrical full-time all-wheel drive ensure driving confidence and stability in every situation. Standard on all XV's as part of the VDC suite, is Active Torque Vectoring for more control during cornering and collision avoidance actions.


Additional safety features available at launch are:
LED Steering Responsive Headlights that move the beam right or left whilst cornering or at junctions to illuminate the direction of travel. A first in the XV, two headlight controls are used significantly improving night-time visibility and the recognition capabilities of EyeSight. The new High Beam Assist employs a monocular camera that automatically switches from high to low beam as per road conditions.
Subaru Rear/Side Vehicle Detection which includes Blind Spot Detection, Lane Change Assist and Rear Cross Traffic Alert. When a driver signals a lane change, the system warns them of vehicles in the adjacent lane (Blind Spot Detection), warns them of vehicles approaching at a high rate of speed in the adjacent lane (Lane Change Assist) and, when reversing, warns of vehicles from either side approaching the rear of the vehicle (Rear Cross-Traffic Alert).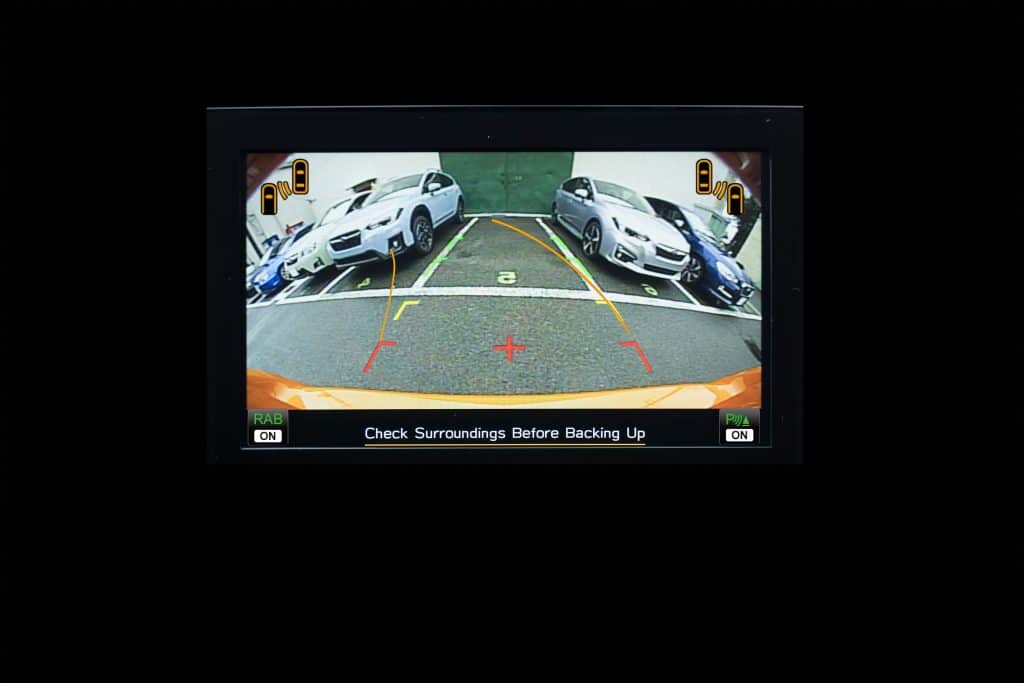 EyeSight Driver Assistance System
The Subaru XV is the first model in South Africa on which the EyeSight Driver Assistance System is offered. The system offers four different types of driver assistance functions that are designed to reduce or circumvent crashes caused by driver error and to reduce or circumvent collisions caused by driver fatigue. The system does this by detecting the presence of vehicles, pedestrians, cyclists and other potential hazards up to 110 metres in front of the vehicle. Using data from the stereo cameras, the engine, brakes and transmission, the system has the following functions:  Pre-Collision Braking; Pre-Collision Throttle Management; Lane Departure & Sway Warning; and Adaptive Cruise Control. Also fitted to EyeSight equipped vehicles is another new safety technology called Reverse Automatic Braking which scans the rear of the vehicle when reversing and if necessary, will automatically stop the vehicle if an obstacle is detected and there is no action taken from the driver.
Ashley Lazarus, Marketing Manager of Subaru Southern Africa believes that the new XV will markedly add to the growth targets for the brand. "The Crossover/Small SUV segment continues to be an area of significant growth opportunity and with the new XV, we're confident that we have a product that will yield some rewards, especially in South Africa – a market that is adventurous at heart."
The first car with EyeSight ever launched in South Africa, Ashley is just as excited for SA customers to experience this new technology first hand in the XV. "We've tested this technology in South Africa for the past six months and as a brand, we're excited to have our customers experience an amazing driver assistance system. For a car in this segment, customers really are getting fantastic value for money in a great crossover with amazing all-terrain capability."
The launch model for South Africa is available with a choice of nine exterior colours: Crystal White Pearl; Ice Silver Metallic; Dark Gray Metallic; Crystal Black Silica; Quartz Blue Pearl; Dark Blue Pearl; Pure Red, Cool Grey Khaki and Sunshine Orange.
The new XV is now available in South in two derivatives:
Standard Spec Subaru XV 2.0i CVT for R385 000.
Premium Spec Subaru XV 2.0i-S ES CVT for R439 000.
The car is offered through the Subaru dealer network in Southern Africa with a five year or 150 000 km Warranty (upgraded from the previous three year or 100 000 km) as well as a three year or 75 000 km Full Maintenance Plan which can be further extended to a five year or 150 000 km Maintenance at an additional cost.
In other motoring related news, Toyota South Africa Motors recently introduced the new Aygo X-Cite to the model Aygo line-up, which includes other models such as the Aygo and Aygo X- Play Black.