Renault's new entry segment challenger vehicle, the SUV-inspired KWID hatchback has redefined the vehicle market – attested by the 11,000 plus vehicles sold since its introduction in late 2016. This March saw an extension to the Renault KWID range in the form of the AMT derivative to complement the current Expression and Dynamique manual models. The future success of the KWID AMT is clearly mapped out with this version already representing 24% of the sales mix.
An innovative and affordable entry-level vehicle, the new Renault KWID overturns established entry segment design cues thanks to its robust, stylish exterior plus a modern and inviting interior equipped with generous cabin space as well as features and fitments normally unattainable in its class.
Not only was the new KWID hatchback specifically designed to meet the needs of anyone looking to buy an entry-level car, but also to make driving simpler and safer. With its appealing design and array of equipment, the new KWID hatchback certainly remains a viable offering.
In the words of David Durand, Head of KWID Styling, Renault – "The KWID is an entirely new car which offers a lot of surprises both inside and out, including features from the next segment up."
LIMITED EDITION, UNLIMITED ATTENTION
The success of the innovative and uniquely styled entry-level KWID has led to the development of a bespoke Limited Edition – New Renault KWID CLIMBER – taking the genetic design and smarts of the Dynamique Trim level to new heights.
The KWID CLIMBER boasts enhanced design by means of an exterior styling pack, which is sure to attract admiring looks, whether it be the Electric Blue or Planet Grey version.
The striking two-tone exterior is further enhanced with the KWID CLIMBER insignia, distinctive protection cladding on the doors and rugged bumper over-riders. Apart from being aesthetically pleasing, the uniquely detailed bumper protectors are designed to protect the bumpers' corners from scuffs and scrapes.
For a true SUV look, arching rails sporting orange accents have been fitted on the roof, which together with the muscular style wheels give the new KWID a robust, sportier appeal.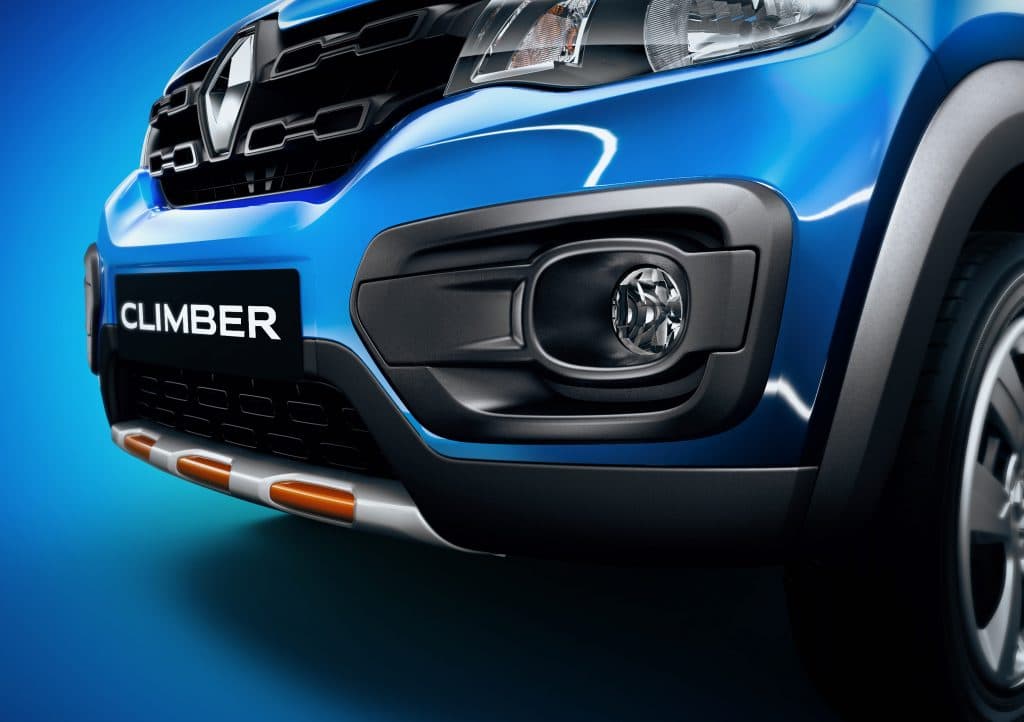 SMART STYLISH INTERIOR
The Renault KWID CLIMBER is as striking on the inside as it is outside – evident with the strong piano black centre fascia with orange contours and the bespoke CLIMBER insignia on the headrests of the two-tone seats. The vibrant orange accents extend to the door trims, side air vents, the two-tone gear knob and sporty steering wheel with unique orange perforations.
The KWID CLIMBER boasts surprising level of advanced technology – including standard aircon, electric front windows and onboard navigation.
The bold and confidence-inspiring interior of the KWID offers both style and practicality, featuring intuitive technology to ensure that driver and passengers stay connected, including a MediaNav navigation/multi-media system complete with large 18 cm touchscreen display, radio and Bluetooth connectivity
The height adjustable front seats are generously sized offering superior comfort while the electric power steering and one-touch lane change indicator make driving a breeze. Electric front windows add to driver and front passenger convenience while the powerful air-conditioning with heater functionality ensures driving pleasure irrespective of the weather. All controls are within easy reach from both driver and passenger sides. The open storage space facing the front passenger, lower glove box (plus upper glove box in Dynamique & Limited Edition Climber versions), driver and passenger in-door storage space with 1-litre bottle holder and rear parcel tray allow for practical and convenient stowage.
The KWID's inviting interior is enhanced by its class-leading space that comfortably seats five, and complemented by a host of additional and thoughtful features.
With the introduction of the new KWID CLIMBER, Renault has made further inroads in developing a new breed of vehicle in the growing small-car segment.
To mark its exclusivity, the unconventionally styled KWID CLIMBER will be available in extremely limited numbers, ideal for consumers who have a sense-of-adventure and aspire to stand-out from the crowd.
OPTIMISED ENGINE EFFICIENCY
The KWID CLIMBER is exclusively available with a manual gearbox, with a remarkable fuel consumption from only 4.7 litres/ 100km.
The compact 1.0- litre 3-cylinder Smart Control efficiency (SCe) engine powering the KWID models has been optimised for power and performance and pushes out peak power of 50kW @ 5 500 rpm and maximum torque of 91 Nm @ 4 250 rpm.
Drivers will enjoy its good responsiveness and drivability at low revs and wide torque band across the rpm range. An extremely fuel efficient petrol powered engine, it's paired to a 5-speed manual gearbox and delivers an incredible 4.7 litres/100km and 4.4 litres/100km with the AMT transmission.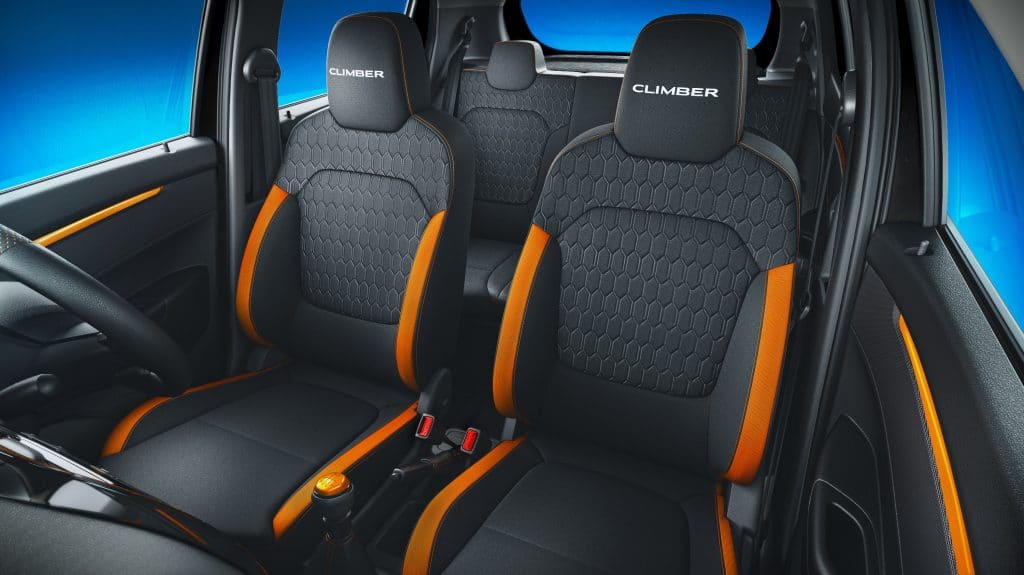 Key features include:
One of the lightest engines in the 1 litre range with aluminium cylinder block and head. Optimized usage of composite materials for weight reduction.
Low friction design: Features include steel forged crankshaft with optimized bearing dimensions.
Stainless steel close coupled catalytic converter for quick warm-up and best emission / consumption balance.
F1-inspired state-of-the-art technology: Double loop Lambda monitoring and electrical controlled throttle body for accurate air / fuel ratio monitoring; knock sensor for automatic spark advance adjustment to fuel quality.
Optimized valve timing for increased volumetric efficiency in order to achieve a flatter torque band.
One of best-in-class power-to-weight ratios.
PEACE-OF-MIND COMES STANDARD
As is standard across Renault's entire product range, the Renault KWID model range comes standard with a five-year/150 000 km mechanical warranty and a six-year anti-corrosion warranty. Services take place at 15 000 km intervals. Optional service plans are available.
The KWID model range also currently offers 1 Year Comprehensive Insurance Cover, to further facilitate peace-of-mind driving.
RECOMMENDED RETAIL PRICING
NEW Renault KWID Expression                      1.0-litre SCe                R 127 900
NEW Renault KWID Dynamique                     1.0-litre SCe                 R 137 900
NEW Renault KWID Dynamique AMT             1.0-litre SCe                R 147 900
NEW Renault KWID CLIMBER                        1.0-litre SCe                R 148 900
In other motoring related news, the first shipment of Isuzu's new mu-X sports utility vehicle (SUV) arrived at the Port Elizabeth harbour.