Renault are looking to add to the more than 13 million sales of the Clio since launching in 1990, courtesy of the new Clio GT-line that offers a distinctive front-end styling featuring a bolder version of its trademark diamond-shaped logo, plus a comprehensive range of equipment – notably efficient engines, innovation and
on-board technologies.
Design Refresh
The new grille and C-shaped signature lighting provide the Clio with heightened character. The lower re-proportioned grid is now visibly broader and more modern than previous, while the rear skirt has been redesigned to enhance robustness.
The updated modern and distinctive styling of the Renault Clio is further enhanced by the new Pure Vision LED headlights on the flagship models, as well as the stylish alloy wheels underlining its dynamic silhouette.
The interior of the Renault Clio is remarkably roomy with the ability to comfortably fit five adults. While the 60/40 split rear seat configuration offers great versatility and practicality, and the 300-litre boot ample storage space.
April 2017 sees the introduction of the much anticipated new Clio GT-Line, with an arresting GT-Line pack which gives the Clio a distinctive sporty look, both inside and out.
The GT-Line exterior is differentiated from the rest of the new Clio range through its uniquely designed 17″ titanium grey alloys, matching door mirrors, titanium grey inserts on side door protectors and boot lid, and distinctive fog light surrounds.
In addition, the restyled front bumper with GT-Line scoops, sporty rear diffuser and chrome tail piece strongly support the striking GT-Line styling.
The Clio GT-Line cabin sees several Renault Sport influenced elements, such as the R.S. leather steering wheel with the GT-Line insert, R.S. "Zamac" gear knob, leather gear lever and handbrake with distinctive blue stitching, GT-Line embossed headrests, and sport front seats with special upholstery and extra side support.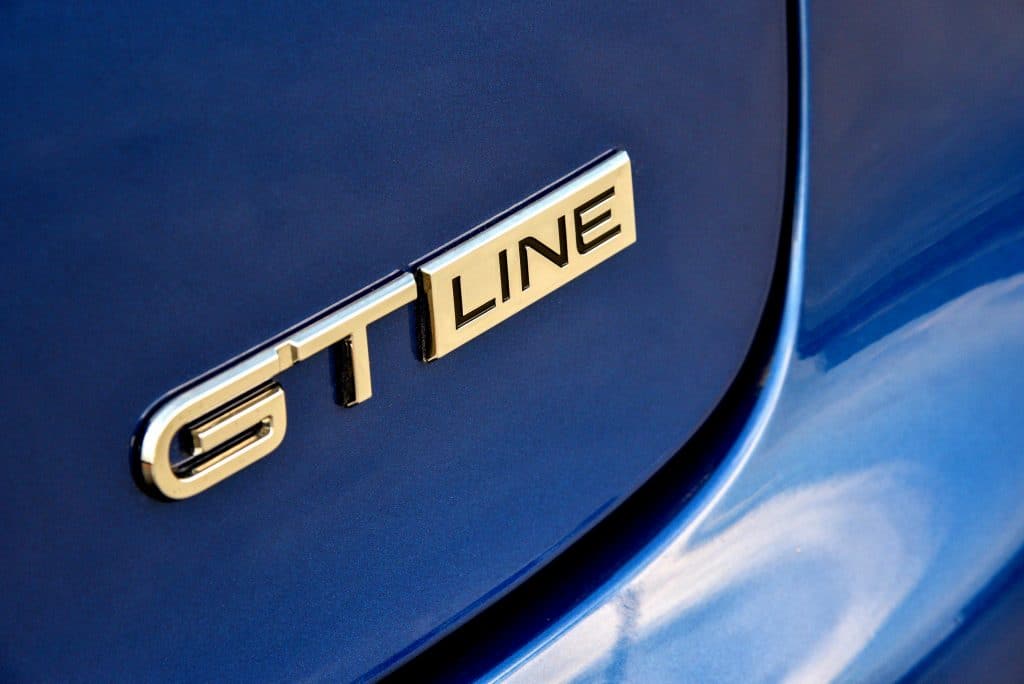 Smart Technology
True to form the new Clio offers a host of innovative features to facilitate driving pleasure and travelling comfort together with advanced connectivity, previously the reserve of higher vehicle segments.
The versatile R&Go application has now been introduced into the new Clio Authentique. This easy-to-use and customizable interface offers access to advanced technology even from the entry level of the new Clio range.
Developed to enhance the driving experience, R&Go is a smartphone/tablet multifunction application that adds innovative functionality to the vehicle.
Connected to the vehicle through the radio using Bluetooth, this application enables remote control of the user's car radio, with the smartphone screen presenting an extended dashboard to display additional features. A dedicated cradle which houses the smartphone/ tablet ensures safer and more comfortable use.
The R&Go application allows access to four different universes: Multimedia, phone, vehicle and navigation.
The rest of the new Clio range come standard with Renault's MediaNav integrated navigation/multi-media system with large 7″ (18cm) touchscreen display, offering a wide range of functionalities to further enhance the overall driving experience.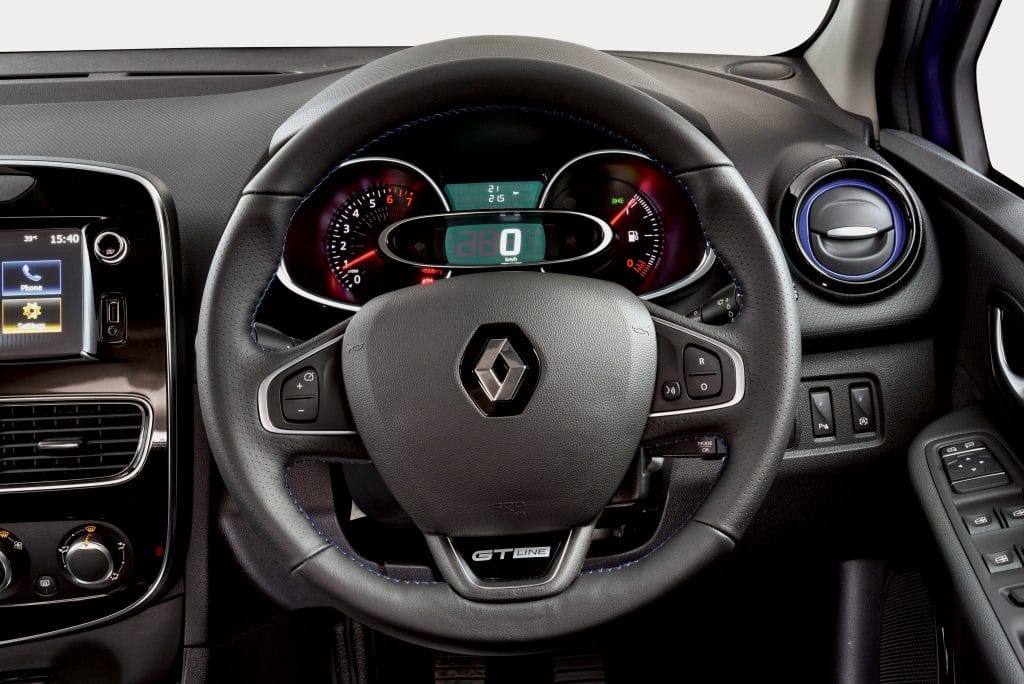 Under the bonnet
Renowned for its dynamic capabilities, the new Clio offers access to highly efficient and technologically-advanced engines. Renault's new generation F1-inspired 66kW and 88kW Turbo petrol engines optimize power, performance and driving pleasure, while controlling fuel consumption levels and CO2 emissions.
In line with consumer demand, an 88kW Auto engine is also available in the Expression derivative.
Even more enthralling is the introduction of the responsive and flexible 1.2 Turbo engine, with notably increased power and higher torque output thanks to the R.S. input (88kW delivering a remarkable 205Nm). The combination of this impressive engine mated to a 6-speed manual gearbox is a first for the Clio range.
This sporty vehicle is capable of a top speed of 199km/h, achieving 0-100km in 9 seconds.
The engine represents the perfect balance between performance and efficiency with an impressive fuel consumption of only 5.3l/ 100km and CO2 emissions (118g/ km) below the tax threshold.
Smart Technology forms part of the DNA of the new Clio GT-Line, with its integrated 7" Touchscreen MediaNav, with multi-function capabilities, including a useful ECO driving mode, and innovative features which enable driving convenience such as Cruise Control and Speed Limiter.
As with Renault's entire range, the new Clio models come standard with a five year or 150 000km mechanical warranty and a six year anti-corrosion warranty. The Clio range also boasts a standard three year or 45 000km service plan, with service intervals at 15 000km.
Recommended Retail Pricing
New Clio 88kW Turbo GT-Line 5dr – R264 900
Other models in the Clio range
New Clio 66kW Turbo Authentique 5dr – R206 900
New Clio 66kW Turbo Expression 5dr – R226 900
New Clio 66kW Turbo Dynamique 5dr – R244 900
New Clio 88kW Turbo EDC Expression 5dr – R264 900
In other motoring related news, Volvo Cars recently announced at the Shanghai Auto Show that it will build its first fully-electric car in China.