As far as BMW Motorrad is concerned, GS is a promise – a promise of perfect functioning, reliability and robustness. The G 310 GS transfers these qualities to the below 500cc capacity segment, embracing them in its own distinctive, mature interpretation.
The G 310 GS is a genuine GS: a highly contemporary product with a level of versatility that is currently unrivalled in the segment. It is nimble and agile in city traffic while over light terrain it is supremely robust. This makes it the perfect companion for the adventures of everyday riding. Extremely compact yet mature and comfortable, the GS opens up a whole new world of riding experience within its segment. It is precisely this versatility that makes the G 310 GS unique in the entry-level segment.
Typical GS design.
The BMW G 310 GS can be identified as a genuine GS at first sight. With its characteristic, high front fender, striking flyline and short, high rear, the BMW G 310 GS features classic elements of its big GS sibling models. Its compact proportions with a short wheelbase, a 19″ front wheel and extended spring travel make for a typical upright posture, promising an agile, nimble riding response.
At home on the roads of the world.
Like the G 310 R, the G 310 GS is also designed for the world market. It takes diverse fuel qualities as well as meeting all emissions standards and local requirements. It is at home on all the roads of the world, bringing the hallmark BMW premium aspirations to the segment below 500 cc.
Innovative single-cylinder engine for dynamic riding fun and suitability for a broad range of uses worldwide.
The centrepiece of the new BMW G 310 GS is the 313 cc liquid-cooled single-cylinder engine known from the G 310 R with four valves and two overhead camshafts together with electronic fuel injection. The capacity of 313 cc results from a bore of 80 millimetres and a stroke of 62.1 millimetres.
A salient feature of the single-cylinder engine in the G 310 GS is the fact that its cylinder is tilted to the rear and its cylinder head is rotated by 180 degrees: intake at the front, outlet at the rear. This configuration follows the logic of a straight, power-enhancing supply of fresh air-fuel mixture and also has positive consequences in terms of the bike's architecture. With an output of 25 kW at 9 500 rpm and a maximum torque of 28 Nm at 7 500 rpm, the engine of the new G 310 GS is the ideal partner for dynamic riding pleasure, in conjunction with the low unladen weight of 169.5 kilograms according to DIN.
Perfectly designed BMW GS ergonomics for relaxed motorcycling fun on the road and over light terrain.
The new G 310 GS provides a relaxed seating position that enables carefree motorcycling pleasure both on the road and during excursions along forest paths and gravel tracks. As is characteristic of BMW Motorrad, all switches and controls are simple and secure to handle. Great importance was attached to simple and safe operation, taking into account the most diverse rider anatomies.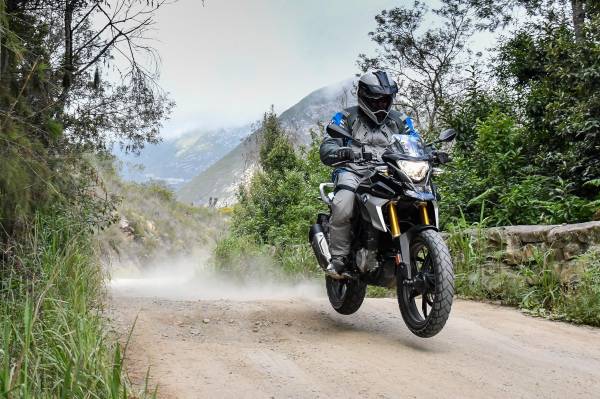 Bridge-type tubular spaceframe, upside-down fork and long swinging arm for a high degree of ride stability, a precise steering response and light handling.
In terms of its suspension, the new G 310 GS is similar to the G 310 R roadster in using a tubular steel spaceframe with bolt-on rear section that combines torsional rigidity with robust quality. Given its good stiffness balance, this provides the basis for excellent ride stability and a precise steering response. The front wheel suspension is taken care of by a solid upside-down fork while at the rear there is an aluminium swinging arm in conjunction with a spring strut that is mounted on it directly.
High-performance brake system, ABS as standard and multifunction instrument cluster.
Like all BMW motorcycles, the new G 310 GS comes with ABS as standard. It combines a high-performance brake system with 2-channel ABS for efficient deceleration and short braking distances. For use over light terrain the ABS in the new G 310 GS can be conveniently deactivated at the press of a button if required. The G 310 GS instrument cluster has a large liquid crystal display that offers excellent clarity and a wide range of information.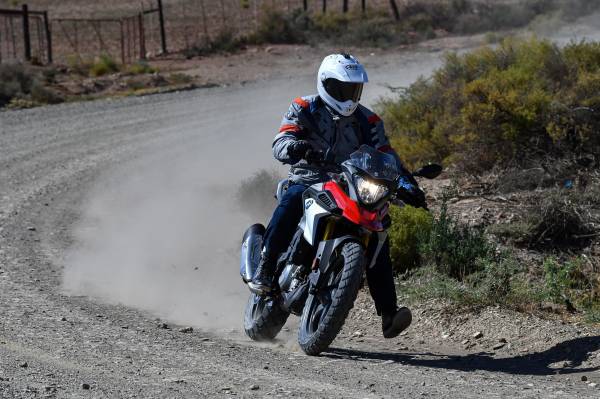 A genuine BMW.
Like the G 310 R, the G 310 GS represents everything that BMW stands for: progressiveness, outstanding quality and of course many years of carefree partnership with its owner. Excellent components and materials come together to make it a real all-rounder. The G 310 GS is the GS below 500 cc, providing worldwide entry to the premium world of BMW Motorrad.
The new BMW G 310 GS is available at all BMW Motorrad dealerships countrywide. Pricing is R79, 650 (includes 14% VAT).
In other motoring related news, Hyundai recently rejuvenated its Grand i10 range in South Africa with new features and added a new entry derivative to give this popular entry-level model a fresh appeal in the local automotive market.