The striking new Triton Athlete Special Edition is based on Mitsubishi's award-winning Triton double-cab 4×4 automatic derivative and is assembled in Mitsubishi's Thailand factory.
Fully imported to South Africa, the Athlete boasts increased safety and specification levels, which includes 7 airbags, Isofix child seat anchors and a 3.1 ton towing capacity to tow any lifestyle equipment.
The sporty body styling kit and matching interior seat trimmings as well as the increased safety and specification levels do not come at a premium as this grandiose new derivative is launched at the same retail price of the standard Triton Double-Cab 4×4 automatic derivative.
Safety
Although luxury, comfort, appearance, performance and a host of other features all work together to make the new Triton Athlete ideal for long distance trips, occupant safety is like the last 100 metres in a relay or obstacle race ­– the most important consideration.
Boasting passenger car luxury and comfort, no less than seven airbags (Dual Front Airbags, Side Airbags, Driver's Knee Airbag and Curtain Airbag) as well as Isofix child seat anchors, side-impact protection bars and a high tensile steel body structure for more effective reinforcement, the Triton Athlete proudly fills the top step of the podium in its class.
The benefits created by "versatility and practicality" of the top-of-the-range
double-cab bakkies are the biggest motivating factors for lifestyle and adventure buyers who have an active family lifestyle.
"Mitsubishi's new Triton Athlete caters for the needs of the 'trendy' lifestyle segment of the luxury double-cab market," says Nic Campbell, General Manager of Mitsubishi Motors South Africa (MMSA).
"The recently-launched Pajero Sport, together with the new Triton Athlete, will lead the charge of the Mitsubishi brand into the future, soon to be followed by the launch of another exhilarating new model to the Mitsubishi range, the Eclipse Cross."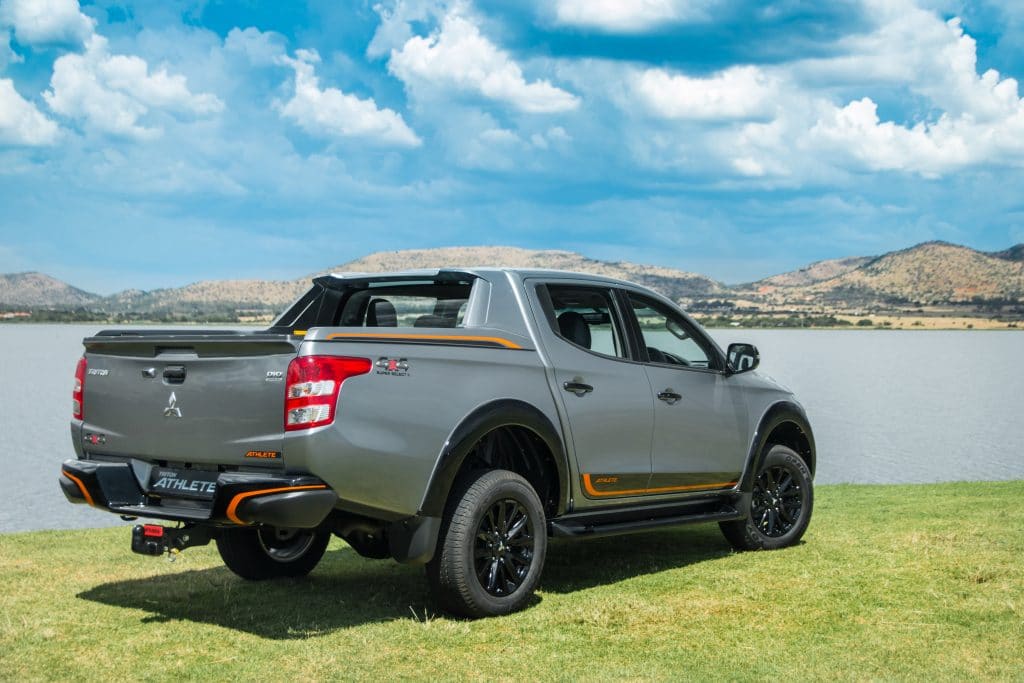 New Triton Athlete – sportier than double-cab counterparts
The prominent new Triton Athlete with its bold orange and black highlights and exterior design cues with matching interior trimmings, caters for individuals and families who live life to the extreme, participating in adventure and sporty lifestyle activities such as surfing, mountain biking, paragliding, show jumping and even motocross or off-road motorcycling.
The new Triton Athlete comes in two colours ­– white and grey – and is distinguished by its orange and black exterior and interior design cues that further enhance the sporty design of Triton's new flagship double-cab bakkie.
However, the new lifestyle-orientated Triton Athlete does not only look sportier and more athletic than its double-cab siblings, but also offers an upgraded towing capacity of 3.1 tons as well as increased safety features such as 7 airbags and Isofix child seat anchors.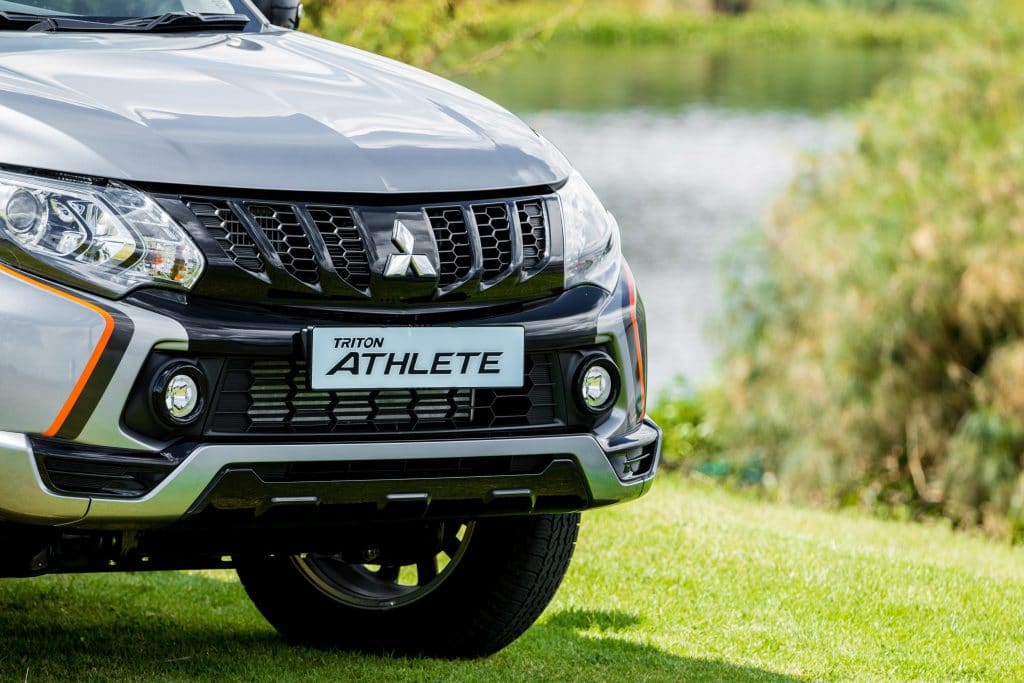 Athletic design
Unique to the Athlete model are its bold and eye-catching orange highlights and black mouldings which include a new front bumper garnish, new black grille with honeycomb mesh and new front and rear black bumpers and wheel arches.
New black powder-coated diamond-cut 17″ alloy wheels, a stylish sports bar and an integrated tailgate spoiler, dark-grey and orange decals with black highlights found on the side steps, door mirrors, door handles, rear bumper and new tailgate complete the stylish exterior design that gives this vehicle an even more athletic appearance than its siblings.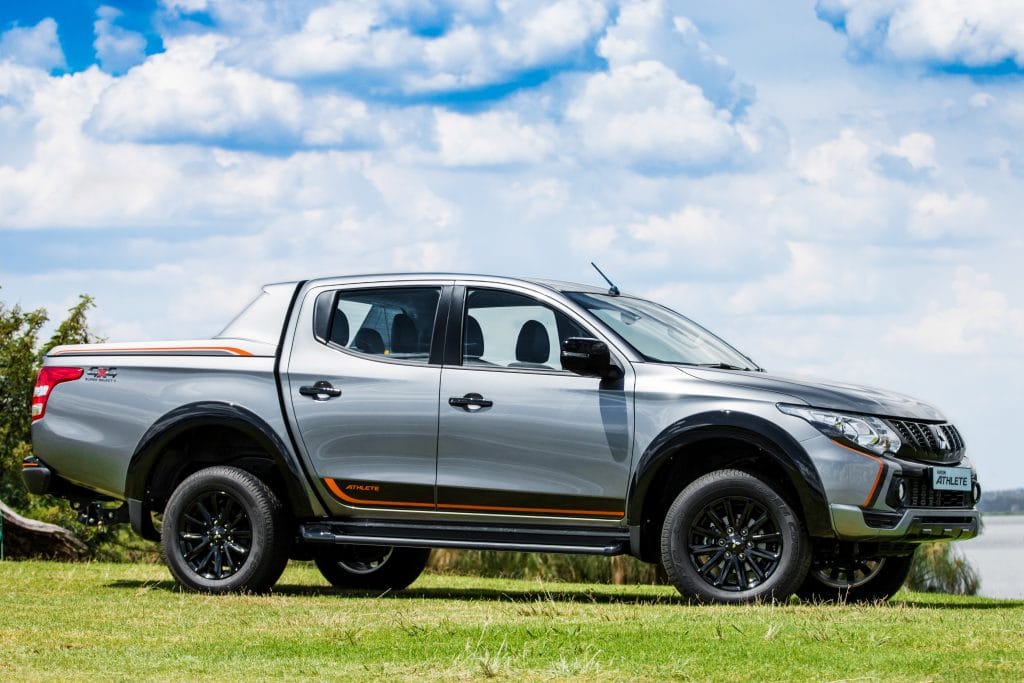 Interior
The exceptionally quiet, insulated cabin boasts two-tone black leather seats with orange inserts. The orange theme is continued with "Athlete" embroidery matching the orange stitching found on the black leather seats, steering wheel, gear lever, door panels and the centre console.
The Triton Athlete is based on the international Triton Adventure X-development, which includes Bi-xenon HID headlamps, daytime running lights (DRLs), multifunction steering wheel, shift paddles for the 5-speed automatic transmission, an upgraded instrument display, a smart-key system with engine starter button and automatic dual-zone air-conditioning.
Powertrain – quick out of the starting blocks
Highlights of the Triton Athlete include the very refined class-leading 2.4-litre MIVEC VGT turbo-diesel engine producing 133 kW at 3 500 r/min and a massive peak torque of 430 Nm at 2 500 r/min, which together with the slick and accurate five-speed automatic transmission provides an impressive powertrain for highway driving, off-road adventure, urban agility and towing.
The Triton Athlete is not only quick out of the starting blocks ­– it boasts the quickest acceleration in a towing test by international CAR magazine. The new vehicle also boasts a towing capacity of up to 3.1 tons which allows for towing extreme lifestyle equipment such as motorbikes, watercraft and micro-lights or paragliding gear.
Excellent axle reticulation, renowned Super-Select II four-wheel drive system and class-leading approach angle of 28°, departure angle of 22° and break-over angle of 25° make the Triton Athlete a mean off-road competitor as well, should you take part in extreme adventure activities.
The Triton Athlete is as nimble as an obstacle course athlete thanks to its manageable size which makes it easy to drive around town, great to manoeuvre in tight spots on and off the road and can be easily parked in most garages and parking bays.
Distinguishing features and safety
The safety complement of the Triton Athlete includes a host of active and passive safety features and systems like multiple airbags and electronic driver aids. Over-and-above the standard features found on the standard Triton 4×4 such as ABS with EBD, Brake Assist (BA), Active Stability and Traction Control (ASTC), Hill-start Assist (HSA) and Super Select 4WD-II 4WD system, the Athlete also boasts new additional features and benefits. These are:
3.1 ton towing capacity catering for those drivers who are towing heavy trailers, boats, horseboxes etc.
7 Airbags (Dual Front Airbags, Side Airbags, Driver's Knee Airbag and Curtain Airbag)
Isofix child seat anchor system for increased safety for babies and toddlers
Black powder-coated diamond-cut 17" alloy wheels rounding off the sporty design
Orange stickers and black mouldings on the front grille, bumper and wheel arches, as well as 4×4 Super Select II stickers highlighting this unique four-wheel drive system
Unique exterior design cues with sporty two-tone body kit and matching orange and black interior trimmings giving the vehicle a trendy and more athletic appearance
Tonneau or armadillo load box covers as well as a range of manufacturer's approved accessories are available from dealers.
"By addressing the lifestyle needs of this discerning group of trendy double-cab buyers, as well offering the typical benefits of versatility and practicality of a double-cab body configuration with four-wheel drive, the new Triton Athlete will be a real CHAMPION in our market," concludes Campbell.
Pricing and warranty
The Triton Athlete is launched at R559 995, a special launch price which is the same as the listed retail price of the standard Triton 4×4 Double-Cab A/T.
The Triton Athlete is immediately available from all Mitsubishi dealers in Southern Africa.
The new Triton Athlete comes standard with a three-year or 100 000 km manufacturer's warranty and a five-year or 90 000 km service plan. Service intervals are every 10 000 km.