South Africans can now buy prepaid utility services or pay their accounts from approximately 600 bill issuers with the new EasyPay Mobile app using Masterpass, the global digital payment service from Mastercard. Announced today at the Mastercard Connecting Tomorrow Forum in Barcelona, this collaboration marks a significant milestone in Mastercard's strategy to displace cash and reduce friction in consumer payments.
EasyPay processes 1.3 million monthly account payment transactions for over 40 traffic authorities, 80 municipalities, and 460 bill issuers including insurance and medical service companies. The company has recently aggregated all these billers into a mobile app, enabling people to pay their municipal and electricity bills, traffic fines, television licenses, DSTV accounts and a wide range of others. They can also buy prepaid electricity, water and gas.
To use the service, South Africans must download the EasyPay Mobile app, register and enter the unique EasyPay number printed on the bill they want to settle. To pay an account or top-up, users tap the Masterpass checkout button and enter their bank card's ATM PIN number to authorise payment. Their account will be updated immediately.
"No one wakes up in the morning excited to make a payment or pay a bill. That's why we are working with partners like EasyPay to make everyday payments simpler and safer for consumers," says Mark Elliott, division president, Mastercard, Southern Africa. "The EasyPay Mobile app frees South Africans from the need to stand in a queue at a physical store or log-on to internet banking to settle their accounts. Now they can pay for an extensive range of services and utilities from a single app, anywhere, anytime they want."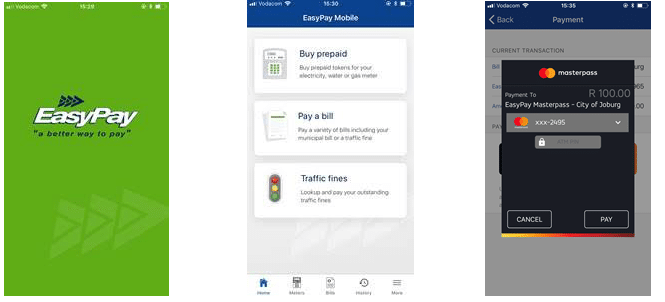 The new app forms part of EasyPay's strategy to offer its customers a wide choice of convenient payment options and improve the overall bill-paying experience. Besides payments, consumers can also save bills, access their payment history, and search for outstanding traffic fines on the app.
"Consumers are rapidly embracing technology, and are looking for new ways to use it to simplify their lives. We launched the EasyPay Mobile app as a one-stop shop to make it as easy as possible for people to pay their bills with something that is already in their pockets – their smartphones," says Nanda Pillay, Managing Director of Southern Africa, Net 1.
Masterpass is the only payment option in the app. People can load details of their credit, cheque or debit card issued by any South African bank into the in-app digital wallet. Payment card information is captured only once, meaning that consumers do not have the hassle of entering these details every time they want to make a payment. Masterpass also uses multiple layers of security to ensure the user's personal and payments details are protected.
The EasyPay Mobile app (https://epmobile.app) is available now on the Apple iOS and Google Android marketplaces.