By Alexandra Ford English, Ford Autonomous Vehicle Business Team
 It's a familiar feeling. The day inches towards dinner and your stomach makes a simple, direct plea to your heart: You want tacos. That hand pressed corn tortilla, the tangy salsa and fresh cilantro – you're getting hungry already!
But what if ordering tacos did more than just satisfy the gremlin in your gut? What if it actually…shaped the future?
Ford is working with Postmates, an on-demand delivery platform, to operate a self-driving delivery service.
Research vehicles for our business pilots are designed to appear as self-driving, however, they are manually driven by an experienced driver. The focus of our research is on the first and last mile of the delivery experience. We are developing our self-driving technology in separate test vehicles.
Our Postmates pilot is currently underway in Miami and Miami Beach with more than 70 businesses participating, including local favorites like Coyo Taco. For residents in the area, when you order tacos – or almost anything, really – through Postmates, you may be given the option to have your items delivered by a self-driving research vehicle.
What does that mean? It's easier to show than to tell, so let's examine the future of food delivery enabled by self-driving technology.
Some things don't change – when your meal is ready to be delivered, a restaurant employee will place it in the vehicle. (Surprise! You ordered tacos.)
We designed a Transit Connect for this pilot program with a locker system to secure your food and allow us to serve multiple customers on one delivery route. Additionally, services like Postmates must deliver an assortment of products from sushi restaurants to hardware stores. Therefore, the rear and passenger-side lockers are different sizes to allow us to test optimal vehicle configuration. Ultimately, we are testing how businesses and consumers interact with a self-driving vehicle.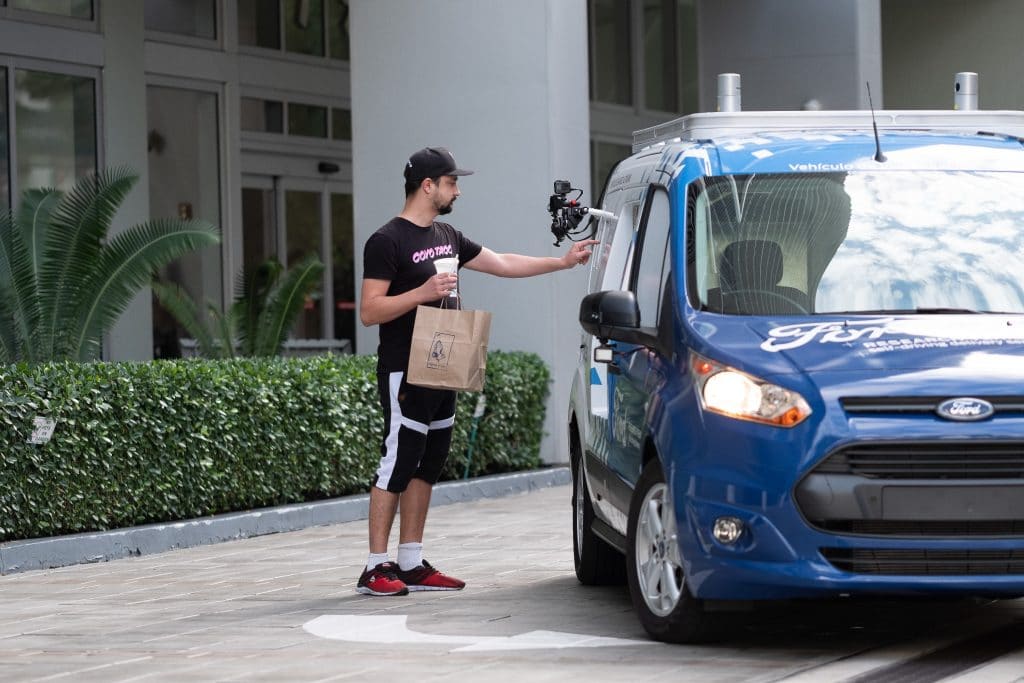 After the restaurant employee types his access code into the screen, one of the lockers will automatically open so that he can place the food inside. Each locker has two cup holders so that you don't have to worry about losing half your beverage in transit.
When the vehicle arrives at its destination, the customer receives a text notification indicating the delivery is ready for pickup.
Upon meeting the vehicle at the curb, consumers enter an access code into the touch screen and the appropriate locker will open.  Audio prompts direct the interaction and lights will illuminate the designated locker. We're making interactions with the vehicle as easy as possible through various sensory technologies built into the Transit Connect.
This is our first self-driving research vehicle modified specifically to test a variety of interfaces – the touch screen, the locker system, the external audio system – to inform the design of our purpose-built self-driving vehicle that's arriving in 2021.
Ultimately, through our partnership with Postmates, we're testing methods for efficient deliveries to help local businesses expand their reach and provide a seamless experience to customers.
If you have the opportunity to check out the self-driving experience, jump at the chance to contribute to the future of delivery. And equally important – don't forget to enjoy your meal!