Internet Solutions, the leading pan-African telecommunications service provider, has broken ground on a prefabricated extension to its Parklands data centre.
The extension is the first of its kind at this scale in sub-Saharan Africa. Its design accommodates flexible modules, tailored to specific market requirements, contained within a modern exterior structure.
Phase One, due to come online in July 2018, will contain 130 racks while subsequent modules will be ordered in configurations best suited to client demands. On completion, at a total cost of approximately half a billion Rand, the data centre will provide a total capacity of 572 racks and 2.2 megawatts of IT power.
"On completion of the Parklands expansion project, Internet Solutions will boast the most ideally-located, carrier-neutral data centre in South Africa," says Matthew Ashe, Executive: Data Centres at Internet Solutions.  "It hosts the Johannesburg Internet Exchange, and is in close proximity to some of the continent's most important business centres, which makes this data centre the obvious choice for local and multinational enterprises alike."
Both Sandton and Johannesburg CBD business districts are within a 10km radius of Parklands, which is situated in the burgeoning area of Rosebank – currently in the midst of a multi-billion Rand redevelopment.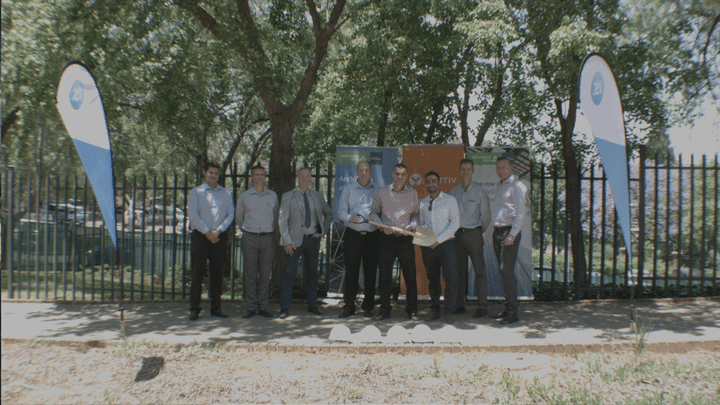 "Thanks to its location, the existing Parklands facility already delivers minimal latency with capacity set to double on expansion," says Ashe. "As we install future modules, we can scale density up or down, decrease racks or increase cooling, offering existing and prospective clients a flexible data centre service that remains at the forefront of industry standards."
Traditional brick-and-mortar facilities require substantial initial capital outlay and typically take at least 24 months to build and bring online, with the risk that design and equipment is no longer as state-of-the-art as when it was procured. The Parklands extension will open its doors in well under a year.
With all data centre systems configured and tested in concert by a single contractor, the result is a high-quality facility built to international standard with minimal snagging at the end of the project. Once final in-situ testing is complete, the facility is ready to welcome its first tenants.
"The civil works are underway in Johannesburg while the prefabricated modules are built, tested, dismantled and then shipped from Europe in parallel," explains Ashe. "There is a four- to six-month lead time for additional modules, which arrive with flooring, cooling and Uninterrupted Power Systems already in place."
Internet Solutions has a significant pan-African managed services network, offering scalable, tailored ICT services to local companies, global network operators and multinational enterprises that choose to enter the region from South Africa.
"The customisable build of the new Parklands data centre is an exciting evolution in our approach to expanding data centre infrastructure," says Saki Missaikos, Managing Director of Internet Solutions. "The modular design future-proofs our investment in the facility, and provides our clients with a service that can adapt to their changing business requirements."