Hyundai's all-new Elantra has arrived in South Africa – with its new attractive design lines and an exciting flagship derivative that boasts a 150 kW turbocharged petrol engine and a 7-speed Dual Clutch Transmission, which thoroughly earns its Sport moniker according to the South Korean manufacturer.
Building on the outstanding design and credentials of the previous model – which won the Car of the Year prize in South Africa in 2012 – the new 2017 Elantra is an impressive car that is bound to be a most successful competitor in the local compact sedan segment.
The 2017 Elantra enters the South African market this June in four derivatives: The Elantra 1.6 Executive manual and Elantra 1.6 Executive automatic (both driven by a 1,6-litre naturally aspirated petrol engine); the Elantra 2.0 Elite, with a naturally aspirated 2-litre petrol engine; and the range-topping Elantra 1.6 TGDI Elite DCT Sport, with a powerful 1,6-litre turbocharged petrol engine.
Both specification levels – Executive and Elite – offer comprehensive features which are all included in the recommended retail prices, starting at R299 900 and ending at a very competitive R399 900 for the Elantra Sport with several special design, trim and technical characteristics.
"First-time drivers of the new Elantra will be pleasantly surprised to see standard features such as an 8-inch hi-resolution infotainment system, rear park assist, 6 airbags, Isofix latching points for child seats, cruise control and attractive alloy wheels on all the derivatives," says Stanley Anderson, sales and operations director of Hyundai Automotive South Africa.
"We are confident that we are bringing a very attractive and well-rounded package to an important segment in our market. The new Elantra will again fill an important slot in our model line-up for car buyers who are looking for a bigger or a family sedan. And when its cost is compared to the specification-adjusted prices of its competitors, the new Elantra is bound to be the choice of many discerning buyers," says Anderson.
Styling incorporates functional aerodynamics
The new Elantra projects confidence with sculpted body forms complemented by smoothly contoured lines that reveal the underlying inspiration of Hyundai designers. Inspired by the concept of dynamic precision, Elantra's architecture was a perfect platform for collaboration between Hyundai designers and engineers to blend advanced styling with functional aerodynamics.
Hyundai's signature hexagonal grille gives the Elantra a strong presence from the front, with automatic projection headlamps including LED Daytime Running lights as part of the cluster. The Elantra's sporty lower front fascia integrates functional front wheel air curtains that helps manage air flow from the front of the vehicle and around the wheels to minimize turbulence and wind resistance. In addition, underbody covers, an aerodynamic rear bumper bottom spoiler and rear deck lid designed with an expanded trunk edge contribute to the Elantra's 0,27 coefficient of drag.
Model-exclusive front and rear fascias give the Sport crucial visual differentiation from the rest of the Elantra lineup, with subtle but immediately recognizable "tells" that hint at the car's improved power and dynamics. Note the Sport's black hexagonal grille with subtle "Turbo" badge; aggressive side sill extensions; horizontal LED Daytime Running Lights; a unique inner housing for the headlamps; a Sport-specific light signature for the standard LED taillights; and chrome dual exhaust outlets nestled in a rear-bumper diffuser insert.
The rear light cluster of the new Elantra with its bright LED display is also distinctive of the Hyundai range. For the Elantra Sport, a different bottom half of the rear bumper reiterates its sporty nature, with a unique skid plate and visible chrome-plated dual exhaust pipes.
The Executive derivatives are kitted with 16-inch alloy wheels, whereas the Elite trim level includes 17-inch alloy wheels to fit its higher status. The chrome door handles also indicate the Elite status of the two top-derivatives, with a neat puddle lite in the door handles on the Elite derivatives.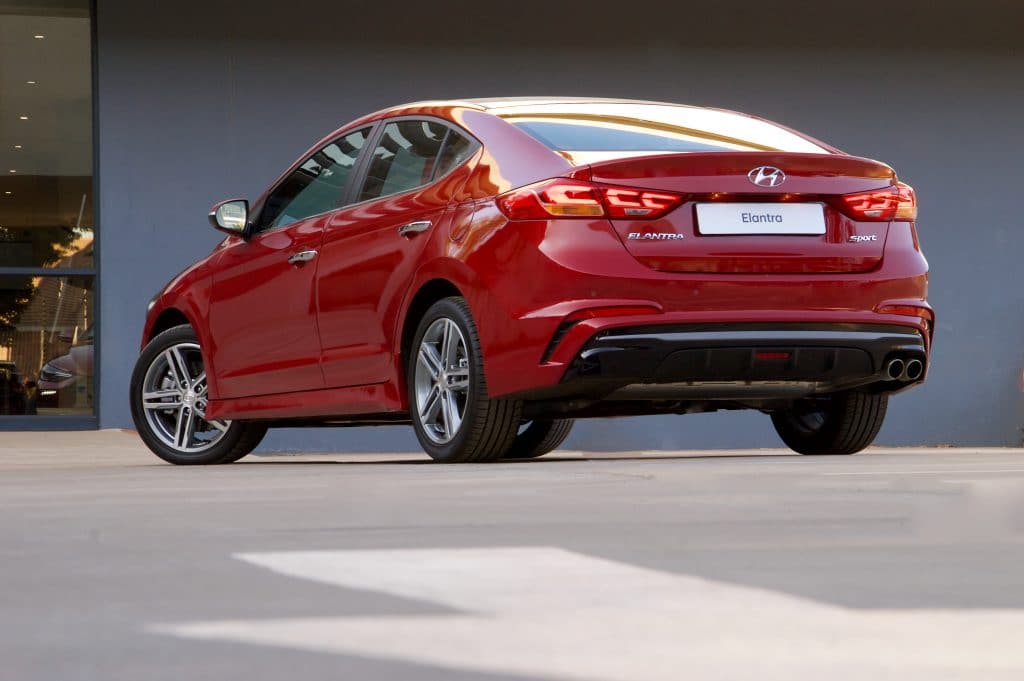 Modern, intuitive interior
On the inside, the Elantra continues to depict a modern, driver-oriented design optimized for intuitive control, improved interior roominess, high-quality materials and premium technology features. The contemporary interior design integrates premium soft-touch materials in key touch points and high-tech details to create an inviting and comfortable interior environment for all passengers.
All four derivatives' seats are covered in leather, and are made of SoyFoam, an environmentally friendly seating foam that substitutes petroleum based polyol with hydroxyl-functionalized soybean oil and optimizes the formulation/process to maximize mechanical performance.
The Elantra Sport is visually differentiated inside as well, with model-specific interior appointments such as a flat-bottomed steering wheel, red sport seats and red contrast stitching.
The standard 8″ infotainment system, which includes satellite navigation, provides a USB Mirror Link for Android cell phones, HDMI connectivity for iPhones to view the iPhone screen on the head unit, hands-free Bluetooth telephone link with remote controls on the steering wheel, Bluetooth music streaming and AUX and USB input ports. It also features a CD player.
Electrically operated side mirrors and windows, cruise control and rear park assist are also standard convenience features across the range. The Elite derivatives have an automatic air conditioner, rain sensors for the windscreen wipers, and a smart key push-button to start the engine.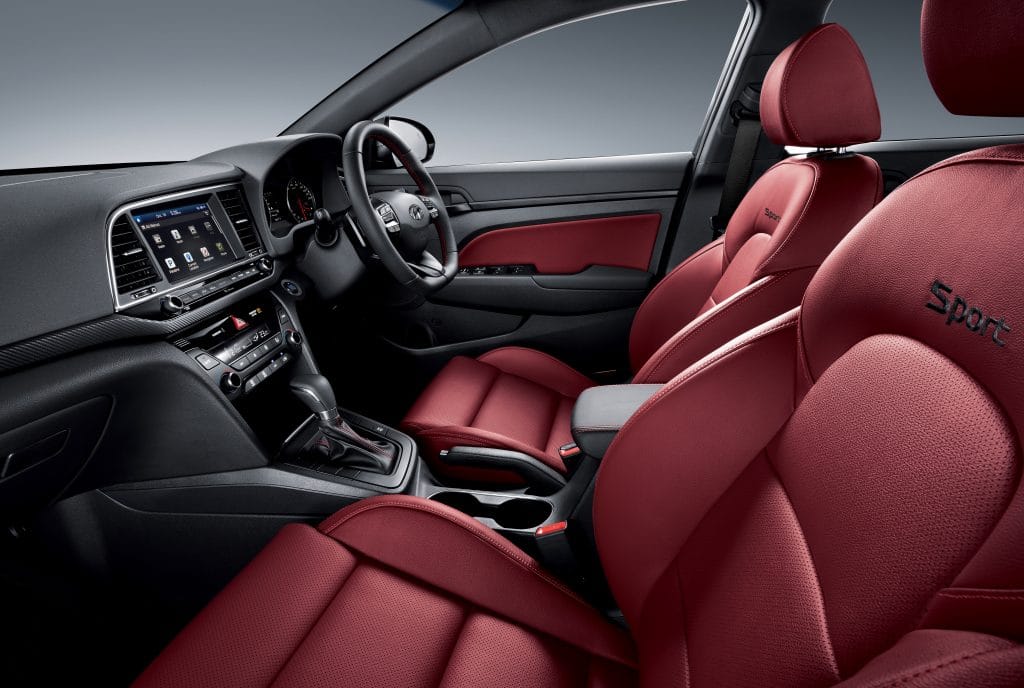 Engines, transmission
The new Elantra is available with three petrol engines: A 1 591 cc four-cylinder engine that produces 94 kW at 6 300 rpm and 154 Nm at 4 850 rpm in the Elantra 1.6 Executive manual and 1.6 Executive Elite automatic; the 1 999 cc Nu MPI Atkinson four-cylinder engine producing a peak 115 kW at 6 200 rpm and 195 Nm of torque at 4 500 rpm in the Elantra 2.0 Elite automatic; and the turbocharged 1 591 cc four-cylinder engine in the Elantra 1.6 TGDI Elite DCT Sport producing 150 kW at 6 000 rpm and 265 Nm torque from 1 500 to 4 500 rpm.
The turbo engine features improved turbo lubrication with the increased oil capacity of the engine, which improves durability.
The Elantra 1.6 Executive comes with a choice between a 6-speed manual or automatic transmission, while the Elantra 2.0 Elite is only available with a 6-speed automatic gearbox.
The Elantra 1.6 TGDI Elite Sport has a 7-speed Dual Clutch Transmission with paddle shifters, and the driver can choose between a Normal, Eco or Sport driving mode with the press of a button, which creates a different gear change pattern for each application.
Fuel economy ranges from a claimed 6,5 litres per 100 km (manual) and 6,9 litres per 100 km (auto) in the two Executive derivatives, to 8,3 litres/100 km and 7,9 litres/100 km in the Elantra 2.0 Elite auto and the Elantra 1.6 TGDI DCT Sport respectively.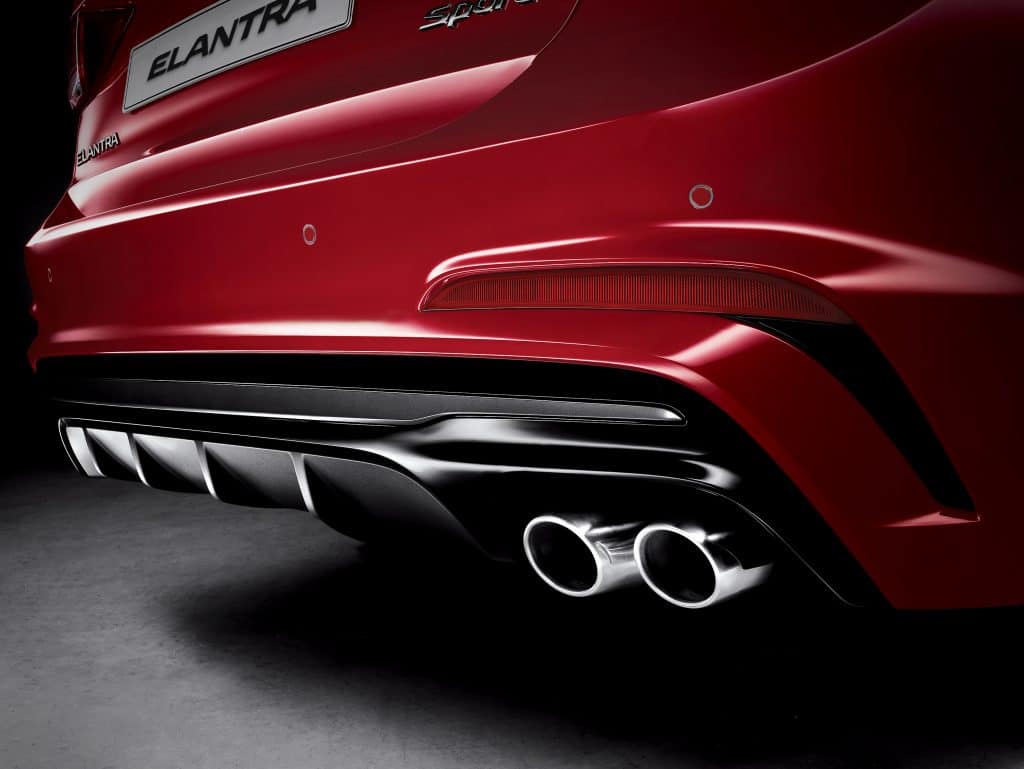 A responsive chassis and suspension
The 2017 Elantra is lighter than the outgoing model, and its rigid chassis is now reinforced with 53% advanced high-strength steel, providing improved stiffness at a lower body weight. This increased usage results in a 29,5% stiffer torsional rigidity and 25,3% greater bending strength, which bring improvements in vehicle ride and handling, quietness, durability and driving performance.
Furthermore, the new Elantra increased structural adhesive application 40 times at higher stress points on the chassis and to reinforce welding areas. A component often found in aerospace applications, these structural adhesives also contribute to improved NVH and vehicle dynamics due to extra stiffness in the chassis.
Improved ride comfort, handling and stability are achieved through Elantra's redesigned rear suspension geometry that modifies the angle of the rear shock absorbers and changed the position of the coil springs on the coupled torsion beam axle. Additionally, an increase in rear bushing diameter helps to improve long term durability.
In the Elantra Sport an exclusive rear multi-link independent suspension helps deliver outstanding dynamics.
The Elantra's front suspension uses an optimally designed McPherson strut with coil springs and gas shock absorbers along with a front stabilizer bar to help reduce body roll when cornering. The standard Motor-Driven Power Steering (MDPS) system instantly adjusts to changing driving conditions for greater precision and steering feel while improving fuel economy. Increased caster provides safe and reliable steering feedback at highway speeds.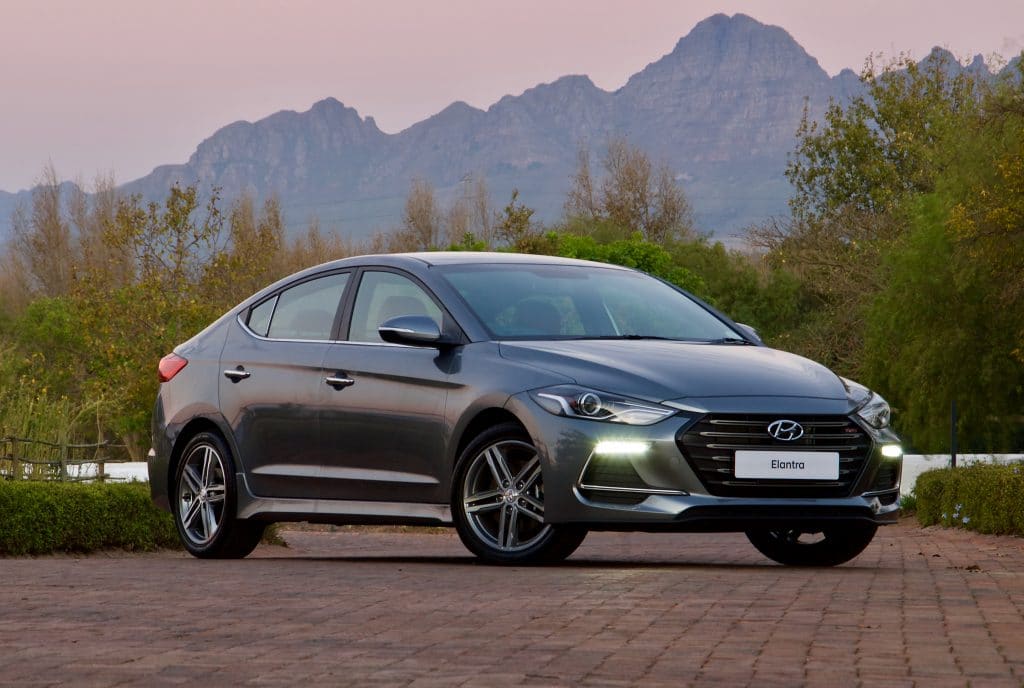 Safety
An Advanced Braking System (ABS) with Electronic Brake Distribution (EBD) are standard on all derivatives for active safety, with the addition of an Electronic Stability Programme (ESP) in the Elantra Sport.
Passive safety is taken care of by driver, front passenger, side and curtain airbags in all the derivatives. The intelligent use of different grades of steel strength also enhances the safety cell for the Elantra's occupants in case of a collision or accident.
In addition to the strengthened chassis, the 2017 Elantra makes structural improvements to the front side members that are now a hexagonal design and the dash-to-cowl connection has also been reinforced. The front apron to the A-pillar now features a straight and continuous load path and has hot stamping applied on the front side rear lower member.
B-pillar assemblies feature partial softening hot stamping that start with a reinforcement section (150kgf grade) and then transition into a softening section (100kgf grade) to help absorb side impact. The rear doors also feature dual impact beams.
Pricing
The recommended retail prices of the new Elantra range are:
Elantra 1.6 Executive (manual) R299 900
Elantra 1.6 Executive (auto) R314 900
Elantra 2.0 Elite (auto) R349 900
Elantra 1.6 TGDI Elite DCT R399 900
Hyundai's five year or 150 000 km warranty and additional two year powertrain warranty is part of the standard package, which also includes five year or 150 000 km roadside assistance and a five year or 90 000 km service plan.
Service intervals are 15 000 km for all derivatives, with an additional initial service after 5 000 km for the Elantra Sport.
In other motoring related news, the new Toyota Yaris recently became available for sale in South Africa.