Following the
international launch of the P20 series
in Paris last month, Huawei Consumer Business Group South Africa unveiled the  Huawei P20 and Huawei P20 Pro locally yesterday evening in Sandton, Johannesburg. According to the Chinese company, the P20 Series promises to usher in a new era of smartphone cameras that combine the very latest in smartphone technology with Leica Camera's legendary expertise, driven by artificial intelligence.
"Huawei's flagship Huawei P Series devices are known for their best-in-class camera, cutting-edge technology and sophisticated design. Continuing this illustrious tradition, the new Huawei P20 and Huawei P20 Pro fuse art with advanced mobile technology to offer a revolutionary, professional photography experience," explains Likun Zhao, Vice President of Huawei Consumer Business Group South Africa.
Photography world-firsts powered by AI
The Huawei P20 Pro is equipped with the world's first Leica triple camera with the highest total pixel count on a smartphone available in the market. This precise camera system comprises a 1 x 40MP RGB sensor, 1 x 20MP monochrome sensor, and 1 x 8MP sensor with telephoto lens. This results in images with more light, greater zoom, and intricate detail, with the 40MP sensor on the Huawei P20 Pro providing up to 300 percent more detail compared to 12MP sensors.
The Huawei P20 features a Leica dual camera, with a 12MP RGB + 20MP monochrome camera setup. The 12MP sensor has a pixel size as high as 1.55 μm, significantly enhancing the Huawei P20's capacity to capture photographs in low-light settings.
With their groundbreaking triple camera design, the Huawei P20 and Huawei P20 Pro achieved the highest score in history of well-known camera review website DxOMark – a total score of 109 for the HUAWEI P20 Pro and a total score of 102 for the Huawei P20.
The on-device AI in the Huawei P20 series also provides users with tools to turn even the most amateur photographer into a pro.  Its real-time scene and object recognition technology can recognise more than 500 scenarios in 18 categories for users to choose the right skills at the right moment. Once an object or a scene is identified, the smartphone automatically makes adjustments to produce the best possible results. Using machine learning, the devices also understand the photography habits of users over time, making suggestions based on various actions.

An exquisite combination of art and technology for an immersive experience
The 5.8″ screen Huawei P20 and 6.1″ screen Huawei P20 Pro feature ultra-thin bezels and impressive screen-to-body ratios for better viewing experiences with more on-screen information. The Huawei FullView Display offers an immersive experience whether the user is gaming, watching videos, reading, or browsing the Internet. The Huawei FullView Display seamlessly blends with rounded edges, making the device comfortable to hold.
Commenting on the design of the Huawei P20 Series, Akhram Mohamed, Marketing Director, Huawei Consumer Business Group South Africa, says, "These devices comes to life in a new vibrant gradient colour, Twilight, in addition to Black and Midnight Blue. These signature colours are achieved by applying several layers of Non-conductive Vacuum Metalising (NCVM) optical coatings underneath the glass back, so light hitting the surface refracts and creates a gradual change in hue. On Twilight, for example, the gradient colour fades layer by layer from a striking blue to vibrant purple."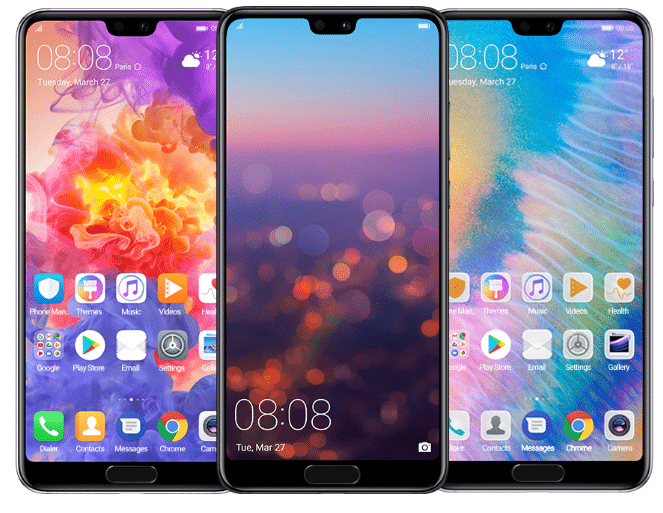 Leading AI computing and ultimate power performance
The Huawei P20 and Huawei P20 Pro feature the powerful Kirin 970, which introduces the latest generation 12-core GPU. With the new HiAI mobile computing architecture, the on-device neural network processing unit (NPU) delivers AI performance that surpasses any CPU in AI-related tasks with 50 times the efficiency and 25 times the performance. In a benchmark image recognition test, Kirin 970 processed 2,000 images per minute. In addition, the chip's machine learning capabilities means that it has the potential to further improve its performance with extended use.
The Huawei P20 and Huawei P20 Pro come pre-installed with EMUI 8.1 based on Android 8.1. Fully customisable with AI support and sophisticated security technology, EMUI 8.1 is set to become the new gold standard in smartphone operating systems.
"The Huawei P20 series features TÜV Safety Certified Huawei SuperCharge technology – one of the most prestigious battery certifications in the world. The devices feature 3,400 mAh and 4,000 mAh batteries, respectively, and support 4.5V/5A low-voltage fast charging, as well as intelligent power management. A 10-minute charge powers the battery to 20 percent, while a 30-minute charge powers the battery to 58 percent. The battery remains at a low temperature during fast charging to ensure safety," says Zhao.
Other notable features of the P20 series to look out for include:
·         The Huawei P20 Pro sports a revolutionary and highly-sensitive image sensor of 1/1.7 inches, 170 percent larger than its closest competitor, with a pixel size of 2 μm micrometers. The Huawei P20 has a pixel size of 1.55 μm. Its larger image sensor allows for bigger pixels, which in turn enables the device to capture more light and produce cleaner, higher-quality shots.
·         The Huawei P20 Pro is equipped with f/1.8, f/1.6 and f/2.4 wide aperture Leica lenses, while the Huawei P20 features f/1.8 and f/1.6 wide aperture Leica lenses.
·         The Huawei P20 Pro includes a brand new Leica telephoto (VARIO-SUMMILUX-H 1:1.6-2.4/27-80ASPH) lens for long-range photography of up to 3x optical, 10x digital zoom and 5x Hybrid Zoom. The Huawei P20 delivers 2x Hybrid Zoom.
·         The HUAWEI P20 Series uses Huawei AIS (AI Image Stabilisation) technology to recognise objects with an AI algorithm, then filters and corrects images as a result of shifts and blurs caused by an unsteady hand holding the device. Huawei AIS steadies handheld night shots for incredible long exposure images without a tripod.
·         The new devices also support six-axis stabilisation and 960fps super slow motion, which is 4x higher than the standard 240fps and captures details that cannot be seen with the naked eye.
·         The P20 Series features Ultra Snapshot mode, where the devices can capture an image in as little as 0.3 seconds, even from an off screen.
·         Both smartphones boast 4D predictive focus, where the camera predicts moving objects and focuses on them with extreme efficiency to capture minute details of these objects in motion.
·         The Huawei P20 and Huawei P20 Pro pack a 24MP selfie camera with AI beautification, which captures the smallest details and brings selfies to life through natural skin tone enhancements, delicately outlined face shapes, and 3D facial feature adjustments.
·         The Huawei P20 Pro has an IP67 rating – six for dust resistance and seven for water resistance – which means it can withstand being submerged in one metre of water for up to 30 minutes. The Huawei P20 is rated IP53 for splash resistance.
·         The Huawei P20 and Huawei P20 Pro can be connected to a monitor in PC mode, which provides a desktop environment for users. With PC mode, users can enjoy the productivity benefits of a desktop, complete with keyboard and mouse functionalities on the phone, without having to carry a laptop around.
"The all-new Huawei P20 Series is a huge leap forward from the previous generation, blending technology and art to bring consumers an unprecedented experience. From the artistic design, gradient colours and Leica triple camera, to the Kirin 970 chipset and Master AI photography features, Huawei demonstrates its accumulated knowledge in photography innovation, and its commitment to intelligent technology research and development," concludes  Mohamed. Huawei's Consumer BG believes that competitiveness begins and ends with consumers. With this in mind, in 2018 we will continue to innovate in core technologies – including AI, AR, and VR — to guide evolution from smart devices to intelligent devices.
Pricing and Availability
The Huawei P20 Lite, Huawei P20 and Huawei P20 Pro are available in South Africa from 6 April.
The recommended retail price for the P20 series is as follows:
·         P20 Lite – R5 999
·         P20 – R12 999
·         P20 Pro –R 15 499
The P20 and P20 Pro both come with an exceptional service offering, where customers will be entitled to a one-hour fast service repair at Huawei branded service centres, as well as a one-time free screen replacement service within the first year warrantee of the device.