Huawei has just launched its first 5G phone for the mid-range smartphone market, the HUAWEI P40 lite 5G. Other than its 5G credentials, this trendy handset boasts a smart look, powerful performance and impressive photography specs.
The 64MP AI Quad Camera brings out your inner professional photographer
To meet the more diverse needs for photography and videography in the 5G era, the HUAWEI P40 lite 5G is equipped with a 64MP Hi-res AI Quad Camera system. This includes a 64MP main camera, 8MP super wide angle camera, a 2MP Boken camera and a 2MP macro camera. These lenses work together to deliver stunning images and videos in all scenarios, no matter how bright or how dark.
The 64MP main camera is perfect for shooting in all scenarios, ranging from outdoor settings with strong lighting to low-light settings such as night time photography. The camera setup is designed to let more light in, and so captures hi-res photos with sharp details.
For those who want to shoot videos in 4K, i.e. ultra high definition, the HUAWEI P40 lite 5G's camera uses AI image stabilisation (AIS) to shoot 4K videos with crisp detail, even in low-light situations. The setup also supports 4K time-lapse photography. The HUAWEI P40 lite 5G allows for enhanced zooming capabilities, which includes a 10 x digital zoom. This means users can zoom in to capture anything that's far away but without having to worry about blur.
Speaking of multiple scenarios, the 8MP ultra-wide angle camera provides a larger 120-degree field of view, which is perfect for landscape or group shots. Meanwhile, the 2MP macro lens paves the way for close-up shots of up to 4cm, taking away the need for professional photography tools and giving the user easier ways to take stunning pictures.
Selfie lovers are not forgotten either, thanks to the 16MP Selfie Camera upfront, which comes complete with HD shooting, AI beautification, special effects and even support for Super Night Selfie 2.0, which uses AI algorithms for stunning low light selfies complete with sharp details.
The Kirin 820 delivers great performance
The HUAWEI P40 lite 5G is equipped with the Kirin 820. This 7nm chipset is the key to the HUAWEI P40 lite 5G's powerful 5G capabilities and overall performance. It is manufactured with some of the most industry-leading processes and puts together a CPU, GPU and NPU with an integrated 5G modem all in its small size. Essentially, this means that you get powerful performance with fast and stable 5G connectivity in an affordable device.
When users play games on the HUAWEI P40 lite 5G in a 5G network area, they can enjoy the dual advantages of having a fast download speed and low latency. Downloading a 2GB game with a 4G network can take about ten minutes. With 5G, it only takes about one minute.
Speaking of efficiency, the HUAWEI P40 lite 5G comes with a large 4000 mAh battery that is perfect for all-day intensive use, be it gaming, streaming or even working. Recharging back up is taken care of with the HUAWEI 40W SuperCharge, which allows up to 70% recharge in just 30 minutes. In terms of storage, you get 128 GB's worth, which is more than enough for all your photos, ultra high-definition videos and even intensive games, while overall performance is supported by 6GB of RAM as well.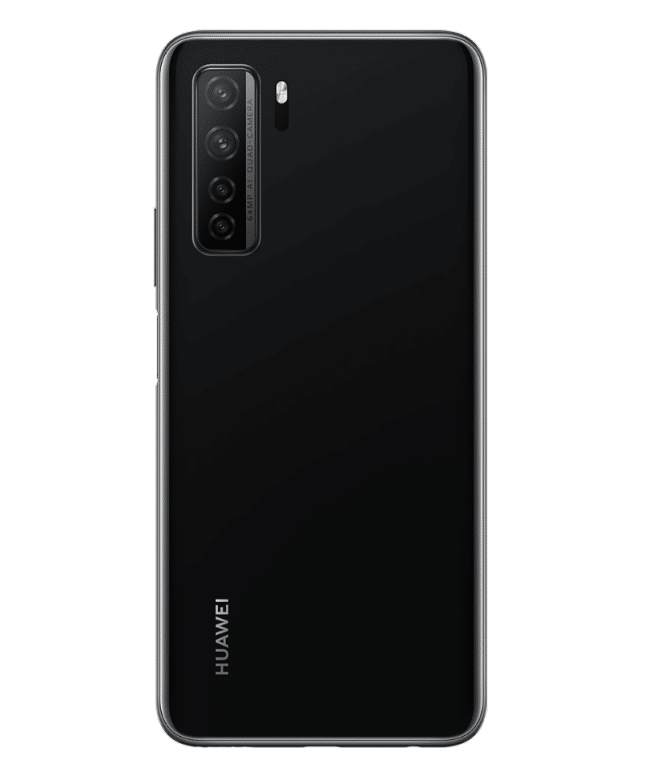 The trendy design is a thing of beauty
The HUAWEI P series smartphones are known for their good looks, and the HUAWEI P40 lite 5G looks as good as ever in its slim and minimalist body with premium effects. The HUAWEI P40 lite 5G features a new 3D CMF design, which means that its colour, material, and finish are all accentuated. This design is created by layering a nano-texture film to add a sense of spaciousness, with a shimmering highlight effect. Available in two unique colourways of Space Silver and Black, you can rest assured that this device will stand out in a crowd at all times.
Upfront, you get the 6.5 inch HUAWEI Punch FullView Display with an FHD+ resolution of 2400 x 1080 pixels, which means no matter what you watch, it will be more entertaining than ever.
Whether you're looking for a device that is stylish, or that can take amazing photos in any scenario, or if you simply want to enjoy a good, fast 5G and entertainment experience, the HUAWEI P40 lite 5G is your go-to option.
Available from 1 August, the HUAWEI P40 lite 5G comes in Space Silver and Midnight Black with 15GB free cloud storage for 12 months and Huawei Video FilmBox access for three months, valid until 31 December 2020.
Be one of the first 1,000 people to purchase the HUAWEI P40 lite 5G and you'll get 1GB data & R500 airtime. Ts&Cs apply* (Promotional vouchers are redeemable on the HUAWEI AppGallery)