The Toyota Hilux's exploits have achieved something of a cult status, establishing an enviable reputation for the Japanese pick-up on a global scale. The resounding characteristic remains its inherent strength, durability and capability. In Toyota speak the acronym 'QDR' refers to Quality, Durability and Reliability – and indeed these three terms have come to underpin the global Hilux marketing mantra.
One arena where 'QDR' makes an unquestionable contribution, is the fabled Dakar off-road race. Torturous and wildly varying conditions make the now South American-hosted event the ultimate test of man and machine. The South African built Hilux off-road race vehicles have amassed four podiums, not only showcasing Hilux on a world stage, but creating a sense of pride and patriotism for the humble South-African built 'bakkie'.
In celebration of this achievement, Toyota South Africa is proud to announce the introduction of a limited edition model aptly named Hilux Dakar. The Dakar suffix is reserved for the pinnacle of Hilux variants and therefore the model presents a unique product offering befitting the revered label.
New Face, New Attitude
The Dakar limited edition sports an all-new face, featuring a more prominent trapezoidal grille and 'squared-off' design. The central focal point is the large gloss-black-honeycomb grille, which incorporates two horizontal sections – creating an image of strength. The inner grille area is bordered by a metallic grey surround with three-dimensional appearance, which blends into the LED headlamps. A matching gloss-black accent strip on the bonnet and stylised Dakar insignia attached to the grille, complete the design.
The lower bumper also features a large honeycomb mesh pattern, extending to the sides of the vehicle, creating a sense of width. The new bumper design additionally includes intersecting horizontal and vertical fog lamp garnishes decked out in matching gloss black. The fog lamps themselves utilise LED elements for superb illumination. A metallic grey 'skid plate' provides the finishing touch to the bold new front facia.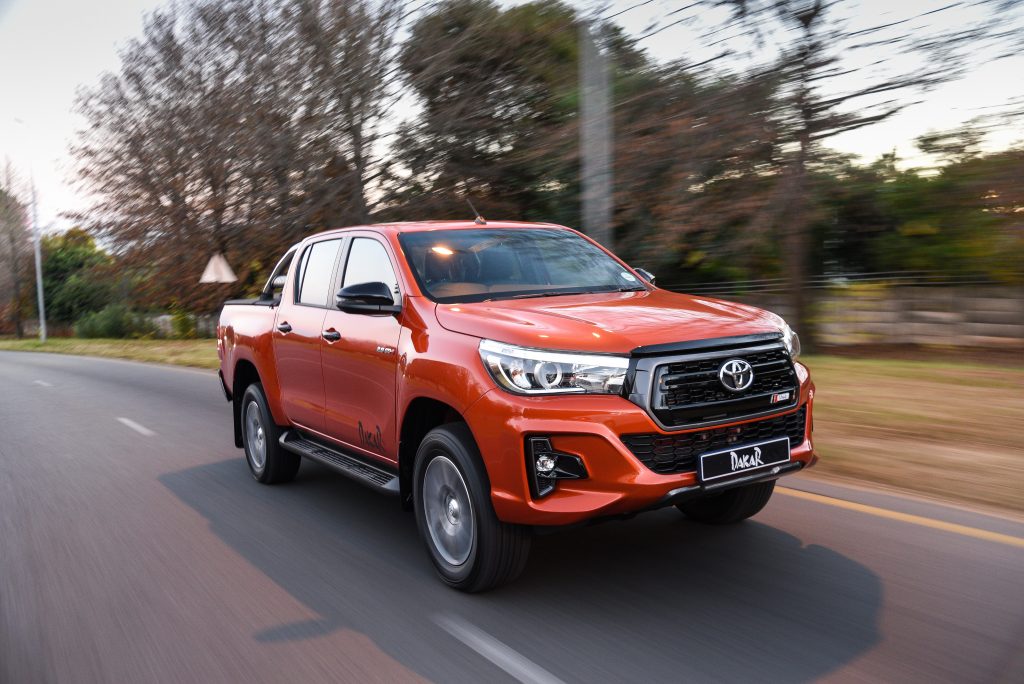 Rugged Exterior, Refined Interior
In addition, the exterior sports a number of distinctive touches such as gloss-black treatment for the door handles and power-retractable side mirrors. The rear bumper is fashioned in grey, to tie in with the front design.
In a world of contrasts and oxymoron's, the Hilux Dakar limited edition boasts an enveloping interior to offset the rugged exterior treatment. The interior features all-black treatment, with a black roof headliner (versus light grey on normal Raider), metallic black trim accent panels (silver on Raider) and black leather upholstery with light grey contrast stitching (fabric on Raider) – creating a sporty, premium space for occupants.
The infotainment system is upgraded to include Satellite Navigation, whilst the standard Bluetooth, USB and CD/DVD playback functionality is retained. The touch-screen system also includes an on-board trip computer and customisable home screen.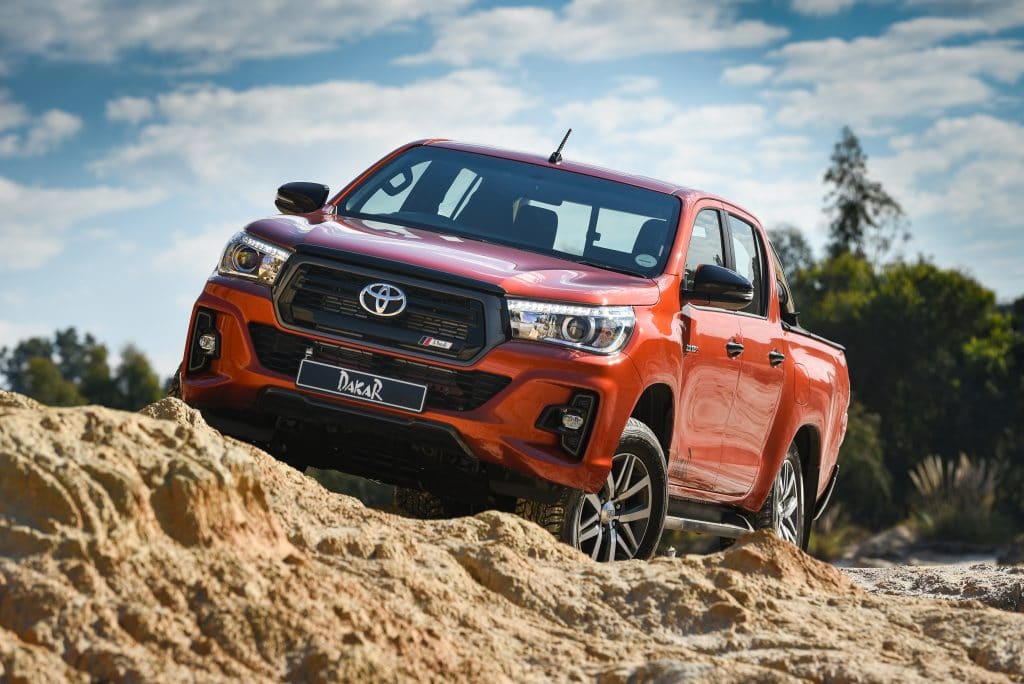 New Instruments, New Look
Dakar models receive a unique instrument cluster, using white-faced gauges with orange needle pointers and bespoke graphics, emulating a toothed gear (cog) – to distinguish the Dakar from its normal brethren. The LCD multi-information display also features a bespoke start-up graphic showing off the Dakar model's exterior façade.
Proven Mechanicals, Proven Prowess
All Dakar models are based on Raider models and therefore employ either the proven 2.8 GD-6 powertrain or 4.0-litre V6 (double-cab only). The 2.8-litre, four cylinder turbo-diesel engine produces 130 kW and 420 Nm in manual transmission guise. Automatic transmission-equipped variants receive a boost to 450 Nm. The V6 variant delivers a throaty 175 kW and 376 Nm.
An outstanding feature of the 2.8 GD-6 diesel engine is the combination of response, torque delivery and fuel efficiency. Both Eco – and Power modes are provided, which alter the powertrain's character to either enhance fuel efficiency or boost acceleration.
Both rear-wheel and switch-on-the-fly four-wheel drive transaxles are offered, each available in either a 6-speed manual or 6-speed automatic transmission configuration – creating a matrix of four 2.8 GD-6 variants.
The manual gearbox includes a selectable iMT function (intelligent Manual Transmission), which provides rev-matching downshift and hesitation-free upshift functionality. The iMT feature also helps prevent accidental stalling of the engine.
Fuel consumption varies between 7.6 and 8.5 litres per 100 kilometers dependent on drivetrain configuration. CO2 figures range from 199 to 224 g/km.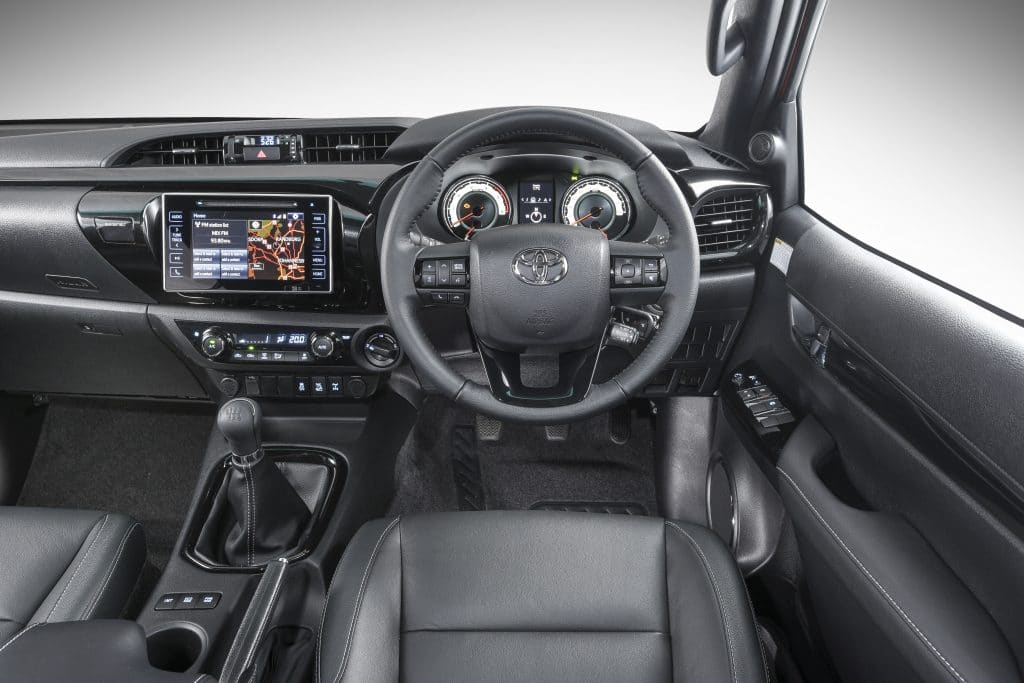 Limited Colours, Unlimited Expression
The Dakar limited edition is restricted to four exterior colours – including an all-new Inferno Orange Metallic. Buyers have a choice between Glacier White, Chromium Silver, Graphite Grey Metallic and Inferno Metallic exterior hues.
White, Silver and Orange models utilise black Dakar decals on the front doors and rear tailgate, whilst Graphite Grey units receive contrasting silver decals.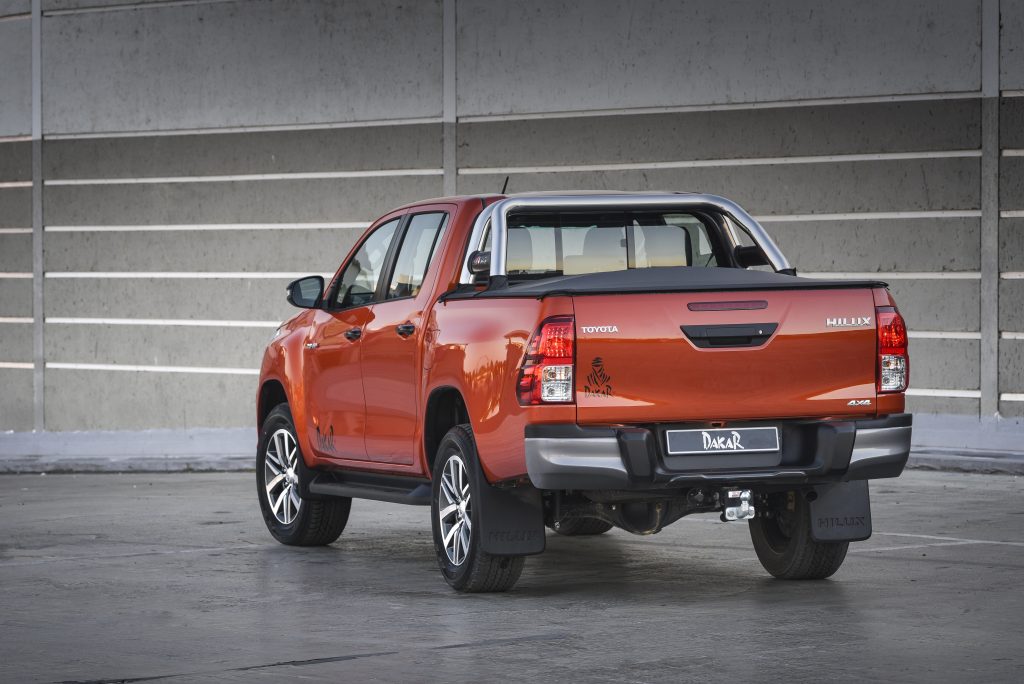 Two Cabs, Multiple Choices
Buyers can choose between either Xtra – or Double Cab configurations.
| | |
| --- | --- |
| Xtra Cab | Price |
| Hilux XC 2.8GD6 Raised Body Dakar MT | R 470 300 |
| Hilux XC 2.8GD6 Raised Body Dakar AT | R 488 300 |
| Hilux XC 2.8GD6 4X4 Dakar MT | R 535 600 |
| Hilux XC 2.8GD6 4X4 Dakar AT | R 553 800 |
| Double Cab |   |
| Hilux DC 2.8GD6 Raised Body Dakar MT | R 535 000 |
| Hilux DC 2.8GD6 Raised Body Dakar AT | R 553 400 |
| Hilux DC 2.8GD6 4X4 Dakar MT | R 601 100 |
| Hilux DC 2.8GD6 4X4 Dakar AT | R 621 000 |
| Hilux DC 4.0 V6 4X4 Dakar AT | R 662 700 |
 Service Plan, Warranty Period
As a commitment to excellent customer service, Toyota has increased the service plan period on 2.8 GD-6 models from five-year or 90 000 kilometres to 9 services or 90 000 kilometres, whilst the 4.0 V6 model receives an increase to a six services or 90 000 kilometre period (previously five years).
The Warranty period is three-year or 100 000 kilometres and applies across the Hilux range.