Customers wanting to experience electrically-powered driving pleasure laced with added exclusivity now have the opportunity with the introduction of 12 units of the BMW i8 Protonic Frozen Black Edition in South Africa.
First unveiled at the 87th Geneva International Motor Show 2017, the exclusive limited run special edition is the second of its kind for the BMW i8, following the introduction of the Protonic Red Edition in 2016.
The new BMW i8 Protonic Frozen Black Edition features a BMW Individual Protonic Frozen Black exterior paint finish with Frozen Grey metallic highlights and 20″ W-Spoke style BMW i light alloy wheels, which accentuate the avant-garde exterior design and styling of the vehicle.
The exclusive interior package unique to the BMW i8 Frozen Edition range includes: dark NESO seats with woven yellow and anthracite stitching as well as the headrest embossed BMW i8 logo, contrasted with grey safety belts, floor mats with black leather piping and yellow highlights, door sills with the integrated aluminum plate and Edition lettering, the gear shift lever trim and central control unit in black ceramic.
In December, three units of the BMW i8 Protonic Frozen Yellow Edition will be introduced in South Africa.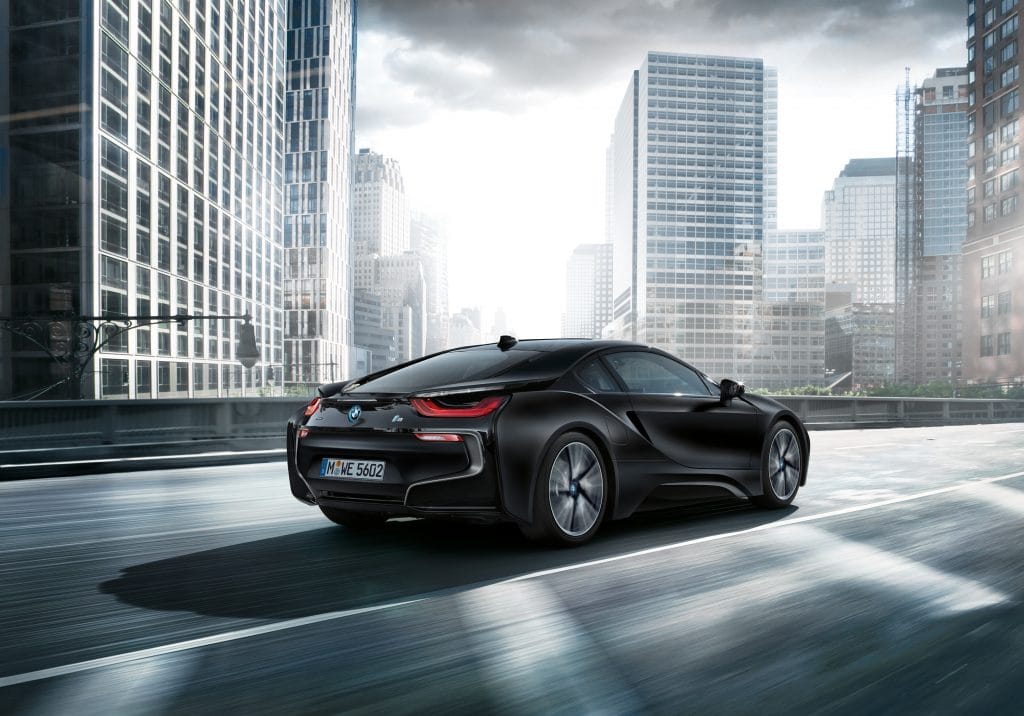 All BMW i8 limited edition models features the internationally awarded BMW i8 three-cylinder combustion engine with an output of 170 kW that propels the rear wheels and a 96 kW electric motor which draws its energy from a lithium-ion battery that can be charged from a conventional domestic power socket and send its power to the front axle. This bespoke plug-in hybrid system, developed and produced by the BMW Group, enables a range of up to 37 kilometres and a top speed of 120 km/h on electric power alone, coupled with a "glued-to-the-road" all-wheel driving experience headlined by powerful acceleration and a dynamically-biased distribution of power through keenly taken corners.
With new special-edition versions of the BMW i8 and the introduction as well as expansion of the BMW iPerformance model range, the BMW Group is extending its global leadership in the field of sustainable mobility. Thanks to the i8 and the BMW iPerformance models, BMW is the world's most successful maker of plug-in hybrid (PHEV) models in the premium segment. The BMW Group is aiming for global sales of 100,000 vehicles featuring BMW eDrive technology in 2017. To date a total of 50, 000 electrified vehicles have been delivered to customers worldwide.
Since local market introduction in March 2015, 228 units of the BMW i8 have been sold making it the most successful PHEV model in its segment.
In other motoring related news, Mitsubishi recently launched its all-new Pajero Sport, a luxurious purpose-built sport utility vehicle delivering similar refined driving dynamics as many powerful, spacious and luxurious sedans, for a much more favourable price than its peers – under R600 000!