Slide show presentations play a vital role in today's business communications, helping managers communicate performance or policies to staff, do forecasts and performance assessments with stakeholders, and assists sales people in landing pitches and winning new business.
Logitech's latest addition to its business portfolio is the Spotlight presentation remote, and it has its pointer firmly aimed at sales people, marketing professionals, and other employees who need to do a lot of presenting, lecturing or pitching on a regular basis.
The Spotlight presentation remote is compact (131.3 x 28.1 x 12.1 mm) as well as lightweight (49.2 g), and its rounded form means that it fits nicely into the palm of your hand.
Besides its Apple-inspired attractive design, the remote boasts a simplistic three-button control layout, which enables users to quickly and easily navigate through their presentation slides within apps such as Microsoft PowerPoint, Prezi, Google Slides, or Apple Keynote.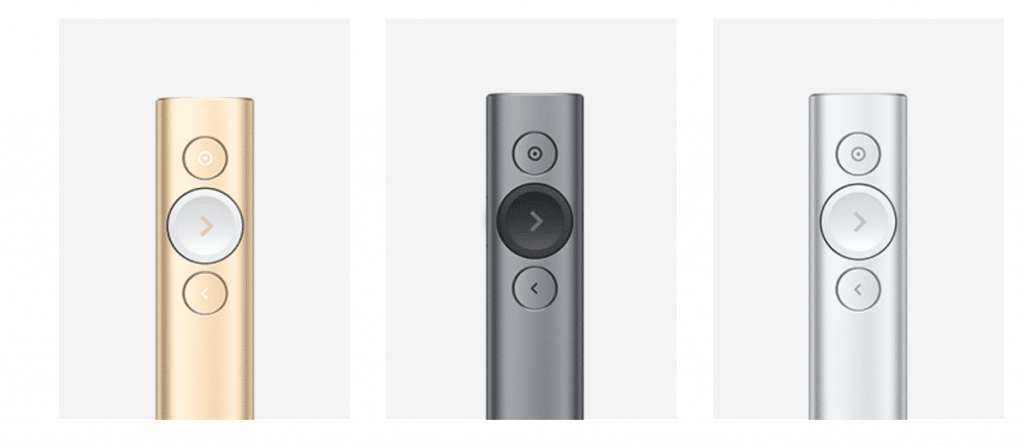 Doing more with fewer buttons
In addition, users can use the device as a cursor to click onscreen links or play embedded video clips, and also highlight select areas of the presentation by casting a 'spotlight' on the chosen area of the display, while darkening the rest of the screen, so that your area of concentration is more visible. In addition, you can magnify parts of the screen within a circular area.
The above-mentioned features are accessed by holding down the presentation remote's pointer button for a couple of seconds. This enables you to cycle through each of the features via a double-press. Moreover, if the highlight area on the presentation is centered on a link or onscreen button for playing a video for instance, a single press, will then act as a left-click. The presentation remote works from within a distance of about 30 meters from the PC that its wireless dongle is plugged into.
There's an app for that 
You can also customise the button controls via Logitech's Presentation app, which is available for Windows and for users of Mac computers. Moreover, the app enables users to employ some useful time-management functionality.
This allows you to use the app to set an on-screen timer that begins as you click your first slide. You can also configure key timing milestones that send vibration alerts (haptic feedback) directly to the Spotlight remote. For instance, you can set the device to vibrate at five minutes, during a ten minute presentation, thus allowing you to stay on pace and again at nine minutes, so that you are able to wrap up before your time is finished.
More battery bang for your bucks
According to Logitech, the rechargeable battery inside the Spotlight presentation remote should last around three months after a full charge. We only had the device for a two week period, so we cannot confirm this, but can report that we only charged it once over that time. We used it for three presentations and five brainstorm sessions during that review period.
Should you forget to charge the presentation remote after all that time and only realise that it is flat mere minutes before a presentation, you'll be relieved to learn that it supports fast charging through its USB-C charging cable. This sees the device getting as much as three hours worth of presenting battery life after charging for just one minute. Charging its battery back to full takes around 60 minutes.
The recommended retail price of the Logitech Spotlight presentation remote is R2000, making it a very expensive tool for your average, occasional presenter. However, if presentations form part of your daily or even weekly scope of work (and especially KPAs), then the investment is definitely worth the pay off of having an indispensable tool to take your presentations to the next level.