ASUS has announced ZenBook S (UX391), a premium 13.3-inch ultraportable laptop that not only delivers effortless portability, powerful performance and no-compromise connectivity for discerning on-the-go users, but is also tested to meet military-grade MIL-STD-810G durability standards. This remarkable laptop has been honored with both the Best Choice of the Year and Best Choice Golden Award at Computex 2018.
With an ultrathin 12.9mm profile and ultralight 1kg all-metal unibody, the sophisticated ZenBook S is finished in prestigious Deep Dive Blue or elegant Burgundy Red with Rose Gold diamond-cut edges, complete with the iconic Zen-inspired spun-metal finish for a luxurious look and feel.
ZenBook S incorporates the innovative new ErgoLift hinge that automatically tilts the keyboard by 5.5° for the ultimate typing comfort: the raised chassis also improves airflow and enhances audio performance.
Powered by 8th Generation Intel Core processors and a superfast PCIe x4 SSD, ZenBook S also features up to a 4K UHD NanoEdge touchscreen, and delivers up to 13.5 hours battery life for all-day performance. For ultrafast connectivity, two of the three USB Type-C (USB-C) ports support Thunderbolt 3. ZenBook S features Amazon Alexa support for easy voice-controlled assistance.
The ultimate ultraportable
Seasoned travelers will appreciate the way ZenBook S, with its 12.9mm-thin, 1kg-light all-metal unibody, slips effortlessly into any bag. The NanoEdge slim-bezel display and premium materials allow the reduction of every dimension and weight to the minimum, creating a masterpiece of ultraportable design.
ZenBook S introduces two prestigious new color options, each complemented by contrasting diamond-cut Rose Gold edge highlights created using a two-phase anodizing process that's normally reserved for jewelry or luxury timepieces. Inspired by the magical moment at dawn when the golden rays of the sun first illuminate the ink-blue sky, the luscious Deep Dive Blue finish gives ZenBook S a sublime, understated beauty. The distinctive and supremely elegant Burgundy Red color reflects the breathtaking beauty of a sky turned deep red at sunset: it's an awe-inspiring modern shade that reflects passion, sophistication, and individuality. Both color options feature the iconic Zen-inspired spun-metal finish on the lid, a design feature that's created using a complex 40-step manufacturing process, and which is exclusive to the ZenBook Series.
ZenBook S is not only sophisticated and elegant, but it's incredibly tough too: it meets the ultra-demanding MIL-STD 810G military standard for reliability and durability, undergoing a punishing test regime that includes extended tests for operation in harsh environments including extreme altitudes, temperatures and humidity. It has also passed ASUS internal laptop tests that far exceed the standards set by the industry.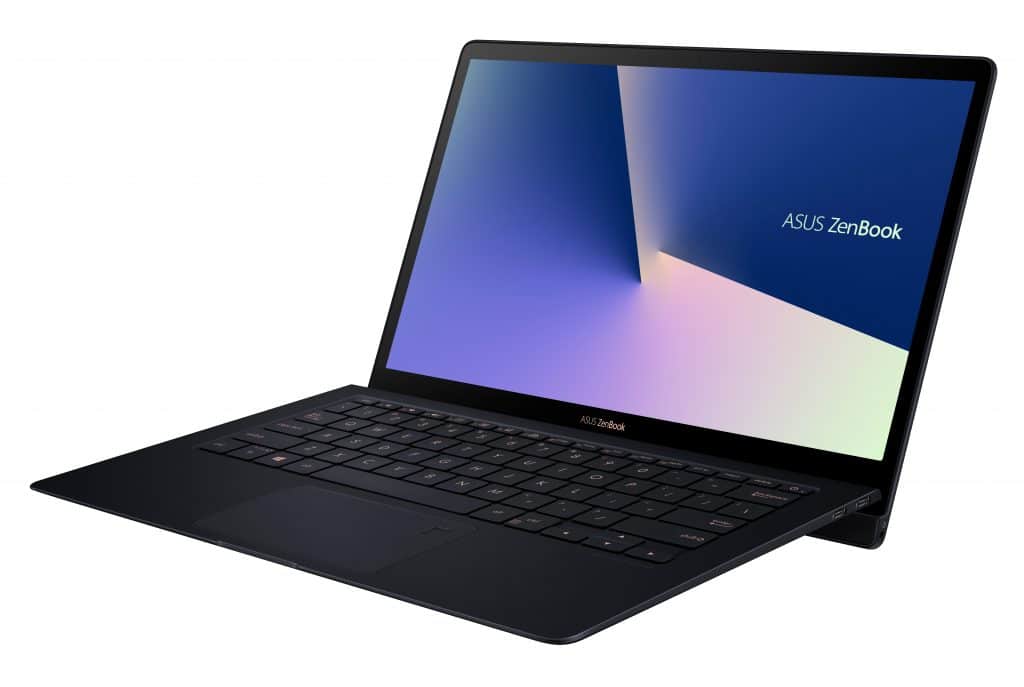 Designed for ultimate comfort
For outstanding ergonomics, ZenBook S incorporates the new ErgoLift hinge mechanism, an innovative design that raises and tilts the keyboard by 5.5° — the optimum angle for comfortable typing. With a maximum opening angle of 145°, ZenBook S opens wider than most laptops too, so users have more freedom to choose the best screen angle. And when ZenBook S is closed, the ErgoLift mechanism is completely hidden, so it doesn't affect the sleek profile.
When the ErgoLift hinge mechanism tilts the keyboard, it also creates an important extra ventilation space that allows more airflow around the underside of the chassis. With this improved ventilation, ZenBook S keeps its cool even when under heavy load.
The extra space underneath ZenBook S created by the ErgoLift hinge has yet another benefit: it allows the powerful Harmon Kardon audio system to work at its best, delivering clearer sound with improved bass response.
All-day performance
ZenBook S is built to get things done as quickly and efficiently as possible, with no fuss or drama. The latest up to 8th Gen Intel Core i7 processor, up to 16GB of fast 2133MHz LPDDR3 RAM and up to a 1TB PCIe 3.0 x4 SSD allow users to enjoy smooth and responsive performance whatever they're doing. For maximum sustained performance, ZenBook S uses an uprated cooling system incorporating state-of-the-art components, including an innovative liquid-crystal-polymer fan impeller with 71 blades — an increase of 40% over previous designs — housed in an advanced 3D-curved aerodynamic shroud that can move 13.4% more air than before. With this cooling system, ZenBook S runs up to 5°C cooler than previous ZenBook models.
A laptop as beautiful as ZenBook S deserves equally beautiful visuals, so it's fitted with an up to 4K UHD NanoEdge touchscreen with a wide 72% NTSC color gamut for breathtakingly-lifelike colors and detail. The bezel width has been slimmed even further — to just 5.9mm — to give an amazing 85% screen-to-body ratio for even more immersive visuals.
For all-working-day autonomy, ZenBook S uses a high-capacity battery that lasts up to 13.5 hours, with fast-charge technology that recharges a flat battery to 60% capacity in as little as 49 minutes.
No-compromise connectivity is essential in an ultraportable laptop. ZenBook S delivers the ultimate speed of Thunderbolt 3 in two of its three USB-C ports, and all three ports support fast charging, data transfers and display connectivity. And for desktop-grade connectivity, users can simply connect the handy ASUS Mini Dock.
Amazon Alexa support gives users a smart new way to get things done on their laptop, using just their voice. Whatever the task — entertainment, scheduling meetings, looking up information, controlling a smart home and much more — Alexa is instantly available to help.
AVAILABILITY & PRICING
ASUS ZenBook S (UX391) will be available from August 2018 in South Africa from Incredible Connection at MSRP R29,999.