Before 2010, consumers upgraded their laptops relatively regularly (every three top four years) to take advantage of innovative new features introduced in newer iterations. After 2010, however,
the decline in global PC sales
was precipitated by various factors including minor feature boosts annually, the golden age of tablet computing, and mature western markets.
Since last year, this is beginning to change again, thanks to a new breed of amazing notebook PCs that are much more portable, have extended battery life, gorgeous displays, and must-have featuresets including USB Type-C or Thunderbolt 3 ports and enhances processing performance due to 7th Gen (and up) Intel CPUs.
The Acer Spin 5 is an excellent example of the new generation of stylish laptops that offer plenty of spec and performance bang for the bucks (RRP of R12 000). The convertible 2-in-1 notebook boasts an eye-catching modern, all-metal build that makes it feel very premium in hand, a stylus pen, HD touchscreen, and good batterylife.
We reviewed the 13″ which offers a standard 1920 x 1080 resolution, which looks good as its nice and bright, packs in good colour reproduction and viewing angles. The notebook also comes with the Acer Active Stylus pen that enables students to take notes on apps such as OneNote or artists to sketch for instance. One minor annoyance is that there is not place to store the stylus on the laptop (like a slot to slip it into ala Galaxy Note style).
The speakers are located above the keyboard and pack a decent dollip of volume but audio quality does tend to suffer when you turn up the sound to maximum volume, so keeping it at medium level while watching series or a movie will help avoid any distortion. Speaking of which, the tent mode of the 2-in-1 was especially handy for watching video in bed or in a tight space. The laptop's hinges are very sturdy and holds their position firmly. However, something to take note of is that the speakers face the opposite direction of the screen when you opt to positioned the notebook in this way, directing sound away from you.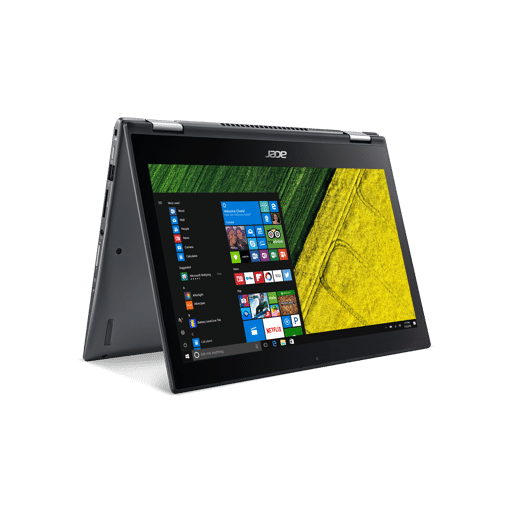 The Acer Spin 5 can also transform into a tablet, but as with most 2-in-1's, it makes for a slightly bulky and somewhat cumbersome tablet to use. It's fine if set on a flat surface for note-taking purposes though, but it's a little too heavy to use it like a Kindle to leisurely read a PDF document or e-Book in this mode.
Performance on
Windows 10
Home is smooth and snappy thanks to
Intel
's new 8th-gen CPU (Core i5-8250U), its 256GB SSD and 8Gb of RAM. In terms of battery life you will get a full day's work out of the notebook or about eight hours of streaming video off of Netflix to indulge in your latest guilty pleasure.
We liked typing on the laptop's full-size backlit keyboard and the touchpad is nice and comfortable to use. It incorporates a fingerprint scanner, which supports Windows Hello for a more secure and snappy way of accessing the 2-in-1. A lot of modern, stylish laptop's like this skimp when it comes to ports, offering slimness in lieu of ports. Not in this case, as the slim Acer Spin 5 still packs two USB 3.0, one USB 2.0, a USB Type-C, full HDMI port, 3.5 mm headphone jack and SD card slot.
Ultimately, the Acer Spin 5 works well as an everyday notebook PC for business and consumer users. It's stylish, portable, snappy enough for all your daily tasks and boasts good battery life, a decent display and stylus for note-taking and annotating.