The United States (US), India and the United Arab Emirates (UAE) are among the most popular long-haul1 destinations for travelers in the United Kingdom (UK)2 this summer, according to analysis conducted by Travelport, a leading travel commerce platform. 
As of 14 June 2019, over 300,000 advanced bookings had been made3 in the UK through all global distribution systems (GDS) for return flights to the US scheduled between Friday 28 June 2019 and Sunday 8 September 2019. Flight bookings to second placed India stood at 86,978. The third most popular long-haul destination, the UAE, had registered 78,761 flight bookings.
With flight bookings up by 3,402 (13%) year-on-year, China was the fastest growing top ten long-haul destination for UK travelers compared to the same period the previous year. South Africa had also seen a notable uplift with 1,881 (7%) additional bookings made.
Global distribution systems (GDS) are vast hi-tech reservation networks that allow travel agents, travel management companies and large corporations, among others, to search and book airline seats, hotel rooms, rental cars, and other travel related items. Globally in 2018, Travelport alone processed 1 trillion transactions through its platform. The company also delivers mobile services and apps to the travel industry as well as advanced analytics products, such as Travelport Business Intelligence.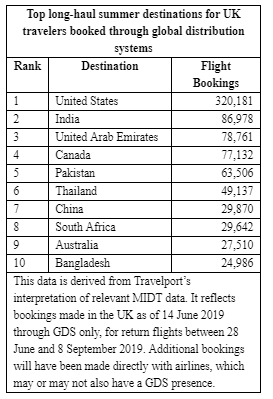 Paul Broughton, Travelport's Vice President and Managing Director for Northern Europe said: "Sunny skies, family attractions, natural landmarks and affordable flights make the United States an ever-popular choice for UK travelers over the summer holidays. To put just how popular the country is into perspective, to-date we've seen more advanced flight bookings made from the UK to the States over the summer than to the rest of the top five most popular long-haul destinations combined!"
Broughton added: "It was interesting to see China become a top ten long-haul summer destination for UK travelers this year, having sat just outside in 11th place last year. A study4 in 2018 claimed it to be the top bucket list travel destination for one in four people in the UK, so interest in the country does seem to be rising. We are starting to see this translate into increased booking volume and I expect this trend to continue in the years to come as more people recognize just how much the country has to offer tourists."