Fitbit's Versa 2 will be available in local stores during mid-October for a RRP of R3,999, which is the exact same price of the current Versa smartwatch. Before the new generation of the fitness tracker and smartwatch drops in South Africa, we thought we would take a look at the current version, and choose our favourite and not so favourite things about the device, which you should be able to pick up for a reduced price next month as soon as the new one hits local outlets.
What we liked
1 Look and feel
Compared to the noticeably more expensive Fitbit Ionic smartwatch, the Versa is way lighter, more compact, sports a more contemporary smartwatch design, but does not boast the same quality expensive feel as the Apple Watch Series 4 or even the Ionic for instance. However, it is light and definitely unobtrusive when you exercise, use it for daily steps tracking, sleep tracking at night or sessions at the gym or in the pool (it is waterproof).
2 Battery life still tops
Despite being more compact than the Ionic, the Versa still manages to deliver class-leading battery life compared to Android-Wear powered smartwatches and Apple Watch models. It can match the Ionic's three-day battery life and even surpass it to the magical four-day mark. However, you must take note that the Versa, unlike the Ionic, does not pack in GPS meaning for running tracking your smartphone will need to make the muscle-burning journey with you.
3 More features
With the Versa, female Fitbit users are able to setup female health-tracking functionality in the Fitbit app, which enables them to keep track of their menstrual cycle and symptoms in the app. Obviously not being female, I could not test this feature, and cannot comment as to its accuracy and/or usefulness in this regard.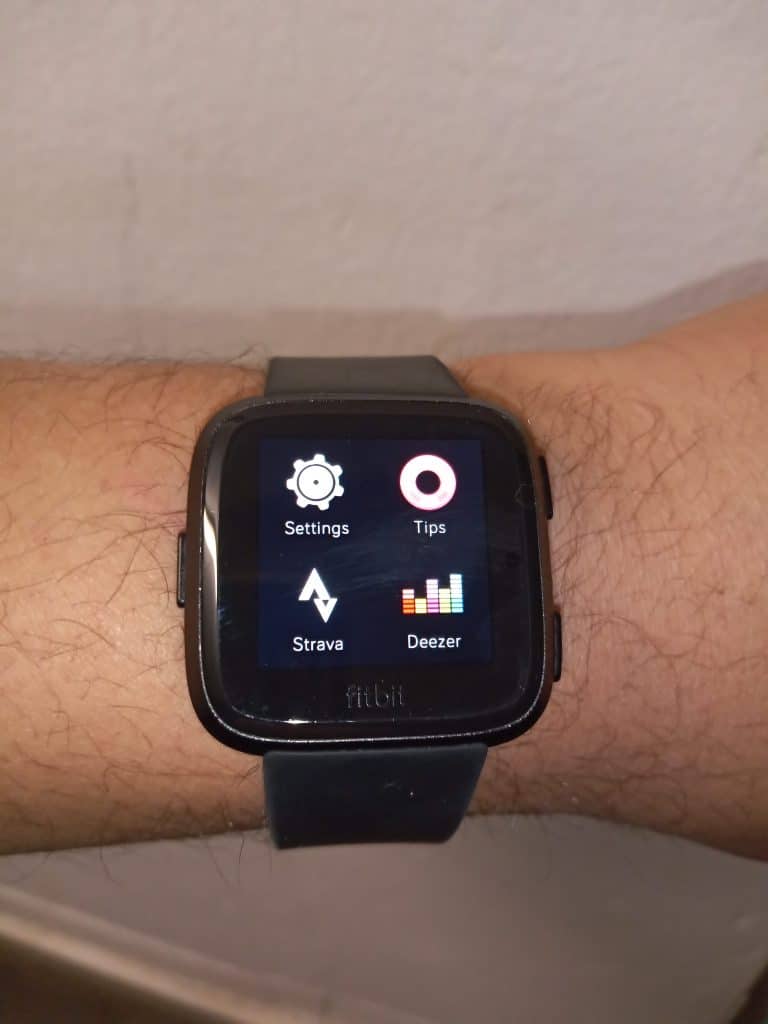 What we did not like
1 Some setup aspects are not as easy as on rival devices
Connecting to Wi-Fi and staying connected can be challenging at times, while the initial setup process is not as effortless as competing devices. Moreover, loading your music library on to the device is a pain and you would want to have a Deezer subscription to make use of the smartwatch's preloaded Deezer app to side-step that issue.
2 Payment still only useful for some
Like the Fitbit Ionic, you can setup and use tap and pay functionality at certain pay points. However, we still can't use this feature as on the Ionic we do not utilise offerings from participating banks, which in this case is only available in South Africa to FNB debit and credit card users, RMB Private Bank (Visa) users, Discovery Bank (Visa) users, and Investec Private Bank (Visa) users.
Final word
Ultimately, the Fitbit Versa smartwatch is a lot more comfortable for female users and male users who prefer more compact devices, compared to the bulkier Ionic, due to the bulkiness of the Ionic and its weight. It offers some smart female health features, the best in class fitness and sleep tracking capabilities, and phenomenal battery life. If you do not require a look at me posh look and feel as present on the current Apple Watches, Samsung's Galaxy Watch Active or Fitbit Ionic, and would rather trade GPS and premium design for a comfortable, feature-rich, bargain (compared to those rivals at least), then the Fitbit Versa is just for you. You can wait until next month for the latest and greatest one if you want or if value is a priority, get the Versa on a deal as soon as Versa 2 arrives.