Looking for a wingman (or wingwoman) this Valentine's Day? Meet the all new Nissan Micra 84 kW turbo.
It may be sexy, sophisticated and smart but it won't steal your limelight. And engineered for the streets, it's the perfect ride for the perfect Valentine's Day date.
It'll take you wherever you want to go
With a sporty turbocharged 1.0-litre petrol engine that produces 84 kilowatts of power – an extra 20Nm engine overboost – and 180 Newton metres of torque – giving you instant acceleration with dynamic performance – the new Micra will take you wherever you want to go.
It gives you a better driving experience than ever before – with tighter handling, a 6-speed manual transmission and a dropped suspension.
And it's got sharper steering, with a steering rack that's quicker and lighter to use, which makes the new Micra even more agile and fun to drive.
So you can swing by your date's place and zip through the city to your favourite dinner spot, then end the night off by sweeping him or her away, beyond the city limits and finding a romantic lookout to gaze at the stars.
And you'll be spending less on fuel – so you'll have more to spend on spoiling your special someone – because the new DIG-T (Direct Injection Gasoline – Turbo) 84 kW engine features a number of technical innovations geared to low fuel economy.
These innovations are also designed to lower CO2 emissions, which means you can brag about saving the world on your date, too.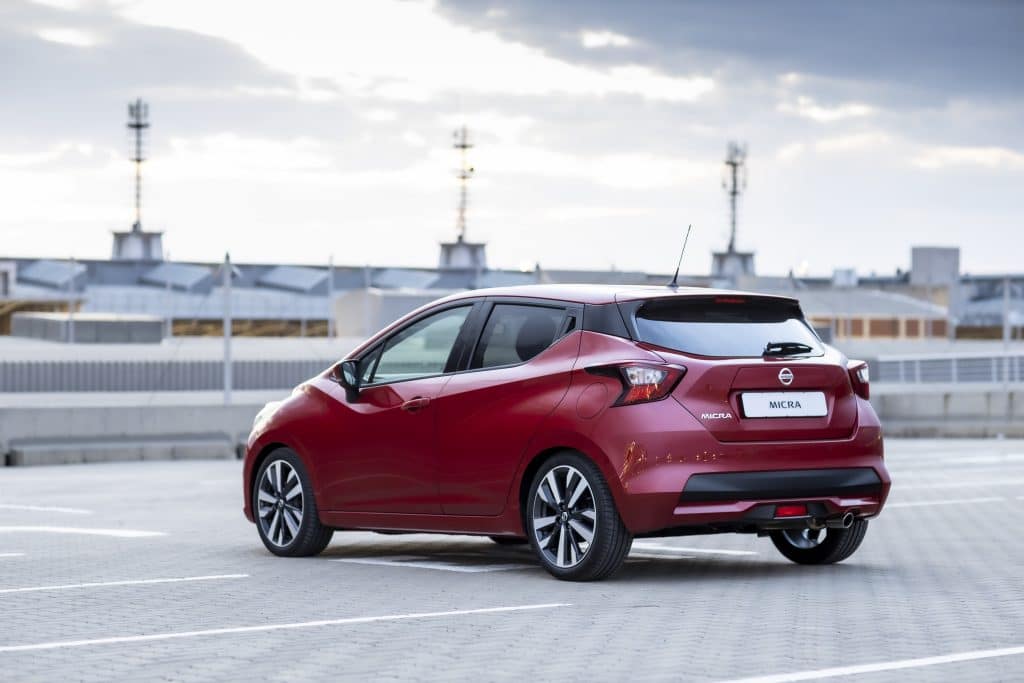 It knows how to set the mood
What would a date be without music? The new Micra Tekna and Tekna Plus models comes with a ground-breaking top-of-the-range Bose® Personal® sound system.
This isn't just your run-of-the-mill sound system – it's a rich, immersive 360-degree soundstage.
It has an amplifier under the driver's seat, wide-range speakers in the front doors, tweeters in the dashboard – for sonic clarity and punch – and headrest speakers on the driver side.
The result is a wide sound field with a clear sound image and musical depth to offer an enveloping experience so you can set the mood and get lost in.
It makes a statement about you
If your car's going to make a statement, it should make a statement about you. You'll be spoilt for choice in terms of personalising your new Micra with top-of-the-range model interiors now available in the colour of love – 'invigorating red,' and exteriors in the dark and mysterious 'enigma black'.
Visit your nearest Nissan dealership to test drive the all-new Nissan Micra 84 kW Turbo, starting from R305 900.00.