Advanced flight bookings to Japan suggest rugby fans from South Africa, as well as the United Kingdom, New Zealand and Ireland will be on the ground in force to support their teams during this year's Rugby World Cup according to research by Travelport, a leading technology company serving the global travel industry.
With three teams from the United Kingdom (UK), England, Scotland and Wales, taking part in the Rugby World Cup it's no surprise to see the greatest increase in flight bookings to Japan during the tournament coming from the nation.
With South Africa fielding a tight squad which has built up good momentum in recent months, the Springboks will see good support from the stands with the number of tourists heading to Japan up 234% year-on-year. Meanwhile, their opening opponents will be supported by the tournament's most forward-thinking travel planners, with the average All Black fan booking their ticket from New Zealand 134 days in advance.
Commenting on the data, Claudette Thorne, Country Manager Southern Africa at Travelport, said; "Big sporting events often encourage people to travel, so it's no surprise that rugby-mad South Africans will be filling the stands in Japan. Here's wishing the Springboks the best of luck!"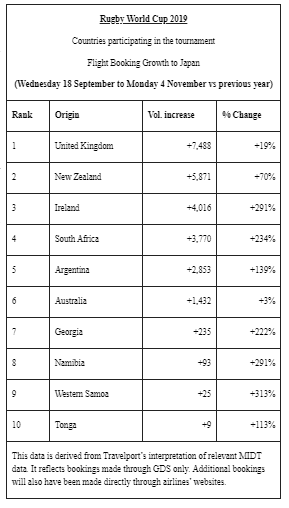 As part of its study, Travelport analyzed booking data from all global distribution systems (GDS) to Japan, as of Thursday 12 September 2019 arriving from Wednesday 18 September 2019 to Monday 4 November 2019. The company then ran comparable data for the same period last year to identify trends.
GDS are vast hi-tech reservation networks that allow travel agents, travel management companies and large corporations, among others, to search and book airline seats, hotel rooms, rental cars, and other travel related items. Additional bookings will have been made directly with airlines, which may or may not also have a GDS presence. Globally in 2018, Travelport alone processed 1 trillion transactions through its GDS.