For instant photography lovers for whom the R2 499 price of the fantastic Instax Mini LiPlay (review) is a little too aspirational, Fujifilm also offers the capable and easy to use Instax Mini 11.
It goes for a recommended retail price of R1 199 (incl. VAT) or as a kit with one pack of Instax film (10 prints) for R1 349 (incl. VAT). For that substantial discount you lose out on a back display to review photos on, or nice bonus features like adding frames to photos via a smartphone app and fancy QR embedded sound recording features, but you still get what your buying an instant camera for – that nostalgic laden ability to capture memories and immediately print these out as wallet-sized keepsakes or photos to pin onto your cubicle at work (when we replace the new working from home normal with the office-bound normal that is).
This highly portable camera (107.6 × 121.2 × 67.3 mm; 293 g without batteries or film) is powered by two AA-size alkaline batteries that Fujfilm says is enough battery grunt for 100 exposures. We will have to take their word for it but what we can say is we received two packs of ten photo films and those two batteries had no issues powering all 20 prints and some extra device hands-on time.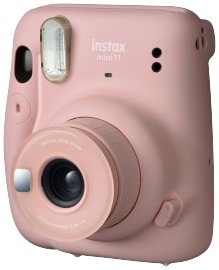 Inserting the packet containing the film is idiot-proof thanks to coloured lines that make lining up the film packet and putting it down the right side up easy as pie. Once you press the shutter button a part of the film packet comes out and you have ten shots to convert into ten photos. There's even a very nostalgic physical indicator for how many prints you have left that is a throwback to the days of 35mm shooters whose film you had to develop at the photoshop back in the day.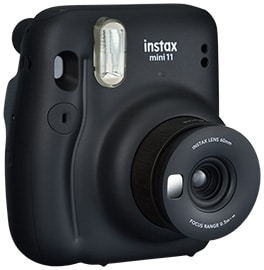 You get a tiny viewfinder that is still capable of doing the things while capturing shots. When taking selfies, there a polished mirror next to the lens that helps you frame your shot. It is best to hold the device in portrait mode as this makes one-handed usage possible with the shutter button being on the front. The photos which measure 62 mm × 46 mm are printed in less than 90 seconds (actually is printed immediately but the photo is fully developed at that time).
All in all, the Instax Mini 11 is a feature trimmed down, more affordable but still highly capable and enjoyable instant camera from Fujifilm.