South African company CloudGate launched in 2010, and focuses on developing and distributing micro computing devices that are designed to meet the need of users in all types of environments, ranging from the home to schools, and SMMEs. These mini PCs which boasts a Mac Mini esque form factor enables sophisticated computing at a fraction of the cost of a normal desktop PC tower and uses a lot less energy – as much power as an energy-saving light bulb (15 W average) in fact according to the company. This makes it ideal across various scenarios including reception deks PCs, highschool computer lab PCs, doctor or dentist reception computers, etc.
The Cloudgate Mini PC enables users to reclaim a lot of desk real estate (12 x 12 x 2.5 cm; 230g) compared to a normal PC tower or even a laptop. It also comes with a desk/wall mount in the retail box if you want to mount it out of sight or save a little bit more desk space.
In terms of ports, all the basis are covered since you have access to an HDMI 1.4 port (HDMI cable included in the retail box as well), three USB 3.0 ports, an SD card reader for easy storage expansion, Gigabit Ethernet, VGA port, 802.11 ac Wi-Fi, Bluetooth 4.2, 3.5 mm audio jack. Like with a Mac Mini, you simply connect your keyboard, mouse, ethernet cable or connect to Wi-Fi, and plug in the monitor as well as the DC 12V/2A power cable for power and turn on the Mini PC.
It comes in a variety of configurations to suit the need of various industries and organisation sizes, as well as user scenarios, but our unit came with an Intel Celeron (Apollo Lake) quad-core CPU clocked at 1.5 GHz (can boost up to 2.3 GHz) that features onboard graphics (Intel HD Graphics 500) under its tiny bonnet. This processor is coupled with 8 GB worth of DDR3 RAM and 64 GB eMMC storage that is expandable with M.2 128 GB/256 GB (as ours was – 128 GB in this case). All of this nets you a pretty small, compact, portable but capable computer to run an operating system (Windows 10 in this instance, but Linux also available) and all the enterprise-class apps you need to, along with Microsoft Office or Office 365, or Google Docs for the cost-savvy, print and be productive. It is obviously not the most powerful setup but you can expect that for the price and portability on offer.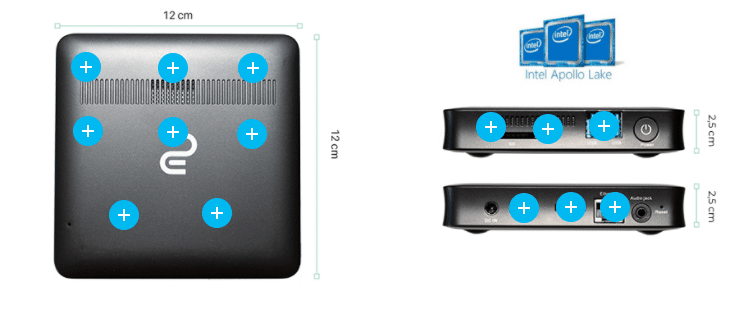 Final word
For frontline workers, office workers, students and home PC users on a budget, the CoudGate X Mini PC is a notable option that should be considered for affordable computing that sports a nifty form factor that sips power and doesn't gulp it like your average. Pricing depends upon configuration, but at Takealot it starts off at R3,444.42 (inc VAT) for entry-level configuration and goes up to R5,232.36 (inc VAT) for the range-topper.