Chromebooks fill a niece in the laptop space, as it is quite popular in the educational industry (secondary school and tertiary education levels), as well as for first-time PC users (or the elderly), and for users within SME/NGO environments who are limited in terms of budgets and use a fair amount of Google services as opposed to Microsoft or Apple software solutions for instance.
Asus' Chromebook Flip is one such a device and is affordable for a budget-limited startup or reception staff for instance, who do not make use of a Windows-only enterprise software solution, as it goes for a recommended retail price of just R8,499 from local retailers such as Take-a-Lot.
Despite its unassuming looks and plastic-tastic build, the Chromebook Flip feels quite solid and put together nicely. The Chrome OS running notebook is powered by Intel Celeron N4020 Processor (Intel's UHD Graphics 600 handles the graphics acceleration), and boasts a mere 4GB of LPDDR4 RAM as well as 64GB worth of eMMC Storage. Luckily Chrome OS is not a resource hog so things are smooth though not snappy at all while navigating the OS, opening, running, and closing apps. With Chrome OS you can play select Android mobile games (some playable via the touchscreen, others via plugin joypad), and run certain Android apps including Microsoft Office for Android mobile apps that are handy since you can only run Office (online) through a web browser and cannot get Office 365 (now Microsoft 365) or Office 2016 for instance for Chrome OS. However, certain staff such as employees at an NGO or small media publication utilising Google Workspace won't have this problem.
Chilling post remote working session is consequently also possible through the Chrome web browser version (or Android version) of Netflix, Prime Video or Showmax for instance. TV shows like The Flash, Riverdale, or The Walking Dead look fine on the 11.6″ HD (1366 x 768) 16:9 Anti-glare display and onboard speakers.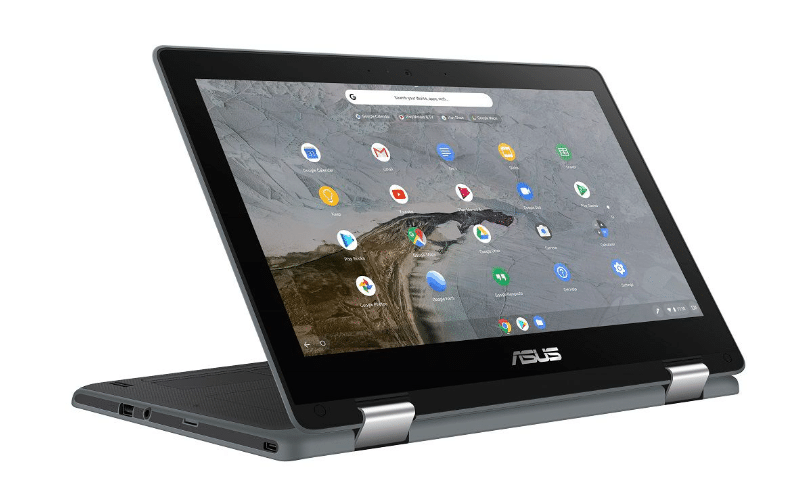 The good thing about such an underpowered laptop is that battery life is good so you can make your way through quite a lot of episodes before needing to reach for the power cord, which is particularly comforting during loadshedding.
Also worth a mention is the fact alluded to in the name of this notebook, that it is a convertible and is able to flip to hide the keyboard and show the screen only in display mode, allowing you to focus on the content being consumed only which helps with the immersion level.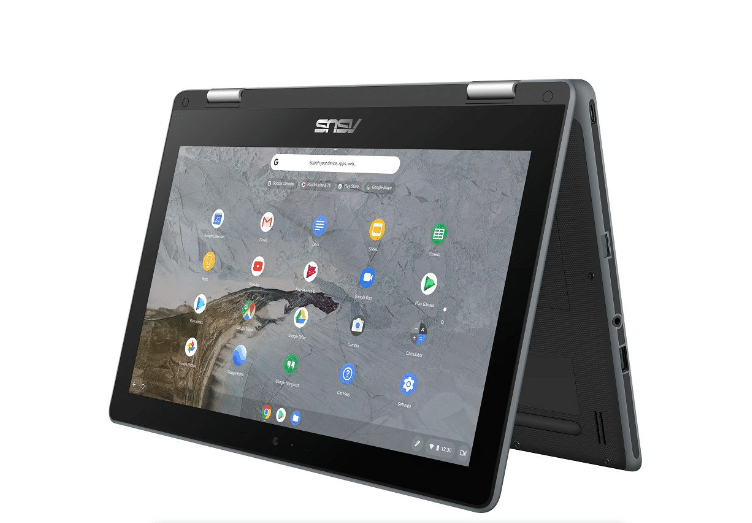 Another limitation about this laptop is a limited selection of I/O which consists of a 3.5mm Combo Audio Jack, a USB 3.2 Gen 1 Type-A port, two USB 3.2 Gen 1 Type-C ports and a Micro SD card reader, which you can use to expand upon the 64 GB of onboard storage.
Ultimately, this works well as an affordable laptop for small business or startup users who employ Google's Workspace and mobile app versions of other software. It offers good battery life, and foldable flexibility in order to create a more immersive viewing experience. It does have its budget-associated limitations but if all you need is a solid laptop to do work online then this is certainly one to consider for your shortlist of contenders.