It is no secret that we, along with the smartphone market (at any pricing tear) are big fans of the magic formula, which is more (specs and features) for less (pricetag). OPPO encapsulates this with its Reno 7 5G which packs flagship specs and features at a top-tier midrange pricetag.
Coming in a still pocketable sized package (160.6 x 73.2 x 7.81 mm; about 173 g) compared to most other phablets, the Redno 7 5G also comes in some eye-catching colours including the Startrails Blue colour our review unit came in, with this eye-catching appeal boosted by an industry-first design elements in Laser Direct Imaging (looks like laser edging in practice).
The appeal of this smartphone is not just design skin deep though, as you get performance to go with the good looks in terms of 8 GB, 256 GB worth of fast storage, and most of all, a MediaTek Dimensity 900 CPU that boasts 8 cores with a maximum clock rate of 2.4 GHz (2 big cores + 6 little cores) along with a ARM Mali-G68 MC4 GPU. This combination allows for snappy and smooth performance on ColorOS 12 based on Android 11.
Aiding the smooth smartphone operator is the 6.4″ (90.8% screen to body ratio, 2400 × 1080, 409 PPI) AMOLED display that is Netflix rated and for good reason as it offers great colours, detail, and a buttery smooth 90 Hz refresh rate. Also working in its favour is its good 430 nits (typical) brightness that gets boosted to up to 600 nits in direct sunlight making it reading and usable outdoors, as well as up to a whopping 800 nits, when displaying HDR or HDR10+ content, boosting its content consumption appeal for Netflix, Amazon Prime Video, YouTube, or Vimeo viewing on the go (Gautrain commute for instance).
Happy snapper
Another feature highlight is the camera or cameras in actual fact, since there is a 64MP rear camera, Sony-provided 32MP front snapper, 118° Ultra Wide-Angle Camera, and 4CM Macro Camera, that in combination with Oppo's AI algorithms, enables the Reno 7 5G to not only mimic the optical properties of high-end cameras but offer the best shots on average of all but one smartphone camera we tested – with only the more expensive (R20k) top-end HUAWEI P50 Pro taking the crown of our favourite and best pocket photography experience.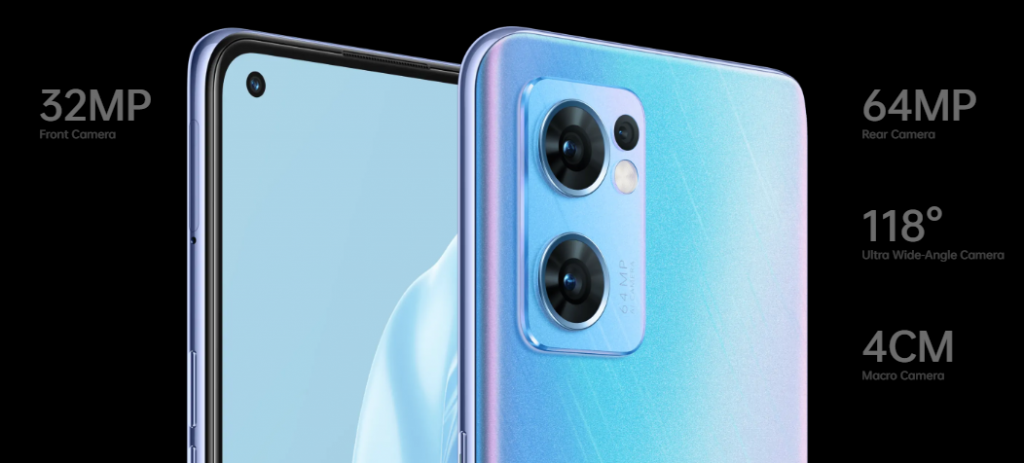 Beyond its camera functionality, users and owners will also love the battery life as OPPO is usually the best in terms of fast-charging smartphone experiences and the Reno 7 5G is no exception. It charges its quite large 4500 mAh equivalent battery from flat to full in just over half an hour while a full battery gets you to around a full day plus a few hours into the next day. This while being heavy users who like the odd mobile game, taking a plethora of photos throughout the day, consuming at least two hours of YouTube videos/Netflix series episodes and spending the whole day on social media. Moreover, we appreciate the fact that 5G is on offer, making it future-proof, while we capatilised on its dual-SIM capabilities for our work contract nano-SIM and personal nano-SIM throughout the entire now month-long review period.

Final word
Ultimately, the OPPO Reno 7 5G is well worth recommending to anyone looking for value, looking for a great cameraphone, a phone offering great battery life and charging capabilities, or simply a very decent mobile gaming device since it offers dedicated mode support to boost performance for mobile gaming titles as well.
It goes for a recommended retail price of R15 500, which is far less than a flagship Samsung Galaxy S22 Plus (R20 500) or iPhone 13 (R18 000 for the 128 GB model – not too mention the Plus/Max). In our mind this goes a long way to underscore its valuable appeal to the price conscious buyer that still want uncompromising battery life, great design, specs, and camera abilities.