One of the few positive aspects of the Coronavirus (Covid-19) pandemic and lockdown that was instigated to help curb its spread, is that remote working is no longer a possibility in theory for a few, but a reality for the majority of staff, whilst PC sales which were struggling before pandemic, have bounced back.
In the remote working era, the PC once again becomes quite essential, and depending upon its configuration and specs can make your working from home experience a lot smoother too.
For us for instance, thin-and-light laptops, that look good, perform well, and offer specs that assist us in being more productive in Microsoft Teams calls, or web-based brainstorm sessions or interviews, will really tick all of our requirement boxes.
Design beauty; productivity performance beast
HP's Elite Dragonfly is such as notebook PC, sporting an enticing magnesium unibody frame (30.43 x 19.75 x 1.61 cm; less than 1 kg) that looks amazing, feels sturdy and expensive, and is military standards certified, which HP says enables users to "carry without worry", though I luckily did not have to test out that drop-proof aspect.
Under the bonnet, you won't find a gaming PC hidden in a thin-and-light body, but a very capable business performer, productivity beast, and multimedia consumption and creation tool specs. Our review unit features an 8th gen Core i5 clocked at 1.6 GHz (turboboosts up to 1.9 GHz), 16 GB or RAM, and 500 GB worth of SSD storage. Intel's UHD Graphics 620 onboard chip handles the graphics, so even light gaming sessions will not have the best results.
The 33.8 cm (13.3″) diagonal FHD (1920 x 1080) IPS BrightView WLED-backlit touchscreen packs a good brightness level of 400 nits, and has good colour accuracy (72% NTSC). It is not only good for general web browsing, reading emails as well as presentations, but is also great for consuming content such as Netflix series or movies, or from any other streaming service like Showmax, DSTV now, or Amazon Prime Video. Adding to the experience of media consumption and creation is the fact that the Elite Dragonfly is a convertible laptop, meaning it can be flipped like a tablet to make note-taking or drawing much easier thanks to the accompanying and chargeable stylus, or you can put it in tent mode to share content during in-person meetings, or Media mode when watching a series or movie in bed.
Accompanying the really good visuals is impressive sound thanks to the Bang & Olufsen four Premium stereo speakers, with the laptop also sporting a multi-array world-facing microphone for enhanced Zoom, BlueJeans, Skype or Teams calls. Speaking of web meetings and calls, while the bog-standard 720p HD webcam offers good enough quality it does offer a neat security switch, allowing you to easily and quickly turn the camera off or on.
The last couple of features that also needs to be mentioned is the connectivity options which are good with two Thunderbolt (USB Type-C connector, Power delivery 3.0 support); one USB 3.1 Gen 1 (charging); one headphone/microphone combo; and a HDMI 1.4 slot. Typing on HP's Premium Collaboration Keyboard (also spill-resistant and the keys are backlit in a classy grey) is very satisfying in terms of click response and feeling, whilst the trackpad is accurate and large. Thanks to its Power delivery 3.0 support the laptop charges quickly via USB-C (65 W charging brick) and its Long Life 2-cell, 38 Wh Li-ion battery offers decent battery life but is not the best in this class or pricepoint.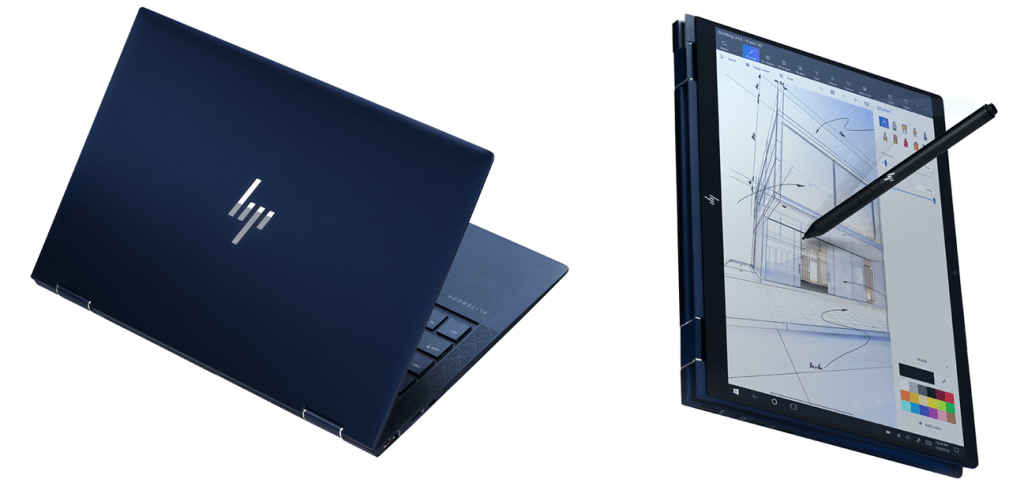 Final word
Like all good things, and other stylish but capable rivals, this laptop comes at a pricey cost. It goes for a recommended retail price of R34 999, so directors at companies, entrepreneurs whose sideline gigs or primary businesses are doing well should feel free to apply at local retail outlets like HP's own online store. You just have to decide if stylish looks, capable performance, good battery life, and a highly portable design are priority areas for you over gaming and the last and greatest processing tech from team blue.