Home entertainment has undergone a bit of a renaissance over the course of the lockdown and Coronavirus era, as a big proportion of the population work remotely from home. Avenues such as Showmax, Netflix, and Amazon Prime Video have provided entertainment on every device and screen size, whether it's a binge-worthy series or movie for the night. With many people also skipping cinemas because of this switch in consumption patterns, people are now also looking for bigger screens to replace that cinema feeling and bring it into their homes. Large 8K and even 4K Smart LED/OLED TVs are super expensive but cinema-style home projects like the EF-100W are much more affordable and even better adept at recreating the cinema magic in the living room.
This plug-and-play projector sports a stylish and compact design, making it easy to fit into the decor of any room and easy to carry from room to room or family get-together at another venue. The portable (210 x 230 x 92 mm; 2,7 kg) laser projector can project onto almost any surface and in almost any direction, remaining visible even in daylight (we tested this extensively over the course of two weeks, even using it as our DSTV "Television day and night). It is quite versatile, as you can show content by connecting a streaming device such as Xiaomi Mi TV which worked a treat for us, a laptop, or even a games console such as a PlayStation 4 or Xbox One for 'large screen', immersive gaming – all via HDMI port (USB 2.0 Type-A and USB 2.0 Type B ports also available). The sound from the built-in speakers (5W) is of excellent quality and quite loud so we did not feel the need to reach for our trusty soundbar, but you do have the option of a headphone jack, as well as speaker connection via Bluetooth.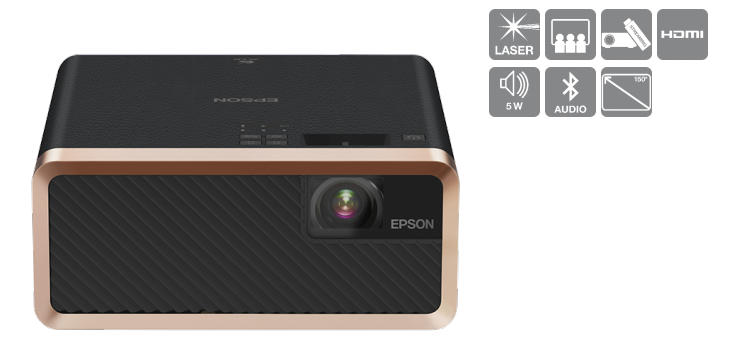 The laser light source means the projector can be used every day, with Epson stating that consumers are able to watch digital content for the next 10 years, with up to 20,000 hours of use, without worrying about replacement bulbs. The size of the 'screen' you get is 150 inches which amounts to around 381 cm. The resolution is good, as are the colours and brightness.
All that does come at a cost though – The Epson EF-100W goes for an RRP of R11 999, but it's currently on sale on Takealot for R9999.00. Still, you'd spend around double for a UHD Smart TV with a screen size of about half the projection size of this projector.