Philips says that its Sonicare DiamondClean electric toothbrush is a single device that will act as a complete oral care solution because the toothbrush covers a range of oral care requirements for users including plaque removal, gum health, tongue care, as well as tooth whitening. With regards, to the latter, Philips even promises that the device will eliminate surface stains for whiter teeth within just one week of usage.
We have used the Diamond Clean for just over a week now and can attest to the following: Firstly, it definitely does cleans your teeth much better when compared to manual brushing (removes 7x more plague compared to brushing manually according to Philips) and leaves it noticeably whiter after around a week of usage. We used it every morning and night for two-minute individual brushing sessions.
Secondly, it also improves your gum health. Personally, I was a bit apprehensive to use the Sonicare DiamondClean electric toothbrush at the beginning because my previous experience with electric toothbrushes did not go down well, due to my sensitive gums.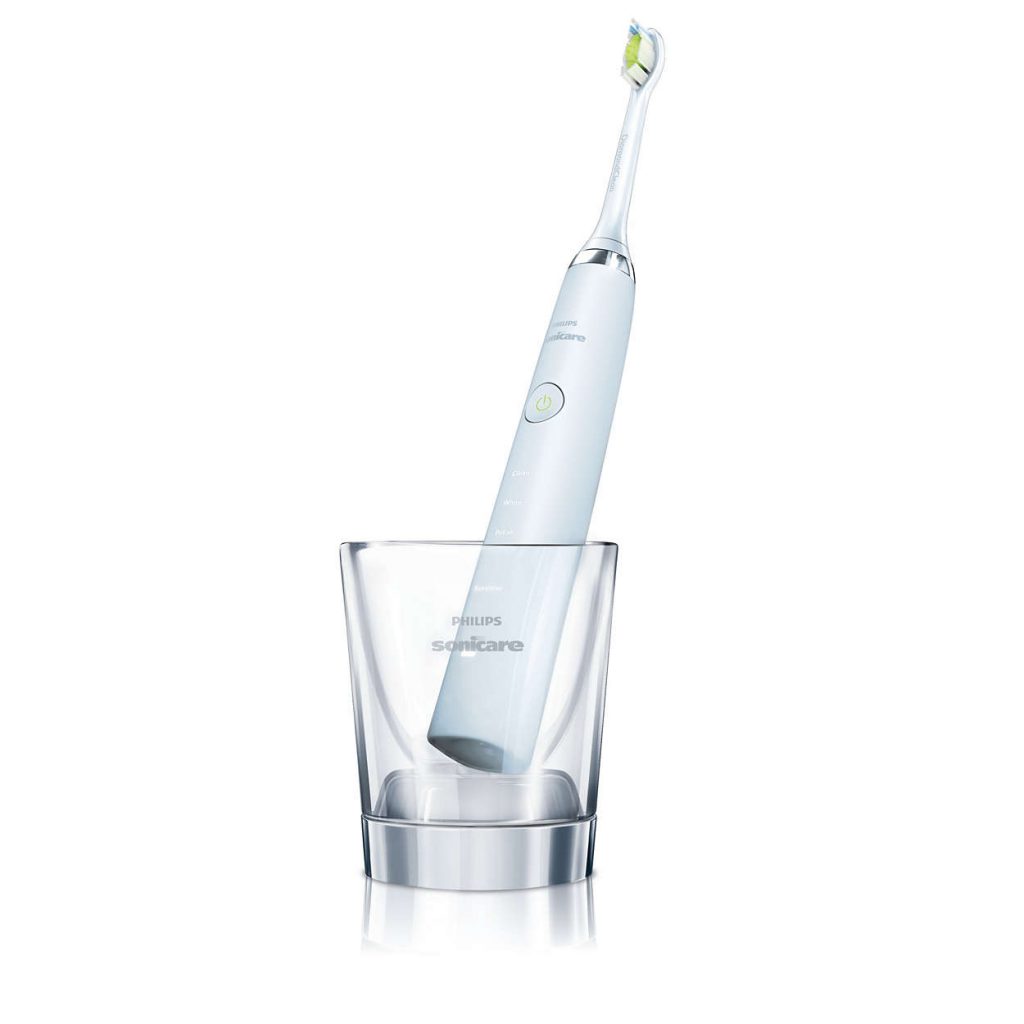 For this reason, I kept on using the device in its sensitive setting (there are five modes) for the first couple of days before switching to gum care mode, clean mode, polish mode, and eventually White mode. You use a singular button at the front of the device to turn it on/off plus cycle through the various modes of operation.
The brushing action is thorough, especially at the most effective modes like polish and White, but did not lead to my gums being sore or bleeding. In fact, my gums feel a lot healthier now than before I received this device for review. Just a note, this electric toothbrush is a bit loud at these higher settings.
To charge the device, you simply drop it on the sleek charger glass that can also do double duty as a glass for rinsing after brushing. Since I have two very curious daughters who love to drop test my tech gadgets, I was glad to see that Philips includes a deluxe USB travel case, which doubles as a charger that enables you to stay topped up on the go.
Philips promises around two weeks of regular use from a single full charge and while we have only used the device for just over a week, we can attest to the fact that it made it through the week without any battery warnings whatsoever (it boasts an Illuminated icon that indicates battery life).
Electric toothbrushes are not the sexiest tech to review but this particular one has certainly changed our perception of this now essential tool for cleaner, whiter teeth, and healthier gums. It retails for a recommended retail price of R3300 from participating local retailers.