South Africa's seventh Quick Lane Tyre & Auto Centre has been launched in Krugersdorp, providing motorists with greater access to a quality service and maintenance experience for all vehicle makes and models.
First originating in the US, Quick Lane has grown to over 1 030 fitment centres worldwide, including seven centres located in South Africa.
"Quick Lane is an innovative, customer-focused vehicle fitment and servicing centre that gives motorists exceptional convenience, confidence and value for money," says Louisa Cordier, Business Development Manager, Ford Customer Service Division. "It represents the ultimate in convenience for vehicle owners as no appointments are necessary, and our centres are open on Saturdays too.
"Ford Motor Company was the first vehicle manufacturer in South Africa to venture into the independent aftermarket sector with the launch of the Quick Lane franchise in 2017," Cordier adds. "The new store in Krugersdorp, which forms part of the Action Ford Group, will provide vehicle owners with outstanding service, competitive value and quick turn-around times."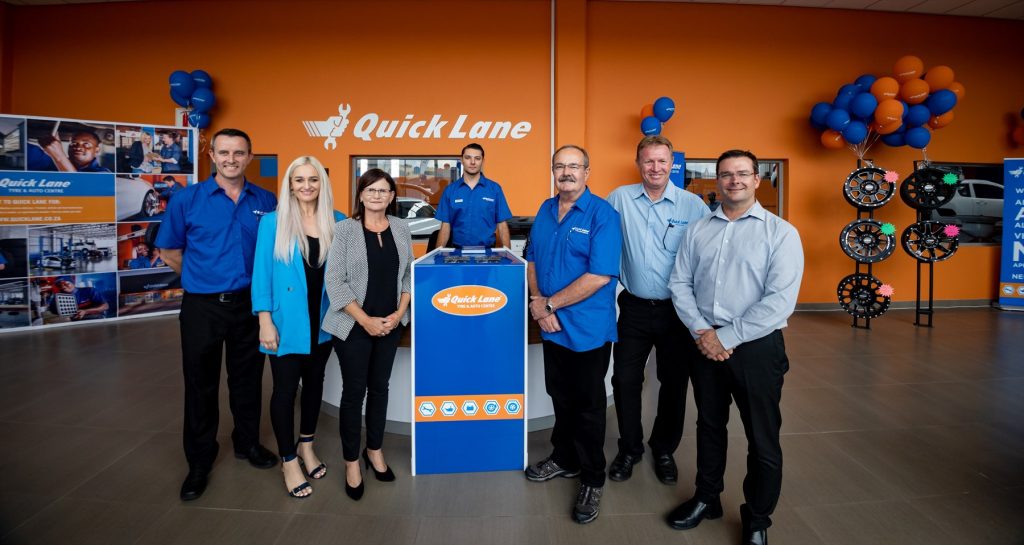 Quick Lane offers expert care to meet the servicing and maintenance requirements of all vehicle brands and models, using quality parts from trusted brands, and experienced, factory-trained technicians.
In addition to tyre fitment, rotation, balancing and wheel alignment, the Quick Lane fitment centres offer a complete range of services, from the replacement of shock absorbers to brakes, oil and filter changes, exhausts, batteries, alternators, starters and electrical services.
The centres are also equipped to handle servicing and light repairs for the suspension and steering, wiper blades, air-conditioning, lamps and bulbs, belts and hoses, as well as coolant services. A complimentary health check is completed on every vehicle to ensure it is operating in tip-top condition, which adds further peace-of-mind.
Along with the new store in Krugersdorp, Quick Lane Tyre & Auto Centres are located in Ermelo, Lydenburg, Nelspruit, Upington, Witbank and Silverton in Pretoria.
For more information and franchise opportunities visit the Quick Lane website at www.quicklane.co.za.