Momentum Metropolitan has partnered with WeThinkCode_ and MWR InfoSecurity to launch a programme aimed at addressing the under-representation of women in technology by teaching them to code in WeThinkCode_'s two year, tuition free software development training programme .
Only 23% of Science, Technology, Engineering and Math (STEM) talent globally is femaleaccording to UNESCO. In South Africa women represent only 20% of the workforce in technical roles.
This underrepresentation is reflected in the WeThinkCode_ programme, where only 17% of the 2019 cohort are women. Established in 2016, WeThinkCode_ has been operating with the vision to empower the exceptional young people of South Africa to thrive as software engineers, irrespective of whether they have prior experience in software development before joining the programme.
This year WeThinkCode_ launched an initiative called WomenThinkCode=, a three-year programme that is aimed at achieving gender parity on WeThinkCode_ campuses by embarking on active steps to recruit more women, ensure retention of women over the two years they are enrolled in the WeThinkCode_ programme and successful absorption into the industry.
"The programme will be designed to inspire young women between the ages of 17 -35 to join the WeThinkCode_ programme and support them to graduate and transition into a fulfilling and impactful career. Beyond this, our goal is to completely reshape the way our society sees the role of women in technology. We want to showcase women that are making waves in technology, build a community of allies around young women technologists and achieve gender parity in our programme and, ultimately, in the industry" said Nyari Samushonga, CEO of WeThinkCode.
The initiative aims to reach more women through alternative recruitment platforms such as NPO networks, mobile assessment units for use in townships, and direct contact with young women. We will retain more women in the programme by setting up a mentorship network that will support them throughout the programme and, hopefully, carry on into their careers.
The Momentum Metropolitan Foundation is a founding funder of this inclusion initiative and will sponsor 15 students in 2019 and 15 in 2020 to complete the two-year training.
"This project speaks to our commitment to getting more young women into STEM jobs in the future. As a forward-looking organisation we realise that it is important to equip young women with the skills that will ensure that they are highly employable.  This means investing in programmes which train them for a world where technology will be the biggest indicator of employability and ensuring that the school girls of today are the leaders in technology in the future," says Charlene Lackay, Head of CSI at Momentum Metropolitan Group.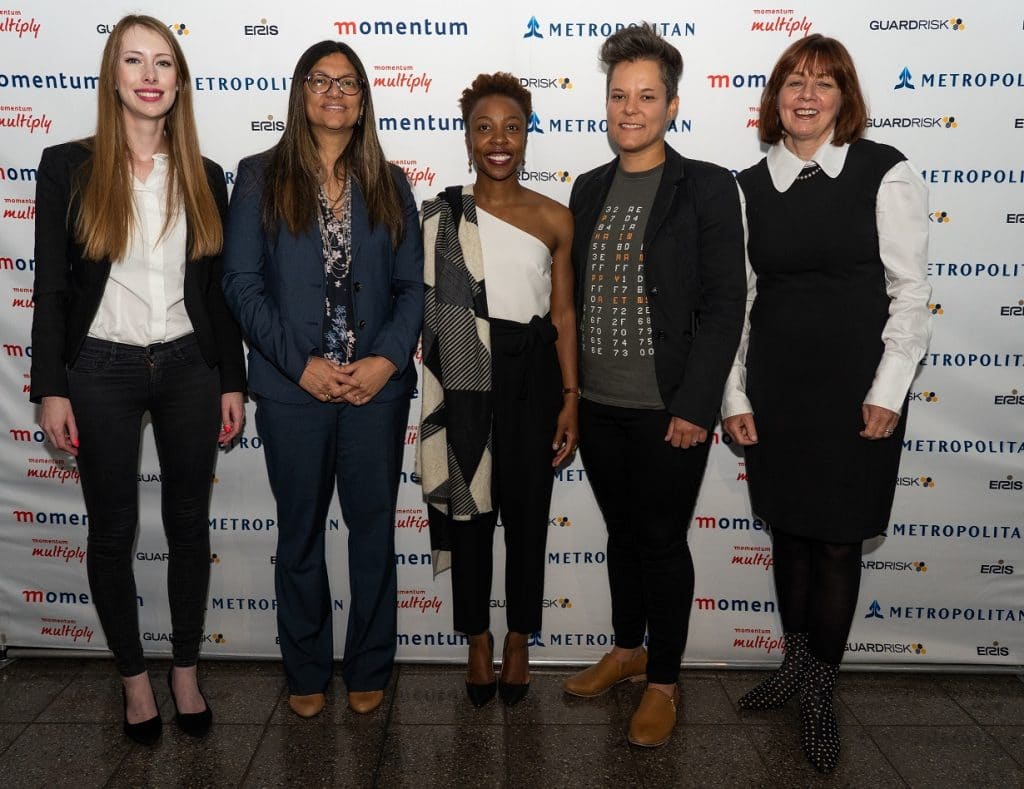 Around 300 students per year are trained through the WeThinkCode_ programme, and the aim is to have 50% of the 2021 cohort comprised of young women. MWR InfoSecurity, who provide specialist advice in all areas of security, is also a founding funder of the initiative.
"With the IT industry still being heavily male-dominated, initiatives such as WomenThinkCode= speak to a core problem that I feel we are grappling with not only within our industry but within society as a whole," says Gabriel de Sousa, Consultancy Directory at MWR InfoSecurity. "This is an awesome opportunity for us as an industry to foster the technical growth of a significantly under-represented segment of our society within this challenging, unique and specialist area. From the success that we have already experienced with WeThinkCode, we are more than happy to partner with them for this initiative to ensure that we begin to tackle some of the more difficult challenges across our society."
Speaking about the partnership Samushonga says: "We are privileged to have partnered with organisations like Momentum Metropolitan and MWR InfoSecurity, that will become the future employers of these young women and who have a vested interest and commitment to seeing the industry become more reflective of South African society. We plan to change the perception of coding as a man's profession. This is a significant task, which will require a sustained intervention in shifting perceptions and outcomes by 2021."
To get involved with WeThinkCode programmes, you can visit https://www.wethinkcode.co.za/ to apply.