As part of its efforts to continuously give consumers more than what they bargain for, Telkom has announced that it has revamped its FreeMe offerings.
From 20 March 2020, new Telkom mobile customers will get a bit of everything on the New FreeMe plans. This means more benefits across all tariff plans and MORE Monate for everyone. Some of the new product offerings like all network calls and extra data for streaming will be available across all packages.
"Customers are at the core of how we innovate and improve our product offering. Over the years, we have been able to stay true to our commitment, which is to always give people MORE, leave no man behind and now give everyone a bit of everything," says Gugu Mthembu, Executive: Brand and Product Segments at Telkom.
The New FreeMe tariff plans are still the best in the market with a bit of Monate for everyone including All-network Data, Extra Data for WhatsApp, Extra Data for Streaming, On-network minutes, Off-network minutes as well as SMS's.
From 20 March 2020, these are the new FreeMe postpaid tariff plans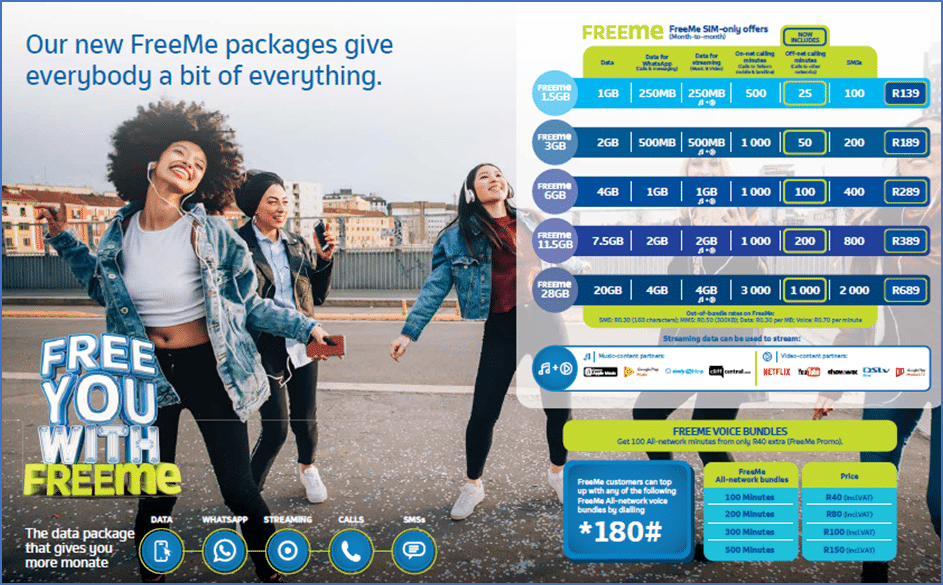 As part of the FreeMe product launch in 2016, FreeMe prepaid bundles were launched as part of the FreeMe product proposition. The FreeMe prepaid bundle denominations have changed and will now range from 300 MB for R29 to a 28GB bundle. This is part of Telkom's Mobile strategy of being a data led mobile operator in light of driving smart user customer behavior.
The table below details the new FreeMe prepaid bundles that will be available from 20 March 2020: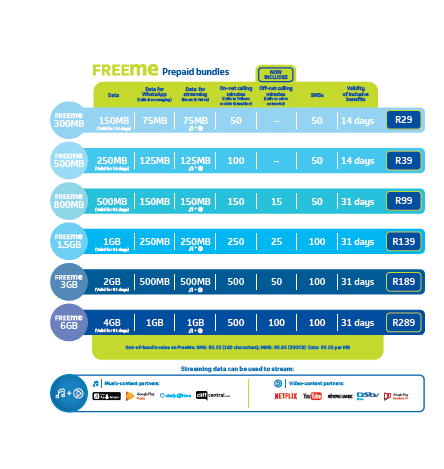 The new FreeMe bundles will include the following benefits:
All-network Data, which can be used on both the Telkom network and on the roaming network;
Instant Messaging (IM) data for WhatsApp (for both messaging and calling);
On-net voice minutes to make calls to Telkom mobile and Telkom fixed numbers;
Some of the bundles will also include voice minutes for calls to other networks;
SMS's; and
Streaming data that can be used for both music and video streaming.
The all-network data will be valid for 61 days whilst all the other included benefits will be valid for 31 days. The smaller bundles (the 300 MB and 500 MB) will have a validity period of 14 days only.
In reponse to COVID-19, Telkom has zero-rated educational websites which include institutions of higher learning and TVET colleges to help the youth and students access education. The virus has forced a change in behaviour as people are encouraged to reduce social interaction by working from home in order to reduce the transmission of the virus. Students who now have to study at home can make use of the FreeMe data bundles to stream their lectures and not get left behind.
For more information about the Telkom , visit www.telkom.co.za, follow Telkom on Twitter and our page on Facebook. (Website will only be updated with new FreeMe on 20 March).