Mahindra South Africa is entering a new growth phase in 2020 that will see
it launch new and refreshed versions of almost its entire product range. It will also herald a new wave of activity at its assembly plant and its dealer network to support the model growth.
This phase kicks off shortly after Mahindra was recognised as South Africa's fastest growing brand for According to the National Association of Automobile Manufacturers (Naamsa), Mahindra grew by 28.7% in 2019, while the overall market declined by 2.8% in the same period.
This performance builds on an equally impressive increase of 25.7% in 2018, which also experienced a period of general decline for the market. Naamsa statistics further show that the Mahindra Pik Up range and Mahindra KUV100 NXT were the fastest growing products in their respective market segments in the past year.
The growth was no doubt supported by several accolades from the automotive industry and media. Last year, the National Automotive Dealer Association (NADA) recognised Mahindra's efforts and growth by awarding it its first Gold Award, while the Kinsey Report on the affordability of service and repair parts singled out the KUV100 specifically and Mahindra in general for being one of the most affordable brands to service and repair.
Later in the year, the all-new XUV300 was chosen as a semi-finalist in the SA Car of the Year competition, and it also performed exceptionally well in several categories in the Fuel Economy Tour. In this competition, the KUV100 diesel won its category, while the turbocharged 1.2 litre petrol and 1.5 litre diesel XUV300 models ranked 2nd and 3rd respectively in their categories. Together with the Pik Up, these models helped Mahindra earn the title as the 3rd Most Fuel Efficient brand in the competition.
These accolades, along with several others, have proven that Mahindra is an exceptional value proposition for customers across the spectrum of SUV and bakkie models.
"Since launching our first products in South Africa in 2004, we have grown steadily, fuelled by constant investment, new products and after-sales support through a growing network of committed dealers and
awards from the media and industry bodies.
"While our growth has been organic and steady, it accelerated markedly after we opened our assembly facility in Durban in May 2018. Since then we have seen a dramatic rise in interest in Mahindra and its vehicles," says Rajesh Gupta, CEO of Mahindra South Africa.
S11 Automatic launch – a world first Mahindra South Africa today introduced its S11 Automatic Pik Up in 4×2 and 4×4 variants, making South
Africa the first country in the world to offer the new six speed automatic gearbox on the Pik Up range.
With its introduction, the S11 Automatic becomes the most luxurious new model in the Pik Up range, offering even more specifications than the S10, while starting at only R384 999 for the 4×2 AT model and R414 999 for the 4×4 AT version. Mahindra has also introduced a new S11 Karoo AT version in 4×2 and 4×4, which will add additional specifications, such as a lockable roller shutter and rubberising to the long list of S11 specifications.
The S11 Pik Up Automatic completes Mahindra's range of pick-ups that now extend from the most basic Bolero workhorse and Pik Up Dropside to a lifestyle focused S10 and S11 Karoo Editions.
"With our new S11 Automatic, the line-up of bakkies at your local Mahindra dealer will cater to every need. In a way, our showroom is nothing less than a 'World of Bakkies' where you define your needs and we deliver.
"At the same time, our SUV range now consists of three body-on-frame and three monocoque SUV models. And with the recent upgrades to the KUV100 and XUV500, a new trim level in the XUV300, a more powerful 6 speed 103 kW Scorpio S11 SUV and upcoming upgrades to the TUV300, we have
created a 'World of SUVs', with something for every SUV taste and budget," says Rajesh.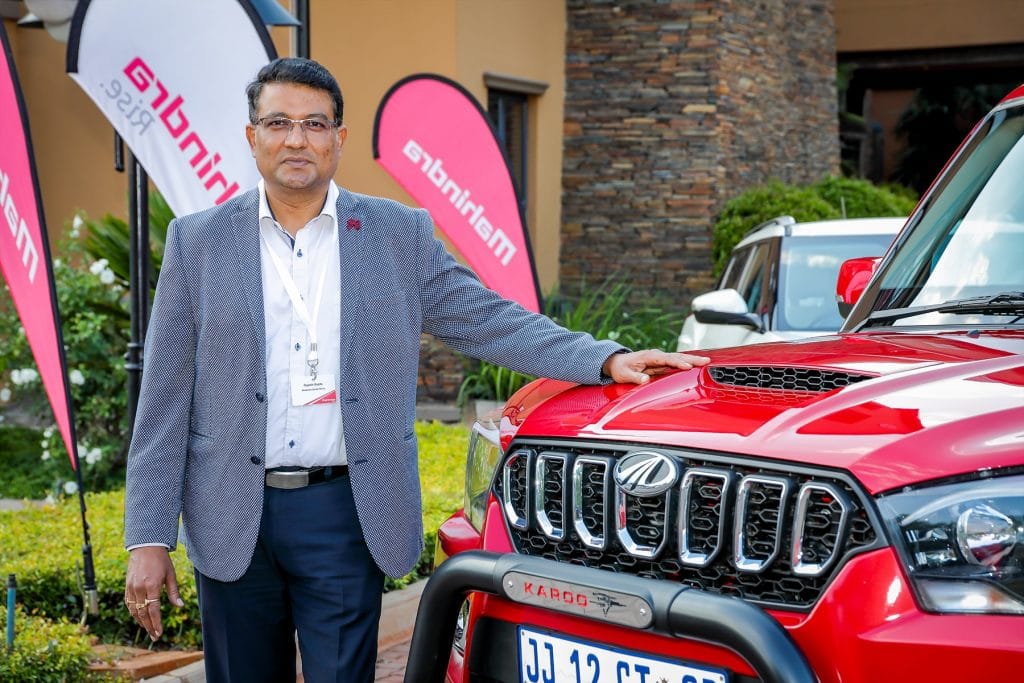 New products abound
Aside from the Pik Up S11 Automatic, the first of the new models to reach dealers will be a value-busting version of the KUV100 #DARE and XUV300.
Mahindra launched the KUV100 NXT #DARE K2+ as a permanent addition to its range in NovemberThe model has a stand-out design with darkened alloys and #DARE decals, and it offers additional equipment as standard, including a smartphone-linked audio system.
"In November, we inaugurated our new Special Fitment Centre in Gauteng. The centre is home to 20 technical staff working on four dedicated fitment lines and allows us to create special edition models such as the #DARE in response to market demand," says Rajesh.
The K2+ #DARE is the first product of this new Centre, with its first consignment sold out shortly after its introduction. This has prompted Mahindra to add a #DARE in K6+ trim to the line-up, which will offer the same cosmetic additions and several other luxuries, including a touch-screen infotainment system and reverse camera among the standard equipment. The K6+ #DARE will also be sold with at a monthly repayment rate of R2 399, with free insurance for a year after sale.
Joining the #DARE will be a new version of the XUV300 in entry-level W4 trim. With this new model, Mahindra will reach a new, high-volume segment of the compact SUV market with an entry-price of R234 999 and an affordable monthly repayment amount of R2 899, offering perhaps the best value proposition in the compact SUV segment.
"The XUV300 W4 will by no means be Spartan and will offer the same 1.5 litre turbodiesel engine with 300 Nm of torque, which has become so popular in other XUV300 models," says Rajesh.
Great Value, Great Service
With a vehicle parc approaching 60 000 units, Mahindra South Africa is partnering with its dealer network to introduce a comprehensive after-sales care programme, backed by its well-established parts distribution network and a significant investment by the company. This will help the brand to deliver a customer centric homogenous experience across its network.
Called #GreatValueGreatService, the service offering will include a number of commitments on the quality of work done and the deserving customer experience. It will also offer fully transparent communication and a better up-front view of expenses.
"The AA Kinsey Report has repeatedly identified Mahindra as one of the best value brands for servicing and repairing its vehicles. With our new #GreatValueGreatService promise, we will further enhance this by focusing not only on the cost of service, but the overall service experience," says Rajesh.
The #GreatValueGreatService promise will include a 90% same-day repair commitment and an in- and out-of-warranty affordability promise.
Mahindra has further developed a dedicated Mzanzi app that will facilitate bookings, give access to service pricing and allow direct dealer communication, to name but a few benefits. In step with digital trends, the Mzanzi app will meet the increasing need for effective digital communication. More information will be made available on this initiative shortly.
Deepening local roots
"When Mahindra opened its first assembly facility in Durban in 2018, we promised to expand our local investment and truly make South Africa a second home for the brand. In 2020, we will keep that promise with additional localisation efforts," says Rajesh.
As part of its campaign to localise as many components of its locally assembled Pik Up range as possible, Mahindra hosted a team of engineers from Mahindra's Head Office for a fact-finding mission in 2019.
The engineers met with first and second tier component suppliers in South Africa's three main vehicle manufacturing hubs with the aim of deepening its local sourcing in the new year
"South Africa has world-class component manufacturers, and we hope to start sourcing more components – both cosmetic and technical – from here. While this may start with basic components, we trust it will evolve quickly to include more complex parts of the locally assembled Pik Up," says Rajesh.