Following the successful launch of Star Wars: Jedi Challenges, Lenovo and Marvel will immerse fans in one of the world's most beloved franchises with the new MARVEL Dimension of Heroes, available only on Lenovo Mirage AR. This new smartphone-powered augmented reality experience lets players harness the powers of six legendary Marvel Super Heroes in an original story which sees them take on infamous Super Villains standing right before them in their own living rooms.
Players download the free MARVEL Dimension of Heroes app onto a compatible smartphone, and with the power of the Lenovo Mirage AR headset and new dual Universal Controllers, they can embark upon an adventure spanning three full-fledged modes and an incredible variety of augmented reality playstyles. With the new controllers, players can use both hands to punch, slice and blast their way through exhilarating battles, while ducking and dodging enemy attacks, thanks to Lenovo Mirage AR's freedom of movement.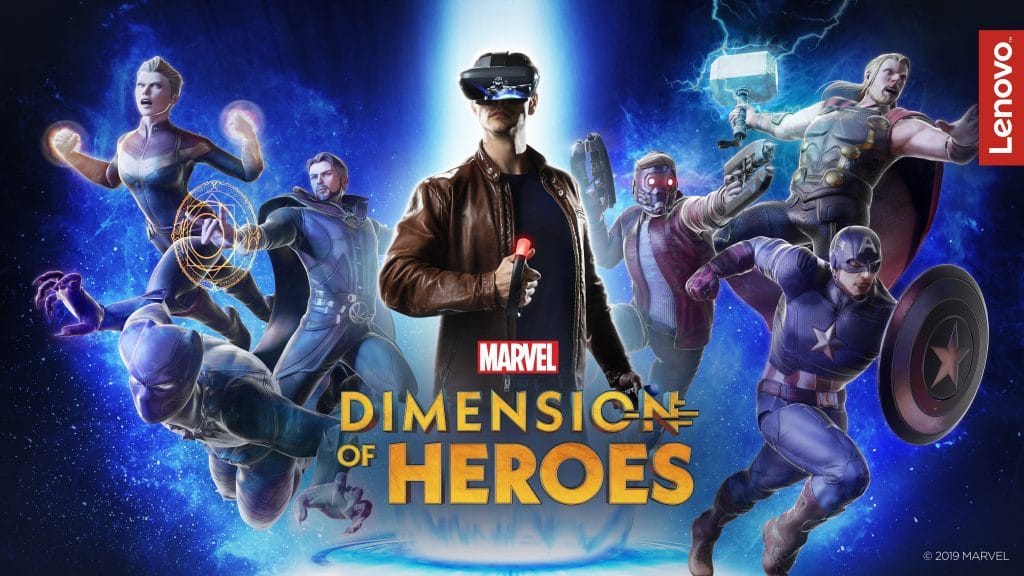 Lenovo Mirage AR also allows continued play of the hit experience Star Wars: Jedi Challenges, letting you use the new Universal Controller to engage in lightsaber duels, command troops in battle, and play Holochess.
An Epic New Game-playing Experience
In MARVEL Dimension of Heroes, players wield the legendary weapons and powers of Doctor Strange, Captain America, Thor, Black Panther, Captain Marvel and Star-Lord against a host of augmented reality Super Villains. The game is playable across the following three modes:
Play through an original Marvel story in Story Mode, in which the Dread Dormammu, Lord of the Dark Dimension, launches a surprise attack on Earth with his alliance of Super Villains, including Loki, Ronan the Accuser, Ultron Prime and the Winter Soldier. With the Earth in ruins, Doctor Strange manages to turn back time to secure a second chance to save the planet. Players assume the role of all of the game's six playable Super Heroes to battle the interdimensional forces that threaten the world.
Survival Mode lets players use their heroic powers, playing as any of the game's six heroes, to fend off waves of powerful enemies. Players compete to achieve the highest score and rise up the game's global online leaderboards.
Finally, players can also partner up with a friend in Co-Op Mode, where they each play as a Marvel hero battling the forces of evil side-by-side in the same room, while competing against each other for high scores. (Each player must be equipped with the Lenovo Mirage AR headset, two Universal Controllers, a Tracking Beacon, and be connected to the same Wi-Fi network. Each player must also download the latest version of the MARVEL Dimension of Heroes app on a compatible smartphone. Players are recommended to stand side by side in the same direction, facing the Tracking Beacons about 4 feet away).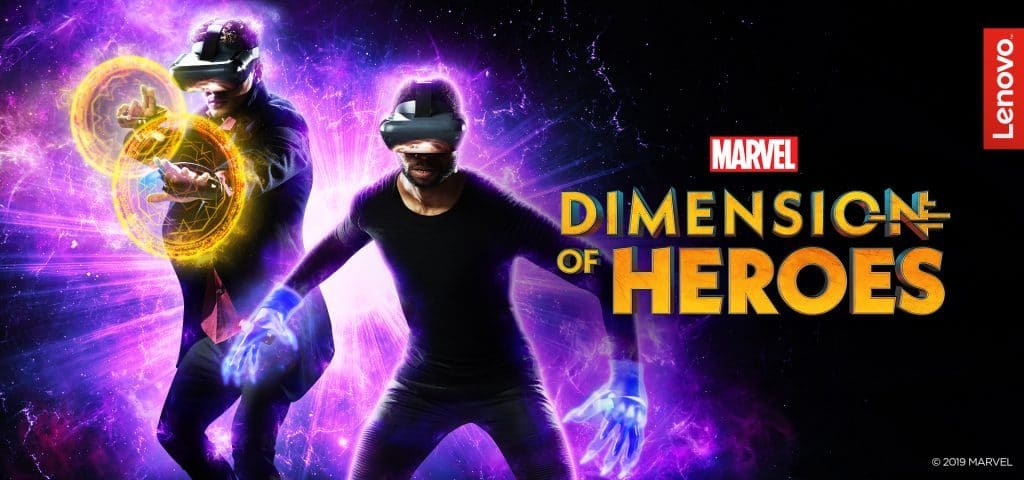 Lenovo Mirage AR
Lenovo Mirage AR consists of the Lenovo Mirage AR headset, dual Universal Controllers, and the Tracking Beacon, offering immersive control over both MARVEL Dimension of Heroes' array of weapons and superpowers, as well as the various modes of Star Wars: Jedi Challenges. Lenovo Mirage AR experiences can be downloaded to a variety of compatible Android phones and iPhones. Players purchasing Lenovo Mirage AR can install MARVEL Dimension of Heroes and Star Wars: Jedi Challenges at no additional cost on a compatible smartphone.
"Lenovo Mirage AR with MARVEL Dimension of Heroes is another milestone demonstrating Lenovo and Marvel's shared passion for bringing rich, immersive consumer experiences to life through smarter technology. After years of close collaboration with Disney starting from Star Wars: Jedi Challenges, we're excited to expand this incredibly fun and interactive experience for more gamers and especially Marvel fans to enjoy," said Johnson Jia, Senior Vice President and General Manager, Consumer Business of Intelligent Devices Group, Lenovo.
Hardware and Technology
Users begin by downloading the MARVEL Dimension of Heroes app onto their compatible smartphone and inserting it into the tray of the Lenovo Mirage AR headset. The lightweight headset senses the user's movements during gameplay, aided by a Tracking Beacon placed on the floor to serve as its fixed reference point in physical space.
No more sitting idly staring at a screen. Now players can engage and fight their enemies in free and natural motion through the headset's inside-out positional tracking (enabled by two built-in fisheye sensors). The headset pairs with the Lenovo Mirage AR Universal Controllers, which are worn over the knuckles to give players an empowering sense of control over their weapons and superpowers. The controllers also allow for complex hand and wrist motions that combine offensive and defensive moves, and its control buttons are dynamically adjusted to function on hold release or press, allowing for intuitive open hand gestures and control of complex artillery. As a result, each one of the six Super Heroes feels like a completely distinct character and playing experience, with entirely different move sets and controls.
Availability and Pricing
The Lenovo Mirage AR device will be available at $249.99 in the US starting September 6, 2019 on Amazon.com and Lenovo.com. No local release info is available as yet.
MARVEL Dimension of Heroes content is available to download via a compatible smartphone on the App Store and Google Play at no additional cost.
The Star Wars: Jedi Challenges experience is already available for download, and a free update will add compatibility for players using the new Lenovo Mirage AR Universal Controllers.