At the company's annual Tech Life event, Lenovo unveiled an array of new smarter home, laptop, AR and mobile devices, designed to provide 'Smarter Technology for All'. Smart is used to signify innovation, breaking the rules and pushing boundaries but instead has become a byword for connectivity. As a result, Lenovo is focused on an ongoing vision and commitment to develop technologies that are not only smarter, but are available, accessible and benefit everyone. As a global technology leader Lenovo believes its duty is to develop world-changing technologies that can create a more inclusive, trustworthy and sustainable digital society – for everyone, everywhere.
Lenovo Goes All in on AI with Smarter Yoga PCs
Premium Yoga PCs from Lenovo are known for their computing power, first-rate craftsmanship, and immersive entertainment. When the undisputed world leader in PCs collaborates with trailblazing industry partners to deliver smarter technology faster to more consumers—meaningful innovation follows.
Lenovo is unveiling what's possible through collaboration in a new class of industry-leading laptops, engineered with Intel as part of its innovation program code-named Project Athena, to be amongst the thinnest, lightest and most intuitive AI-enabled devices yet with the latest Intel Core processors and Windows 10. Introduced on the new 14-inch Yoga C940 and Yoga S740 are exclusive smart features that adapt to users' performance needs, such as, Super Resolution to upscale video up to FHD 1080p on Windows Media Player, and Q-Control (named for device keys used to toggle modes) that has the potential to dynamically boost a PC's battery life when its AI-enhanced Intelligent Cooling Mode is enabled to monitor the device's thermal attributes and better control its fan. Add to it Modern Standby, which enables Yoga laptops to perform background tasks like receiving emails while in sleep mode, and instantly wake from sleep mode like a smartphone.

Also available on the new Yoga laptops in select markets are smarter capabilities through the Amazon Alexa voice service. Focused on improving the way we retrieve information, Lenovo is announcing three new Alexa updates coming to its consumer PCs, including:
Lock Screen Support: Speak to Alexa when the laptop lid is open and locked or asleep – she'll respond instantly, with pop-up messages that appear at the bottom of the screen.
Updated Smart Home Visuals: Select Yoga devices now feature the familiar visual experience people are used to seeing when managing smart home devices with the Alexa mobile app.
Multi-Language Support: Talk to Alexa in multiple languages without having to change settings, currently offered in English and German.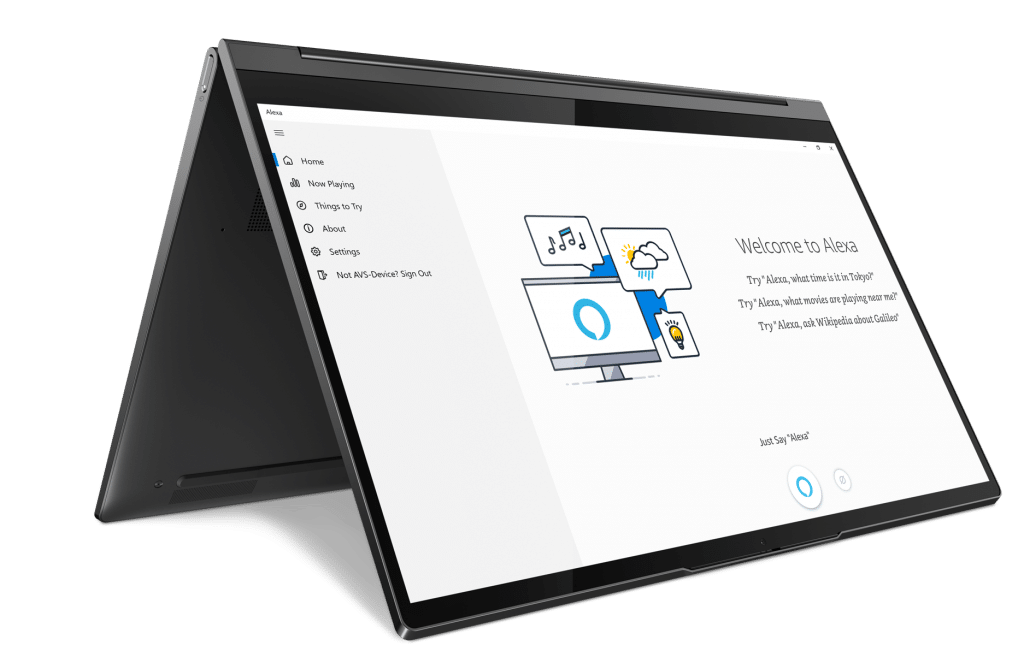 The 14-inch Lenovo Yoga C940 is the new 2-in-1 convertible laptop redefining smarter performance and design with its all-metal chassis and clever built-in features, like TrueBlock Privacy shutter, Windows Hello biometric authentication, and garaged pen with silo charging and Windows Ink. Enable Lenovo's exclusive Q-Control by pressing Function-Q to shift into Intelligent Cooling Mode for your PC to auto-adjust performance and optimize battery life based on tasks. There is an improved battery life of up to 17.5 hours in FHD, and up to 10.5 hours with a UHD display.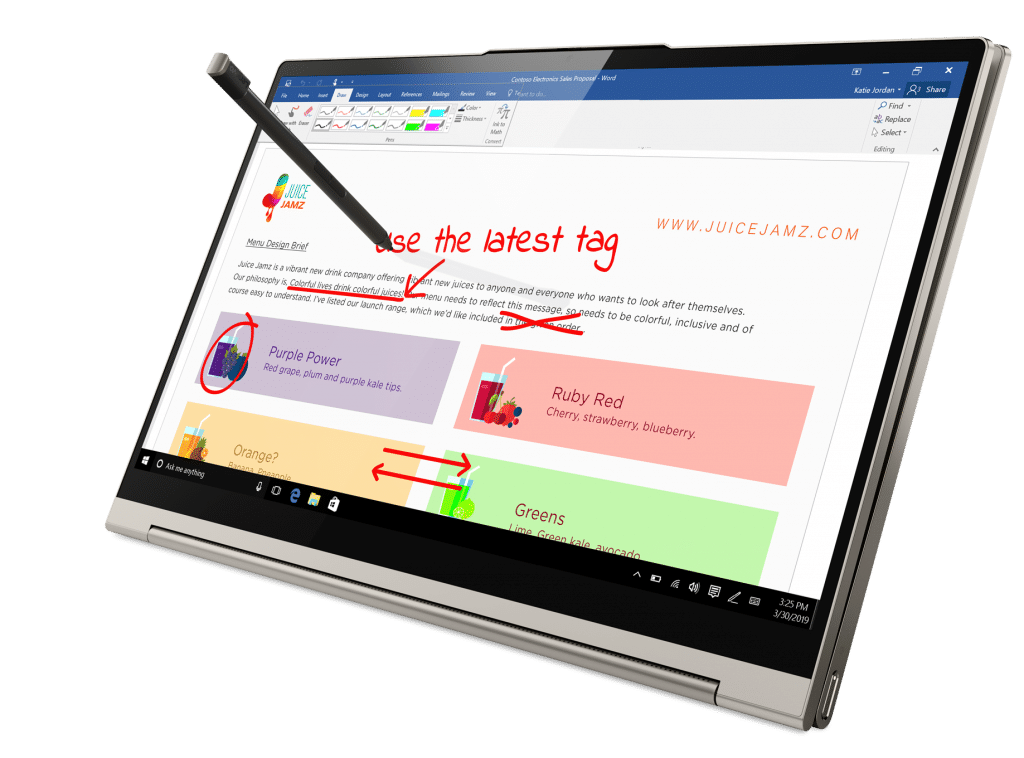 With the device lid open, Alexa replies instantly from across the room, providing pop-up notifications even when the screen is locked. The 10th Gen Intel Core i7 processor dynamically upscales video content on Windows Media Player to Super Resolution for a crisper image on an optional 4K HDR display. This flagship device supports fast Wi-Fi 6 and comes with a Dolby Vision enabled display and a redesigned Rotating Sound Bar with Dolby Atmos Speaker System for immersive audio in every usage mode. An engraved camera notch makes 14-inch Yoga C940's twice-polished aluminum lid easier to open, available in Iron Grey or Mica.


With a full range of intelligent features thanks to Lenovo Smart Assist, Project Athena, and Alexa, the 14-inch Lenovo Yoga S740 is designed to help people save time for daily convenience. Seriously sleek with an all-aluminum body and color-matched keyboard, the 14-inch Yoga S740 is powered by up to 10th Gen Intel Core processors and touts a hands-free IR camera login and time-of-flight (TOF) sensor. Easy to carry around town at 1.4kg (3lbs) light and ultra-slim at 18.1mm (0.7in) at its thickest point, the Yoga S740's 14-inch optional 4K VESA400 HDR display with Dolby Vision features amazing sound with Dolby Atmos Speaker System, optional NVIDIA GeForce GPUs, plus an upgraded Eye Care mode made to help reduce eye strain from blue light emission. Great for the whole family, it will soon showcase a new child safety setting that reminds kids to limit their screen viewing time in one sitting.

Additional smart features include an IR camera that can detect a person's absence after a few seconds and enable instant log-off. If a video is being watched and the viewer walks away for a few minutes, the PC is intuitive enough to pause the video and automatically resume upon return. During video calls the background can even be blurred so a cat or small child doesn't make a surprise appearance during an online meeting.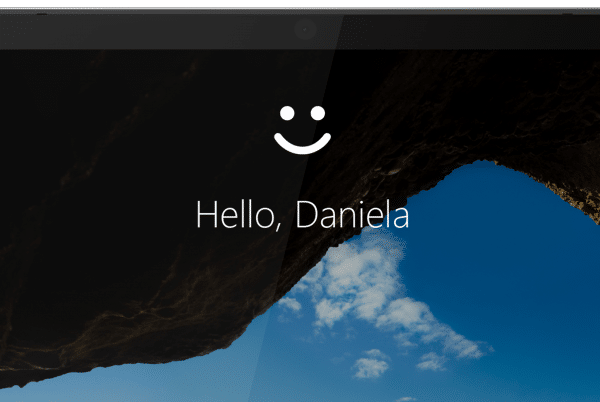 Turn to Q-Control to enable the PC's Intelligent Cooling Mode—engineered with machine learning to auto-adjust performance and optimize battery life based on the user's computing needs. Additionally, the 14-inch Yoga S740 has up to 14 hours of battery life with RapidCharge (on optional FHD display). Supersize video resolution up to FHD 1080 in Windows Media Player and talk to Alexa from across the room even when the screen is locked, for instant results with the lid open.
The new Lenovo Yoga C940 (15-inch) is the top-of-the-line 2-in-1 convertible with distinct design details such as a notched webcam bump on its lid for better grip, a garaged pen with silo charging, TrueBlock Privacy Shutter and Windows Hello biometric fingerprint authentication for confident security. Also included are high performance, fast Wi-Fi 6 connectivity, the latest Alexa features plus faster video and photo editing with 9th Gen Intel Core processors and an optional 4K VESA400 HDR display boosted to 500 nits of brightness and encased by ultra-thin bezels.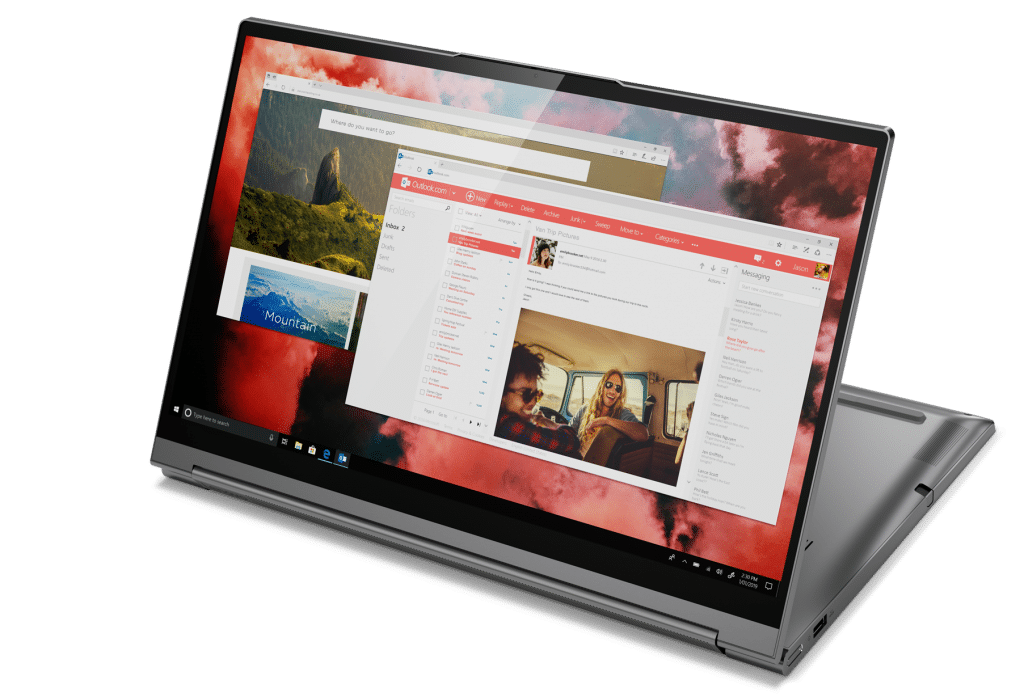 Combined with its innovative Rotating Sound Bar with Dolby Atmos Speaker System for immersive audio whether in laptop or tablet mode, Dolby Vision enabled display, and backlit keyboard with convenient numeric keypad, the Yoga C940 offers an immersive experience with up to 12 hours of charged entertainment (in the FHD option).
The Lenovo Yoga S740 (15-inch) comes stacked with up to 9th Gen Intel Core i9 mobile processor and a more powerful NVIDIA GeForce GTX1650 GPU, making this all-metal, ultra-slim laptop a portable and multi-tasking powerhouse. Combined with striking theater-like specs like a 15-inch FHD HDR display with Dolby Vision at 500 nits bright and thoughtful details such as TrueBlock Privacy Shutter, this chic laptop has a longer-lasting battery designed to amplify what you can do from nearly anywhere. Listen to music or watch videos in crystal-clear sound with Dolby Atmos Speaker System together with a Smart Amp, designed to boost voice and content audio in slim form factors.
The all-metal Lenovo Yoga C740 is available in a 14-inch or 15-inch screen size in two stylish hues, Mica or Iron Grey. Flip smoothly from laptop to tablet mode and back thanks to the soft rounded edges of this stylishly crafted convertible. Lightweight with design details such as a color-matched keyboard, this 2-in-1 device has smart features that respond to users' needs including its clever TrueBlock Privacy Shutter and more secure fingerprint login. Lift the lid of the 14-inch Yoga C740 to talk to Alexa from across the room and get instant results—even when the laptop screen is locked.
For all-day convenience, save time when charging the battery with RapidCharge on both models. There is also up to 13 hours of battery on the 14-inch size, and up 15 hours on the 15-inch. The power of up to 10th Gen Intel Core i7 mobile processing and Dolby Atmos Speaker System gives portable productivity and cinema-like entertainment day or night. Go for the 15-inch model for up to FHD VESA400 HDR touchscreen display at 500 nits bright plus Dolby Vision, or enjoy the IPS (In-Plane Switching) touchscreen FHD display on the lighter 14-inch model.
The 13-inchLenovo Yoga C640 combines the performance of up to 10th Gen Intel Core i7 processing with the compact portability of a sleek 2-in-1, so there is no need to feel anchored. Whether plugged-in or mobile, easily transition usage modes from work to play with its 360-degree flexible hinge design. This new convertible with optional integrated, ultra-fast 4G LTE (Wi-Fi-only option is available with optional Wi-Fi 6 connectivity) frees users from reliance on hotspots and unsecured public Wi-Fi when on the go, plus, offers up to 20 hours of battery life thanks to optimized CPU performance.
Talk with Cortana personal digital assistant for instant help and experience high-quality entertainment features such as an FHD wide-angle display and user-facing speakers optimized with Dolby Atmos when listening through headphones. Windows 10 Home OS is offered on both LTE and Wi-Fi-only models with an optional Lenovo digital pen for sketching or annotating.
Transform your Smart Home with Lenovo and the Google Assistant
Lenovo once again pushes the boundaries of Android tablet and smart home innovation by introducing two new smart tablets with the Google Assistant: the Lenovo Yoga Smart Tab and the Lenovo Smart Tab M8. As entertainment and media tablets in their own right, the Yoga Smart Tab and Lenovo Smart Tab M8 double as immersive, hands-free smart home hubs with the Google Assistant's Ambient Mode – making them convenient, time-saving and indispensable devices for today's modern smart home.
In addition to the smart tablets, Lenovo is unveiling a new Lenovo Smart Display 7 with the Google Assistant, which has been redesigned for a minimal footprint to fit nearly anywhere in the home. Read the blog here for more details on the new Lenovo smart home devices.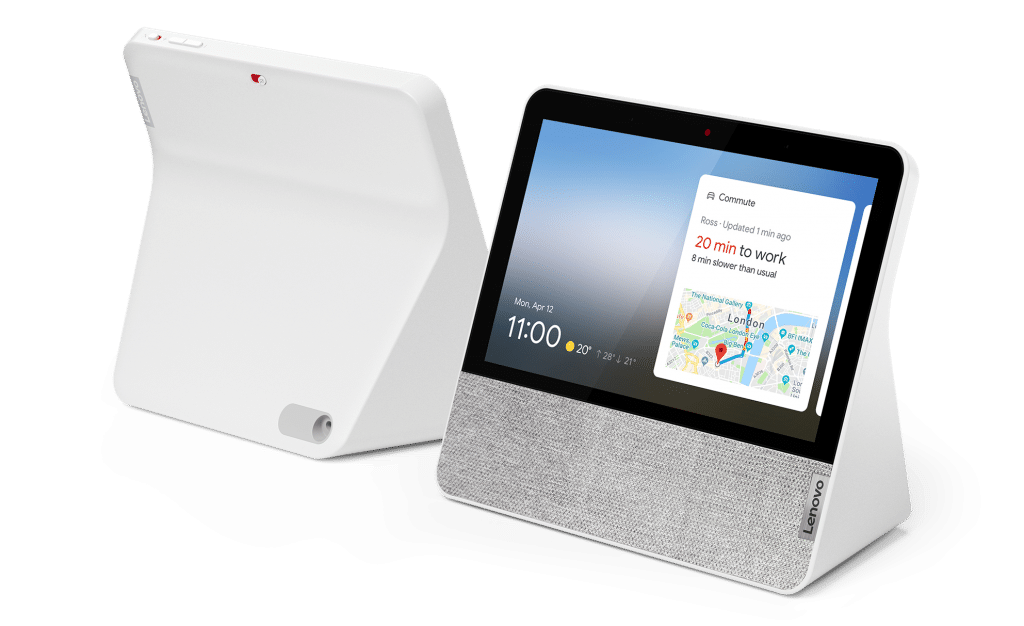 No local release and pricing info is available as yet.