A new and dynamic E-Learning Centre opens its doors this week at one of the city's most buzzing and exciting business hubs known as the Formation. Framed within an afropolitan ethos this dynamic enterprise has a special edit for creatives and social entrepreneurs, cherishing a larger goal to grow a resilient entrepreneurial community and an innovation district in the city heart.
Since its inception a year and a half ago, the Formation has found a home at the iconic blue and yellow 1950's era building popularly known as One Eloff. While the vision to create a space with the same level of vibrancy and importance as Maboneng and Newtown was always clear to the developers, enduring poverty and financial inequality are real challenges to contend with in the area. Rising levels of youth unemployment are also disconcerting. A visit to the surroundings and it becomes very apparent that the city heart is also a real food desert. The masses are resource constrained, hungry and have little hope for meaningful change. Enter the Formation: this community of bold thinkers and social entrepreneurs has partnered up with various high profile companies to develop a robust E-Learning Centre with the capacity to groom and equip 60 entrepreneurs as self-directed, independent online English teachers. The initiative that forms part of the Formation's Advanced Technology Institute (ATI) welcomes ambitious and industrious unemployed school leavers, students and youth with little to no work experience, equipping them to start their own independent online teaching businesses. The barriers to entry are exceptionally low and potential earnings are very attractive with committed teachers making anywhere between R10k to R30k a month through secure PayPal accounts.
Lerato Lekhooa the Centre's Operations Manager extended her appreciation and gratitude for a recent donation of 18 high tech computers that brings the Centre' current computer count to 30 desktops. "We have just completed our beta run of the project empowering 20 entrepreneurs with great success. We have now streamlined the programme and the new suite of computers positions us as a fully equipped and functional centre. We can now transition and support more young people on their entrepreneurial journey," Lekhooa gushed. The e-teachers are required to pay the centre a small administration fee every month that also covers the cost of their internet fees and computer hire.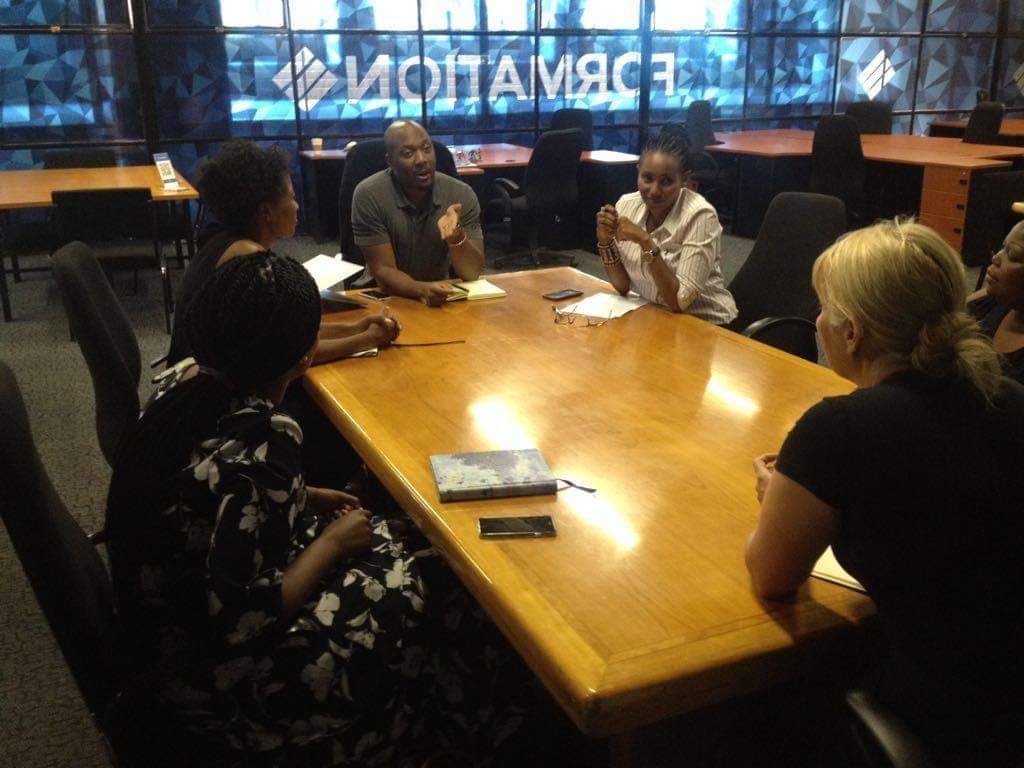 Speaking to the work of the new centre founder of the Formation Dr. Farayi Chinyanga noted, "When we initially started the Formation, it was really developed out of a conviction to provide meaningful opportunities for sustainable job creation, addressing a very real 'youth bulge' on the continent. We believe in financial inclusion and are excited that the E- Learning Centre offers a tangible response and solution. Using technology we have found a smart way to achieve our objectives in less time."
In an effort to counter pervasive gender inequalities in the marketplace, the Formation's E-Learning Centre has weighted its applications in favour of marginalised women with some 60% of all seats reserved for women entrepreneurs.
"We have a simple model and are confident that over the next few years we will build in momentum and be able to scale this programme as well as other projects the Formation is incubating to other major cities in Africa including Nairobi, Kigali, Accra and Harare." Chinyanga remarked.
The E-Learning Centre is now inviting meaningful partnerships from corporates to further strengthen its programme whilst extending a call for high caliber entrepreneurs who have a passion and interest in teaching to submit applications to join the centre.