Hyundai's latest addition to its sports utility range has arrived in South Africa, offering the perfect fit for those seeking a seamless combination of style and versatility. The Venue, first introduced at the New York Motor Show earlier this year, joins its larger siblings with its practical and convenient features in a compact package.
With the all-new Venue, Hyundai makes its SUV debut in the A-segment. It conveys a fun, yet functional design in a versatile and modern compact vehicle.
The all-new Venue with its bold and unique character might be small in size, but it is big on practicality and personality. It offers a unique, entry-level vehicle for consumers seeking savvy design with an abundance of safety, convenience and connectivity features.
As Hyundai's most affordable SUV to date, Venue is aimed at urban adventurers with a taste for savvy, trendy design that stands apart, as well as offering a remarkable driving experience.
Hyundai's naming theme for SUVs has typically been a city or place. "Venue" refers to a "place" people want to be seen in. The vehicle embodies the characteristics of "the place to be", while reaching the final desired destination, wherever that may be.
"The Venue is an exceptional small SUV that offers a powerful and very efficient turbocharged engine, outstanding comfort and convenience levels and many safety features," says Stanley Anderson, sales and operations director of Hyundai Automotive South Africa.
"We enter this very competitive market segment with great confidence in the Venue. Our Creta mid-sized SUV has proven how good design, quality build and practical features can draw new and existing Hyundai customers to our brand. The Venue, our new small SUV, is expected to repeat that outstanding performance."
"We launch the Venue in South Africa with three specification levels: the Motion as an entry-level derivative, followed by the Fluid version which has more design and convenience features, and topped by the Glide with its impressive and comprehensive list of features.
"It is important to note that safety is not compromised – all three versions are equipped with Electronic Stability Control (ESC)," says Anderson.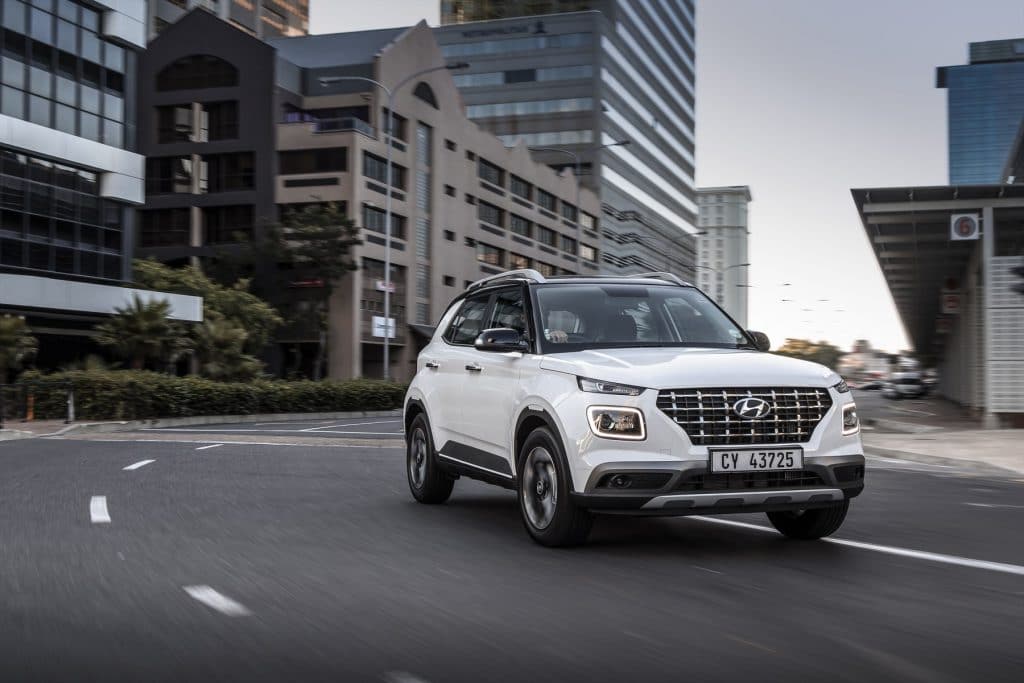 Bold, attractive exterior
The design of the new Venue exhibits compact but confident body forms, delivering a new interpretation of Hyundai's signature design language. The side profile exhibits full-volume wheel arches and strong character lines, while the bold and beautiful cascading grille incorporates Hyundai's signature forward-looking visage found on both the Kona and Santa Fe SUVs.
The unique front lamp layout separates the turn lamps and headlamps and features optional premium LED headlights with LED daylight running lights for the Glide version, as well as fog lamps. The unique Venue body character line carries through the profile to the tail lamps.
The Venue is available with striking 16-inch alloy wheels as standard equipment on the Fluid and Glide versions, and 15-inch steel wheels for the Motion.
Its impressive aerodynamics visualized by the rear shark-fin spoiler and rear fascia asymmetric block help improve efficiency while maintaining its unique sense of style.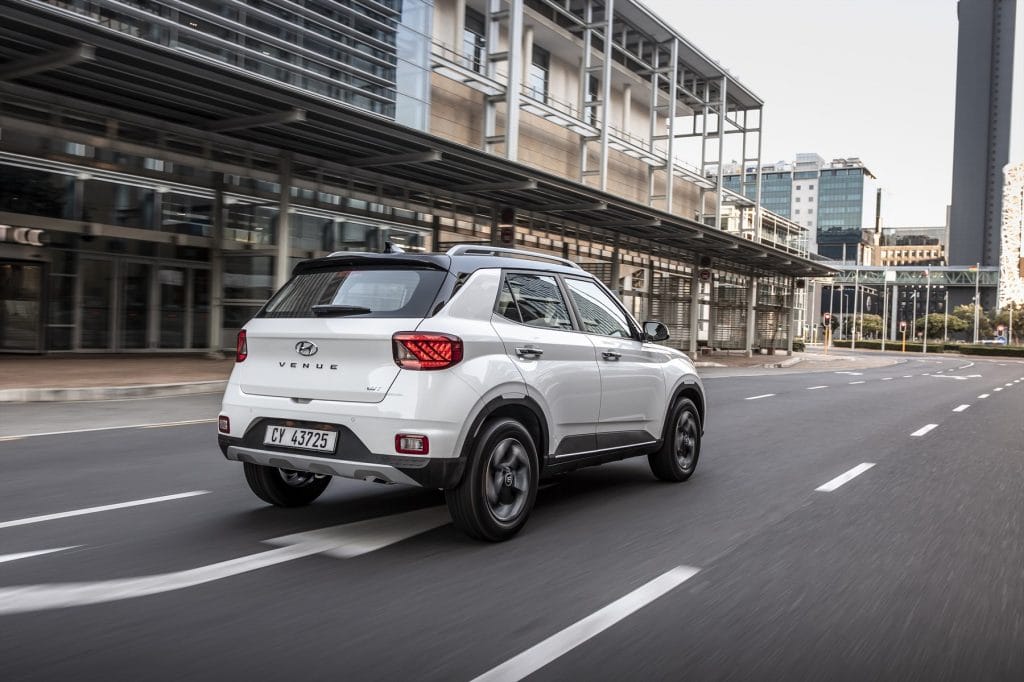 Interior and convenience features
The Venue's inviting interior offers intuitive controls and forward-thinking design, excellent use of dimensions to create ample space for driver and both front and rear passengers, and decent sized luggage area that adds to the practical nature of the car.
The interior space and a comfortable cabin provide adequate roominess for both urban commuter and travelers on a long road trip. The Venue comes with a 60/40 split, flat-folding rear seatback for the Glide version to maximize utility for various trips. The Venue's SUV styling cues and utility make it an ideal alternative to many subcompact cars. The cargo space features a rear cargo cover for added security and can be conveniently stowed when not in use.
The leather-wrapped steering wheel has audio controls and – in the Fluid and Glide derivatives – cruise control buttons to make a long road trip much easier for the driver.
The infotainment system features either a 3,8-inch mono LCD display in the Motion derivative, or an 8-inch Display Audio touchscreen system and rearview monitor for the Venue Fluid and Glide versions. The 8-inch display in the Fluid and Glide includes both Apple CarPlay and Android Auto functions for intuitive operation of the most commonly used smartphone functions, including app-based navigation, streaming audio and voice-controlled search capabilities.
Consumers will appreciate available convenience features such as Dual USB ports, a 3,5-inch TFT instrument cluster display to illustrate useful information, a rearview camera and Bluetooth hands-free phone operation. The leather-wrapped steering wheel feels comfortable and luxurious.
Glovebox cooling, rear air condition ventilation ducts and automatic cruise control with buttons on the steering wheel also form part of the convenience features in the Fluid and Glide derivatives of the Venue.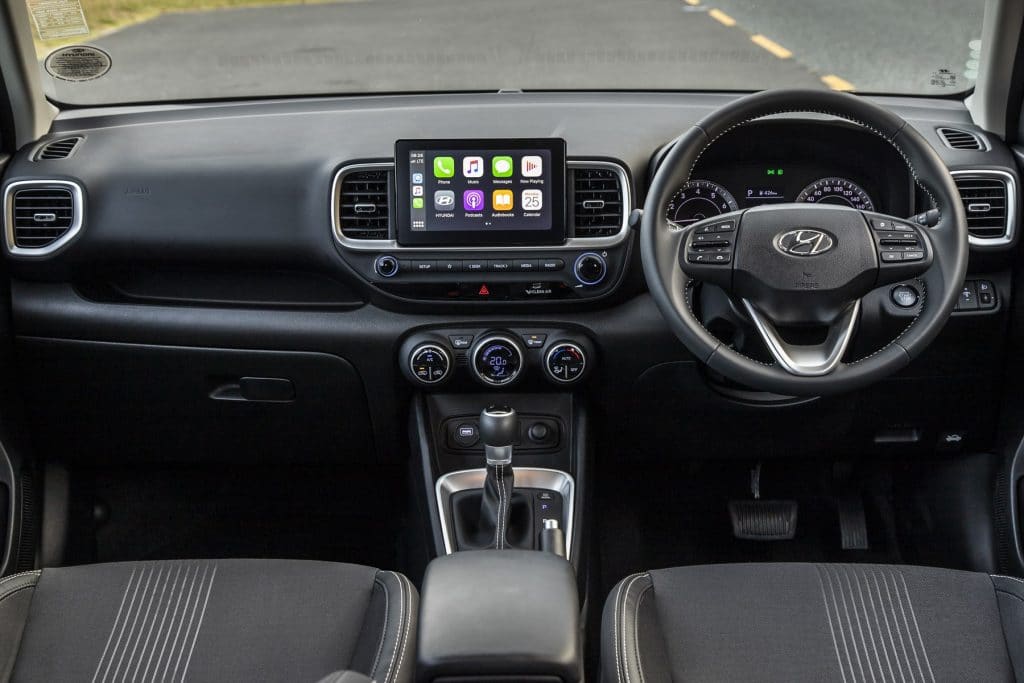 Safety
The Venue includes an abundant list of standard safety features including six airbags – front (2), side-impact (2) and side air curtain (2) – for the Fluid and Glide options, seatbelt pre-tensioners with force limiters, Isofix child seat attachments, and an Advanced Braking System (ABS) to deliver safe car control in difficult road conditions. The Motion derivative comes with two airbags – one each for the driver and front passenger.
Electronic Stability Control (ESC) is a standard feature in all derivatives, as well as Electronic Brake-force Distribution (EBD) which balances braking forces at each wheel when the car is dynamically loaded, and Brake Assist which provides maximum ABS-level braking force to the driver when an emergency stop is necessary. All Venues also come with Hill Start Assist Control.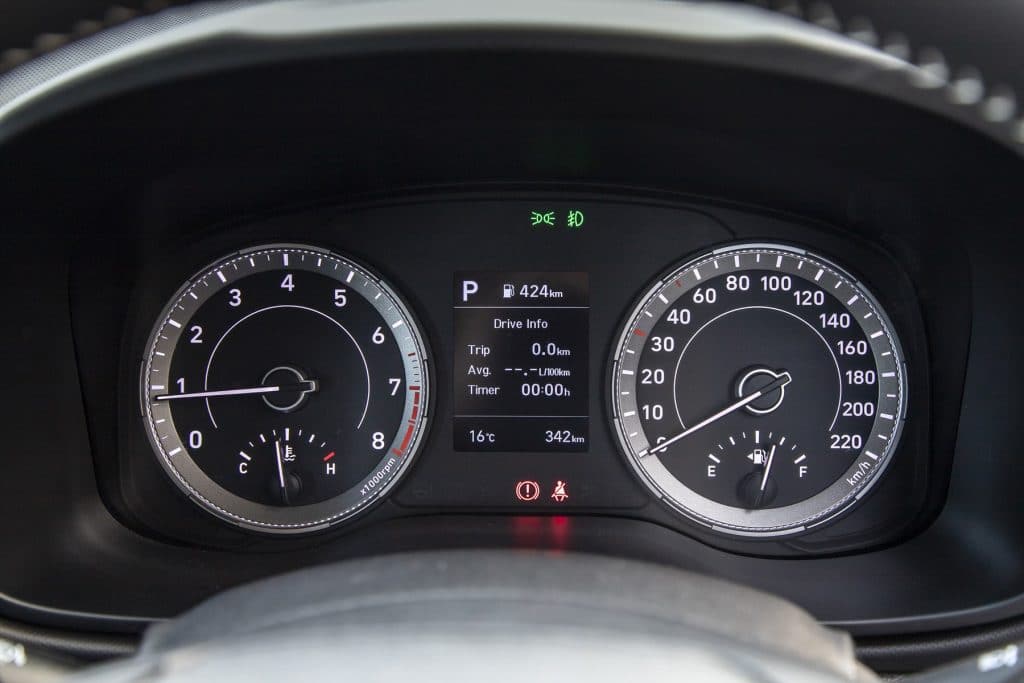 Engine and drivetrain
Fuel economy is an important consideration for customers who purchase an entry-level vehicle. The Venue won't disappoint thanks to Hyundai's three-cylinder turbocharged Kappa 1.0 T-GDI engine. It delivers 88 kW at its peak performance around 6 000 r/min., and maximum torque of 172 Nm in a range from 1 500 to 4 000 r/min.
Air resistance is reduced by a new intake runner whose new straighter shape improves cylinder tumble flow for faster, more efficient combustion and reduced knocking. Newly developed laser drilled GDI injectors feature six individual holes laid out in a pyramid shape to provide a more even spread of fuel and air throughout the cylinder.
The engine can be paired with either a six-speed manual transmission, or seven-speed automatic dual clutch transmission (DCT) in the Motion and Fluid versions. The top-of-range Glide derivative only uses the DCT transmission.
Fuel consumption was measured at a frugal and realistic 6,5 litres per 100 km for the manual transmission versions, and 6,9 litres per 100 km for the DCT. These figures were bettered handsomely in the recent WesBank Fuel Economy Tour where the Venue was a class winner with a fuel consumption figure of 5,80 litres per 100 km.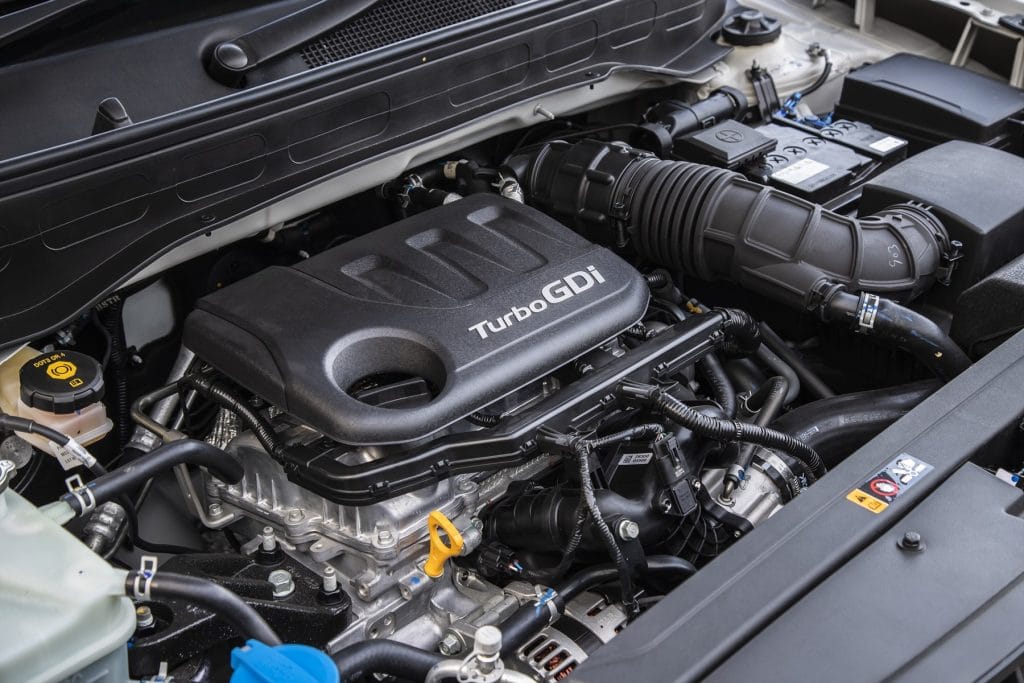 Suspension
The Venue's suspension tuning provides a very good compromise between passenger comfort and confident vehicle control. The suspension and steering deliver a combination of control, balance, optimization and ground clearance to achieve utility and maneuverability in a small vehicle footprint.
McPherson type struts with a stabilizer bar and coil springs are used for the front suspension, while a coupled torsion beam axle with coil springs ensure comfort and secure road handling at the rear.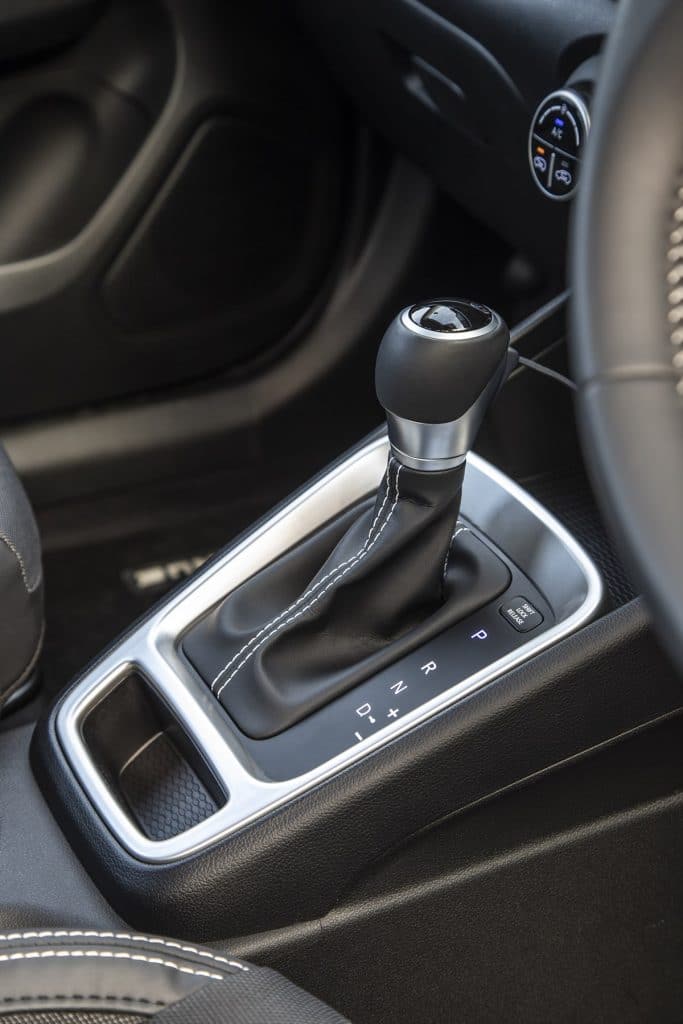 Colour
The Venue colour palette is fresh and youthful and covers a wide spectrum that allows buyers to express a sense of their own personal style. A two-tone colour scheme complements the dramatic design: A contrasting roof is offered with two exterior colors – polar white with phantom black, and lava orange with phantom black.
The one-tone body will be available in Phantom Black, Star Dust, Denim Blue, Typhoon Silver and Fiery Red.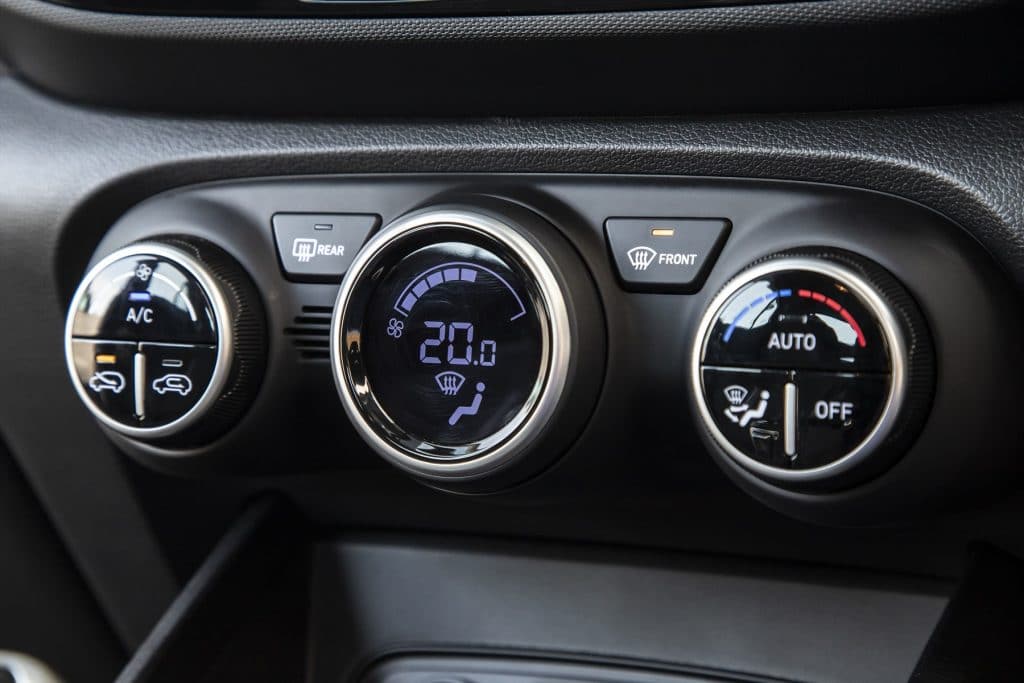 Pricing
The prices (VAT inclusive) of the Hyundai Venue range are:
Venue 1.0 Motion (manual) R 274 900
Venue 1.0 Motion (DCT) R 304 900
Venue 1.0 Fluid (manual) R 309 900
Venue 1.0 Fluid (DCT) R 339 900
Venue 1.0 Glide (DCT) R369 900
Included in the prices are Hyundai's groundbreaking 7-year or 200 000 km warranty, 7-year or 150 000 km roadside assistance, and a 3-year or 45 000 km service plan. Service intervals are at 15 000 km, or annually when applicable.