The Jeep brand's 2020 Super Bowl commercial "Groundhog Day," starring Bill Murray and featuring the 2020 Jeep Gladiator truck, is the Big Game's most viewed commercial across social media (YouTube, Facebook, Twitter and Instagram). The commercial has racked up 104,246,754 views [as of Monday Feb. 10, 9:00 a.m. ET/3:00 p.m. CET] across the brand's YouTube, Facebook, Twitter and Instagram channels. 
"With 104,246,754 views, 'Groundhog Day' had more views across social media than any other 2020 Super Bowl commercial," said Olivier François, Chief Marketing Officer, FCA. "In addition to winning the acclaimed USA Today Ad Meter, "Groundhog Day" is also was the most viewed automotive ad on this year's YouTube AdBlitz."
See breakdown of views below:
Jeep® Brand Channel Views
YouTube: 50,357,252
Facebook/IG: 50,953,265
Twitter: 2,936,237
Total: 104,246,754
In addition to claiming the annual USA TODAY Ad Meter ("Groundhog Day" placed #1 among all 62 commercials available for rankings by viewers), the "Groundhog Day" video placed as the #1 auto ad on YouTube AdBlitz (and #2 overall among 164 commercials).
People Magazine named "Groundhog Day" its #1 favorite commercial (in its top 10 list); Adweek named "Groundhog Day" as the number one Super Bowl commercial in 2020; Ad Age "Creativity" named it the "Editor's Pick"; and Advertising Age gave the commercial a rating of "five footballs," one of only four brands to receive that highest ranking.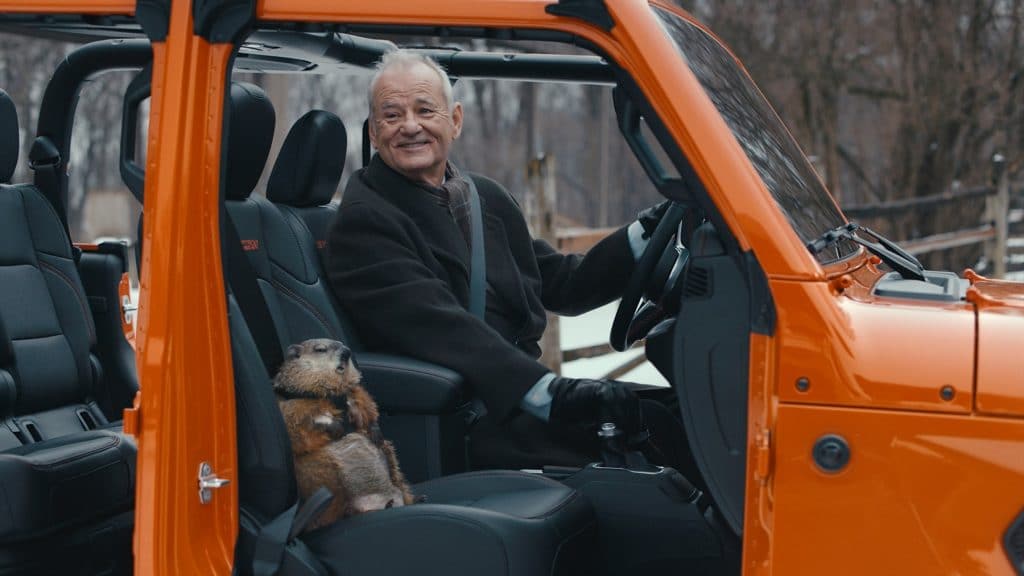 In addition to reaching 104,246,754 total views on Jeep brand's YouTube, Facebook, Instagram and Twitter channels, the brand has received 313K social mentions, as of 9 a.m. ET/3 p.m. CET, Feb. 10.
As a bonus for fans of the commercial, the Jeep brand launched a longer-form version of the ad – "Groundhog Day" | Bill Murray + Bushy-Tailed Buddy's Off Script & Off Road Adventures Cut" – on its YouTube channel following the Big Game.
About the Groundhog Day TV commercial
The 60-second Jeep television commercial aired during the Super Bowl LIV on Sunday, February 2, 2020, is starring Bill Murray reprising his role as Phil Connors from the 1993 film "Groundhog Day." In the commercial, Phil Connors enlists the help of the Jeep Gladiator as his "getaway vehicle" after taking the groundhog; thus, significantly altering his days for the better. The spot opens as the clock turns 6:00 a.m. "I Got You Babe" by Sonny & Cher starts playing, replicating the scene from the film. Phil Connors himself suddenly sits upright in bed. Twenty-seven years later, he's stuck in Punxsutawney once again. The Jeep brand worked closely with Sony Pictures to ensure authenticity with the original film, which is now available to buy on disc and digital.

"In my wildest dreams, any advertiser's dream, really, could you dare to believe that Bill Murray would agree to be in your Super Bowl commercial, and on top of that, ask him to relive his iconic role in 'Groundhog Day'?," said Olivier François, Chief Marketing Officer, FCA. "How do you even have that make sense and not be forced? Magic first happened when I had the incredible luck to meet Bill in person a few years ago, and I knew then that he was perfect for Jeep. Because like Jeep, Bill is a free spirit, he intentionally seeks out ways to find adventure and live an extraordinary life."

François continued, "When we learned that Groundhog Day fell on Super Bowl Sunday for the second time in 54 years, we couldn't help but take that chance. The stars magically aligned. Bill agreed to do the first national broadcast commercial in which he's ever appeared, and not only that, relive his role as Phil Connors for our Jeep Gladiator. But this time, in our spot, the hero makes a different choice by choosing a different pick-up truck – the Jeep Gladiator – and it changes everything for him."

"This is my first commercial. I'm glad I did it with you (Jeep)," said Bill Murray. "And I'm glad that this is my last commercial, as well."
The Jeep brand commercial was created in partnership with Chicago-based agency Highdive, the Jeep Brand Agency of Record and 2019 Ad Age Small Agency of the Year (Midwest, Gold).
The brand also licensed the iconic Sonny & Cher song "I've Got You Babe" from Warner Music for use in the commercial.