Ford Motor Company of Southern Africa (FMCSA) is celebrating the remarkable career of its longest-serving employee during its 96-year local history. Graham Boswell retired in September 2019 after having served the company for a truly exceptional 47 years.
"Ford is very much a family-oriented company, founded by Henry Ford in 1903, and is currently led by his great-grandson, Bill Ford, who is the executive chairman," says Neale Hill, MD of FMCSA. "It is fantastic to see this kind of legacy in our South African operations where three generations of the same family have grown up living the brand and contributing to its success.
"On behalf of Ford Motor Company, we honour Graham Boswell and thank him for his dedication to the company over all these years. The Boswell family is an integral part of Ford's history in Port Elizabeth, and they set an outstanding example for others to follow," Hill adds.
Boswell began his career at Ford's Neave vehicle plant in the aptly named Henry Ford Road in Port Elizabeth on 8 May 1972, following in the footsteps of his father who worked for the company for almost 30 years. "I remember that day clearly," Boswell says. "It was a beautiful, sunny morning, and I can still remember being shown around the plant and seeing all the departments.
"I had to drop out of school to help my dad put bread on the table because we were nine brothers and two sisters," he adds. "My father always told us that Ford was a great company to work for. Ford has been very good to the Boswell family, giving us the opportunity to grow and develop as part of the business."
Although he started out in stores, Boswell soon joined the Fire and Safety team, an essential role he fulfilled throughout his career – later moving to the nearby Struandale Engine Plant where Ford's local manufacturing operations are now based.
"I am grateful for the training and development opportunities I had at Ford, which included being the first person selected to complete the SAMTRAC fire safety qualification, back in 1990," he reminisces. "This was one of my proudest moments. Although I wasn't able to complete my schooling, I achieved 80 percent for the course, which was an amazing feeling.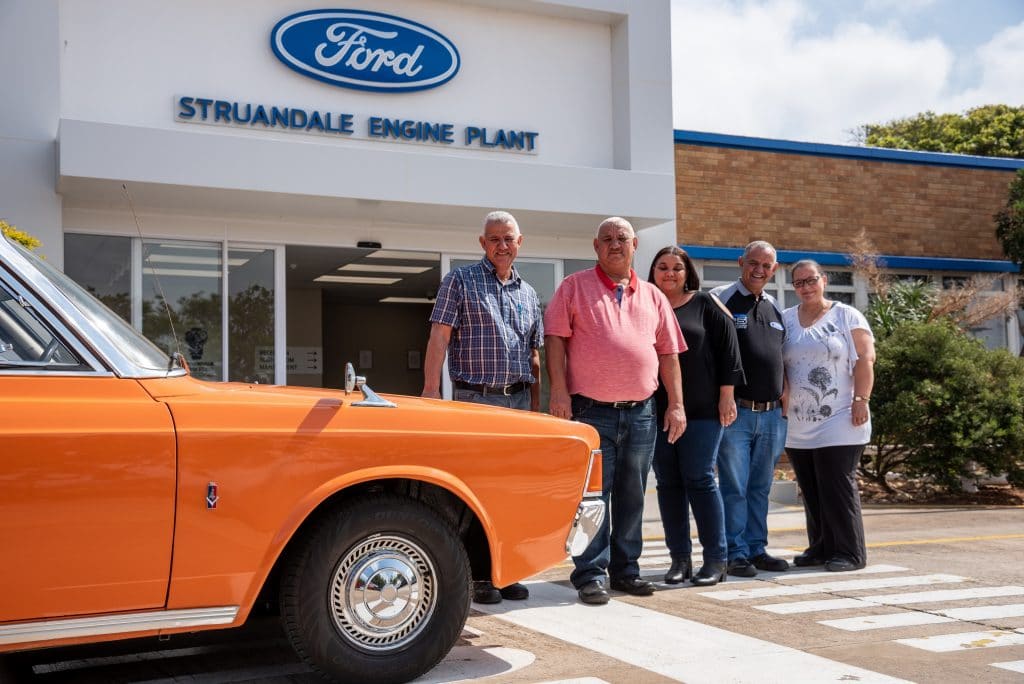 "Through working at Ford I could help give my brothers and sisters the education I never had, and I was able to support my own family," Boswell says. "It is great to have two of my brothers, Derick and Greg, also working at the plant, and my other brother Neil worked at Ford too before passing away in a motorcycle accident."
There's a new generation of Boswells proudly continuing the legacy, as Graham's daughter, Tania, Derick's daughters Anthea and Roelien, along with Greg's son, Sydney, have also joined the Ford family, and are involved in various aspects of the Struandale Engine Plant, from communications to logistics and engine assembly.
Although the family has a long association with Ford's Port Elizabeth operations, when Graham joined the company in 1972 the Boswells didn't even own a car. "We used to walk to work, which was around 15km away," he states. "My dad said that we mustn't worry, because one day our yard will be full of Fords.
"I remember that my dad didn't have enough money to buy a car, so I gave him R300 pocket money I had saved up to use as a deposit for a car, and that was how we got our first vehicle, a Cortina pickup, from the staff garage. It cost about R600 at the time."
Graham also enthuses about his first car – a Ford of course: "My first car was a Cortina sedan, which was a special edition Springbok green colour with brown vinyl, and it even had the Springbok emblem on the sides. I had lots of Fords over the years as I improved my position in the company, and in line with the models that we built."
He now drives an EcoSport 1.5 TDCi Titanium which he purchased for his retirement. "The low fuel consumption of the EcoSport turbodiesel helps a lot, as I now spend my time dropping off and collecting the grandchildren from school and, of course, taking my wife shopping, and visiting the beach."
Among the older cars, the legendary Ford Capri V6 from the Seventies holds a special place in Graham's heart, and the family proudly owns one of these classics. He also regularly drives the distinctive orange 1971 Ford Taunus 17M V4 which his son bought for him to tinker with during retirement.
"When I started at Ford the Capri and Taunus were both in production at the Neave plant, and I was working in the stores supplying the parts for these models. It feels like yesterday," he says with exuberance and pride.
Interestingly, the Capri's renowned 3.0-litre Essex V6 and the 1.7-litre V4 engine used in the Taunus were both produced at the Struandale plant. The facility now assembles the 2.2 and 3.2-litre Duratorq TDCi engines for local and export markets, as well as the sophisticated 2.0-litre Bi-Turbo and Single Turbo diesel engines that power selected Ranger and Everest models, as well as the Ranger Raptor high-performance off-road pickup.
"My absolute favourite car is the Ford Fairlane 500, but of the new vehicles the Ranger Wildtrak is the one I would love to own," he admits.
"The Boswells all have blue blood. We love Ford, we live, sleep and breathe Ford, and the Ford family is our family," Boswell states. "There are a lot of other families at the Struandale Engine Plant, and all of them appreciate working for Ford Motor Company of Southern Africa.
"I really want to thank the Ford family for the great opportunities it has given the Boswell family. I pass through the exit gate with a happy heart, knowing that the family I leave here are in safe hands and within a great working environment."
With nearly five decades of dedication under his belt, Boswell senior has wise words for the younger generation: "I encourage all of the youngsters working at Ford to be an asset to the company, every minute, hour and day, so that the future can be brighter for your children."