Undying love and a thirst for power, family grudges and unlikely alliances, loyalty and backstabbing – Game of Thrones is arguably the most popular drama on screen today and is can continue even after airing its final episode.
The end to the epic saga will likely be a bittersweet moment for those fans who would like to linger for longer in the enchanting dimension of heroes, misfits, royalty and villains. Game of Thrones Conquest and Reigns: Game of Thrones – two immersive iOS games available on the App Store – allow just that, bringing the magic into everyday life.
These fire-and-brimstone, thirst-quenching iOS games bring all the cunning and furious action from the series and allow players to take the "reign" into their hands. There are critical decisions to be made, wars to be waged, revenge to be taken, and for the first time you can be the master of the Seven Kingdoms' destiny.
Game of Thrones: Conquest is a multiplayer strategy battle focused on commanding troops, assuring that the house you choose thrives and flourishes whilst securing alliances and conquering neighbouring regions.
​Check out the App Store editors' review and download the game here: https://itunes.apple.com/story/id1436656375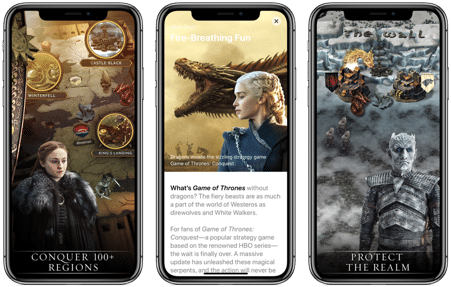 On the other hand, Reigns: Game of Thrones, a single-player experience, is all about the crucial decisions which the player must make on behalf of individual prominent characters to control the balance of power between the great houses and so direct the fate of entire nations.
​Meet the couple behind the development of Reigns: Game of Thrones and download the game here: http://itunes.apple.com/story/id1437015996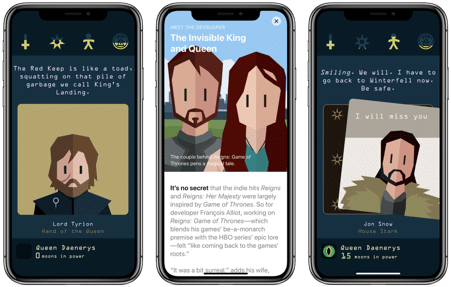 Boasting outstanding graphics and checking the boxes on all quality metrics one would expect to find on the App Store, the two iOS games loosely follow the outline of the show with all the much loved and hated character and many twists and surprises to discover. While focusing on different angles of ruling a kingdom, both iOS games offer insight into the cunning and intelligence required to survive in George R.R. Martin's cold-blooded world.
From bone-crushing battles with giants and dragons to intimate gossip and whispered secrets: all the passion, fury, treason, and power can now fit into your pocket. Playing along with the show will keep you pinned to your throne right till the final double-edged blow – and beyond the TV series finale.
Apple revolutionized personal technology with the introduction of the Macintosh in 1984. Today, Apple leads the world in innovation with iPhone, iPad, Mac, Apple Watch and Apple TV. Apple's four software platforms — iOS, macOS, watchOS and tvOS — provide seamless experiences across all Apple devices and empower people with breakthrough services including the App Store, Apple Music, Apple Pay and iCloud. Apple's more than 100,000 employees are dedicated to making the best products on earth, and to leaving the world better than we found it.